10 x Indian Shagun Gift Envelopes Peacock Feather Gold Money Cash Gift Wallets
---
---
---
10 x Indian Shagun Gift Envelopes Ivory White Peacock Feather Gold Print Money Gift Envelopes Money Wallet For Cash Gift Indian Wedding Anniversary Diwali Birthday Invitation Gift Envelopes Covers.
Pack of 10 ivory/white envelopes with a golden peacock feather print, made from high quality card to give you the opportunityto make your statement during those auspicious occasions. These unique design printed envelopes are the ideal solution to express and pass forward your thought of happiness.

The envelopes are available in 6 DIFFERENT DESIGNS. This pack contains 10 envelopes ONLY. Dimensions of each envelope are – L: 18.5cm x W: 8.8cm. Note – ONLY 1 pack of 10 envelopes IN YOUR CHOSEN DESIGN shall be sent out.

PERFECT GIFT ENVELOPES FOR NUMEROUS OCCASIONS - These envelopes are the perfect way to present your gift to your loved ones during those special auspicious occasions. No matter if its greeting cards, invitation cards, gift cards or even money/cash; you will be securely pass forward in a unqiue and stylish way.

MAKE YOUR GIFT UNFORGETTABLE - Make your gift special and memorable with these printed envelopes. The golden peacock feather print shall add a sparkle and make this envelope stand out from the rest. The recipient shall be honoured to receive your token but shall never forget the enchanting envelope and will get treasured to remind them there loved ones and your gift.

IDEAL FOR FESTIVE OCCASIONS - These gift covers will be great for wedding gifts, anniversary gifts, engagements gifts, birthdays, raksha bandhan, thanks giving, diwali, poojas's, christmas, new years, baby showers, mothers/fathers day or any festive occasion where you want to express something special or pass forward a token of happiness and luck.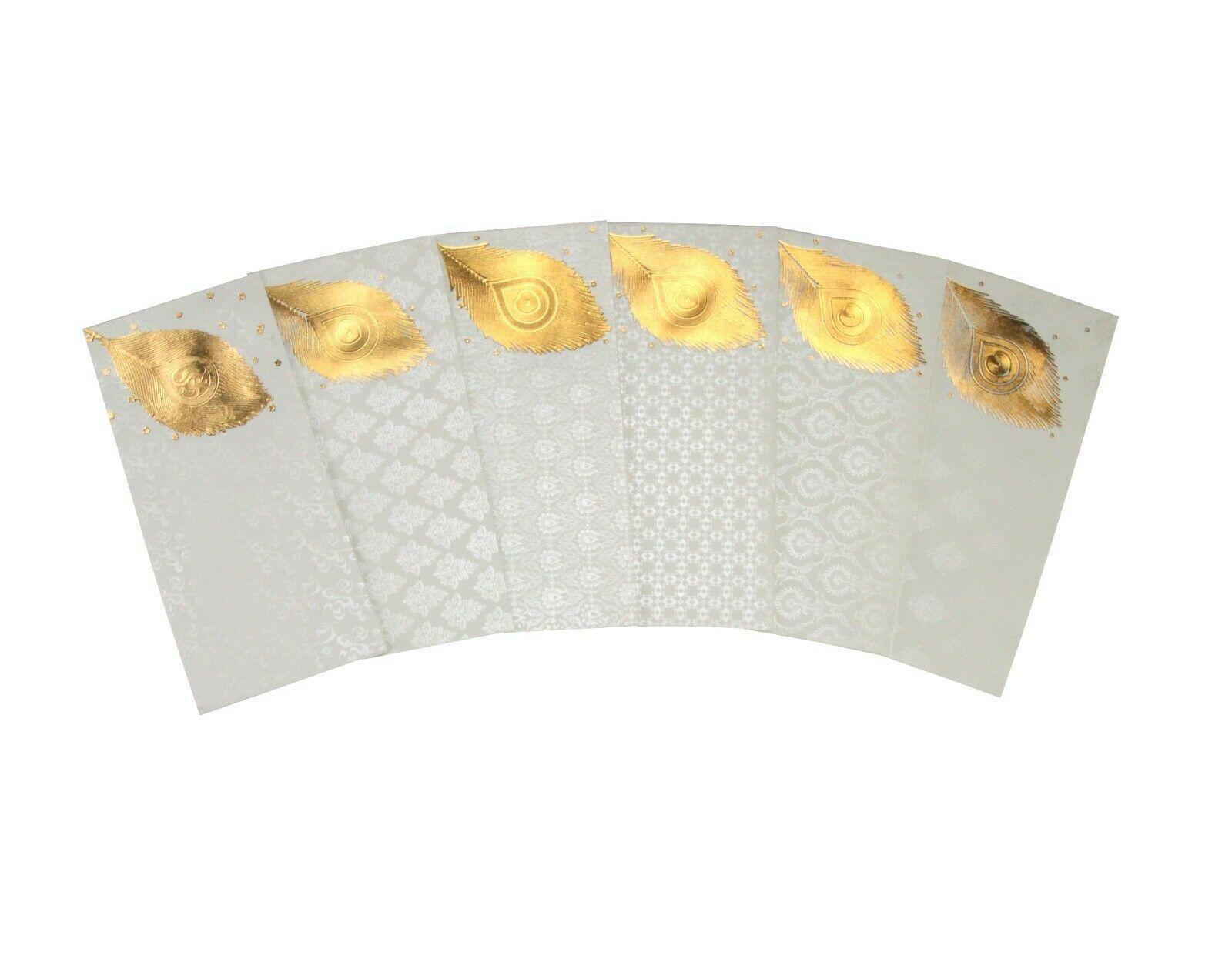 Recommend this product to a friend
10 x Indian Shagun Gift Envelopes Peacock Feather Gold Money Cash Gift Wallets