18 Piece Dinnerware Set White Opal Glass Dinner Set Service For 6 Dining Set Wit
---
---
---
18-Piece Dinnerware Set White Opal Glass Dinner Set Service For 6 Dining Set With Soup Plates, Dinner Plates, Dessert Plates Dinnerware Tableware
•A complete dining set for 6 consisting of your round soup plates, dinner plates and dessert plates so your table setting is always easy to prepare. Crafted from high quality white opal glass is this practical 18-piece dinner set with a smooth reflecting shine suitable for all dining occasions.
•This Luminarc 18 Piece Dining Set consists of – 6 x 22cm Soup Plates, 6 x 24cm Dinner Plates and 6 x 19cm Dessert Plates. This dining set is break Resistant, Microwave Safe and Dishwasher Safe.
•18-PIECE DINING SET – A dining set consisting of the essential and matching utensils so you can effortlessly plate up and serve delicious starters, main course and desserts! This is the classic and ultimate dining set for 6 crafted from white opal glass with each plate designed wide edge and spacious centre so you have the perfect space to serve food. As the dinner set is white, it is the ideal contrasting colour that will make food plated up look even more eye-catching and tasty!
•MADE TO LAST, OPAL GLASS! – Heavy-duty white opal glass with a made to last polished finish is what make this dinner set extremely durable & long lasting. As opal glass is robust and has a smooth high resistant surface, this dinner set is break resistant against chips, cracks, scratches or any other form of damage. Fully strengthened hard opal glass will ensure this dining set is not fragile, does not discolour, corrosion resistant and hygienic.
•TEMPERED SURFACE – Tempered glass is what makes this 18-piece dining set so tough in comparison to others. It is stronger as it has undergone a specific hardening treatment where it is heated at high degrees before being cooled down for better thermal durability and extra resistance. This process ensures that every plate in this set never bends and stays break resistant.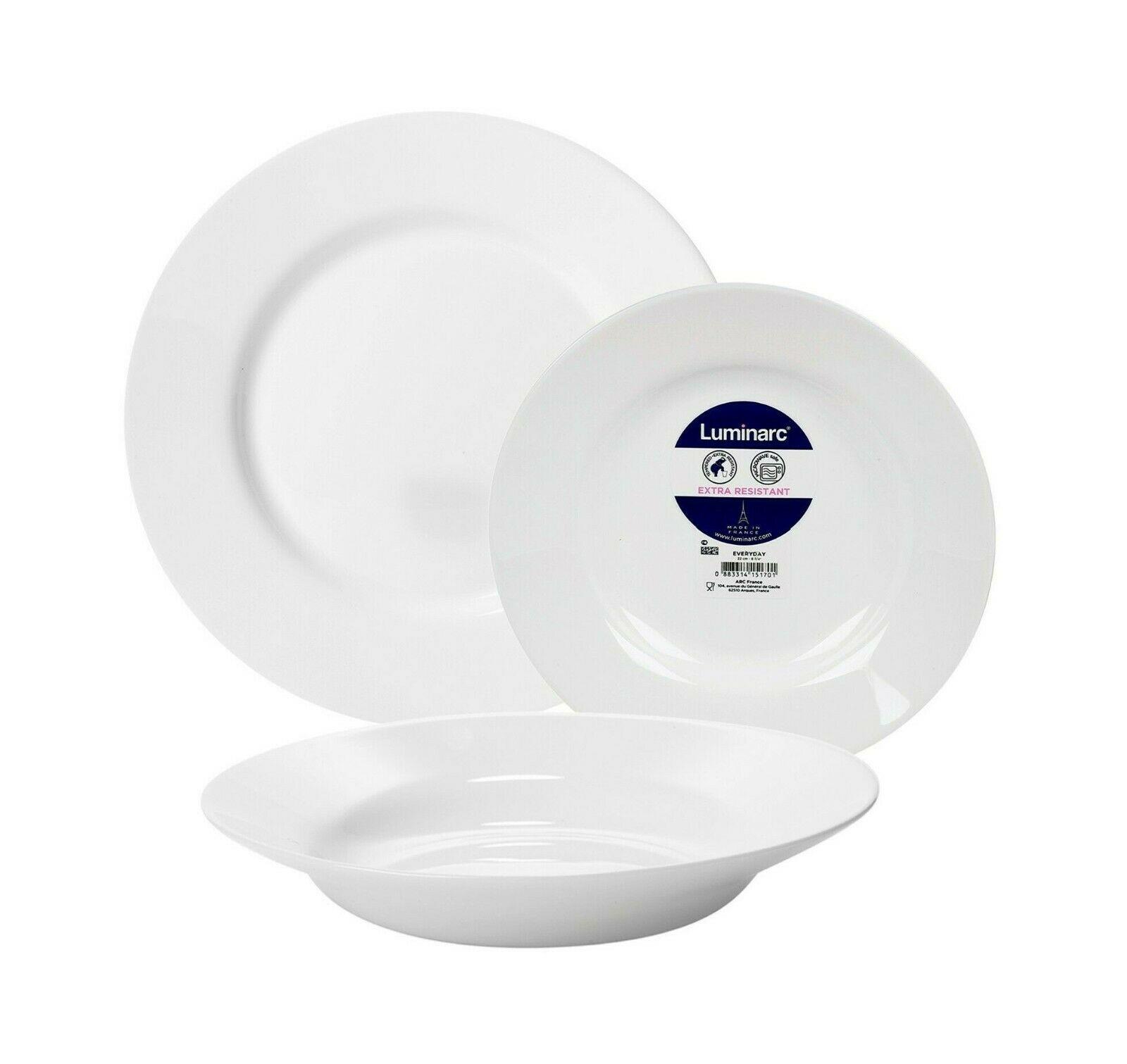 Recommend this product to a friend
18 Piece Dinnerware Set White Opal Glass Dinner Set Service For 6 Dining Set Wit