70014/70015-SETof2-10cm&12cm
2 x Clear Glass Cube Vase Small Square Flower Vase Wedding Centrepiece 10/12cm
---
---
---
2 x Glass Cube Vase Square Flower Vase Clear Heavy Duty Flower Floral Bouquet Artificial Vase Decoration Home Decor Wedding Centrepiece Glass Vase, Circular Bubble Look, Small
•Make you floral décor more eye-catching with one of these square glass vase. Crafted heavy-duty and extra thick transparent glass are these cube vases, each with a circular bubble look pattern embossed on the exterior surfave to be a useful decorative accessory perfect to meet you flower decoration needs. Modern design of the vase will show off your floral bloom!
•This cube/square glass vase is Set of 2 DIFFERENT SIZES – 1) H: 9.8cm x W: 10cm x D: 10cm and 2) H: 11.8cm x W: 12cm x D: 12cm . Flowers are NOT INCLUDED. NOTE – ONLY ONE SET WILL BE SEN OUT.
•CUBE/SQUARE PLUS CIRCULAR VASE – Due to the geometrical combination of cube/square structure and circular embossed pattern, this is a versatile glass vase can be used for numerous decorative purposes i.e. real flowers, artificial flowers/plants, various floral arrangements, table centrepieces and much more at home or during functions i.e. weddings or parties. It will give a bold floral statement!
•ESSENTIAL DECOR ACCESSORY – Make your décor or any setup complete with this heavy-duty glass vase. Small glass vase with a unique circular bubble look pattern embossed exterior and smooth polished surface which will catch & reflect light, but also be the ideal contrasting accessory in making floral arrangement stand out. The weighty structure of each vase shall make sure it stand with stability and prevent the vase from toppling over and causing a mess.
•EXTRA THICK GLASS CONSTRUCTION – This square glass vase is made from high-quality extra durable glass with a long-lasting polished finish to give a weighty feel and ensure they remain in a crisp clear condition after repeated uses. Thick glass structure will ensure the vase stays resistant to common damage i.e. chips, scratches and cracks.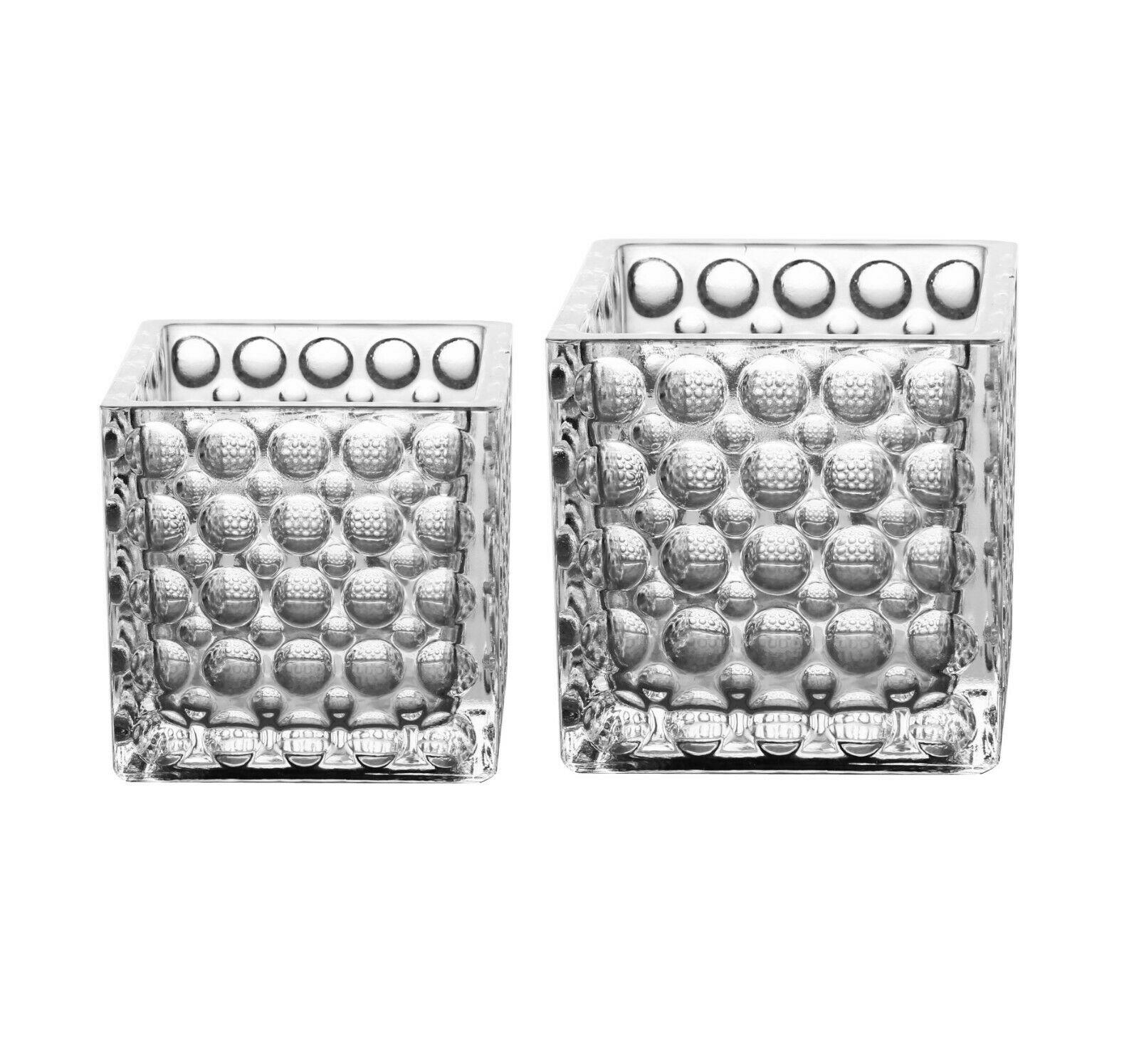 Recommend this product to a friend
2 x Clear Glass Cube Vase Small Square Flower Vase Wedding Centrepiece 10/12cm