2 x Falcon Enamel Mugs Cups Tin Metal Camping Outdoor Tea Coffee White Red Grey
---
---
---
2 x Enamel Coffee Tea Mugs Set Of 2 Enamel Drinking Mugs Cups Camping Travel Home Office Kids Reusable Portable Red/Green/White
•The handy set of enamel drinking mugs. Crafted from heavy gauge steel with a high-quality colourful porcelain fused enamel coating and easy drinking handle for yourself and others to lift and drink. Great for adults and children.
•This Falcon Housewares Enamel Mug is available in 3 DIFFERENT COLOURS – White, Red AND Grey. In EACH COLOUR they are available in set of 2 Maximum capacity of EACH Mug is 350ml. Each mug is Oven Safe Up To 270°C/530°F, Dishwasher Safe & Freezer Safe. It is also suitable to use on Gas & Electric Hobs. NOTE – ONLY 1 SET IN YOUR CHOSEN COLOUR SHALL BE SENT OUT.
•COLOURFUL CUPS/MUGS – Smooth finish enamel mugs perfect for serving many drinks. Round mugs with colourful finish on the outside, white finish on the inside and a black/blue finish drinking rim to be a colourful set of mugs. While being round, each mug has flat base for secure standing. Lightweight makes them ideal to take with & use during outdoor trips.
•HIGH-QUALITY ENAMELWARE – These mugs are crafted with a high-quality enamel coating for enduring strength. The thick enamel is porcelain fused onto the heavy gauge steel mug, to give many admirable qualities such as extra durability, smoothness and chemical resistance. The mugs will remain resistant to stains and scratches.
•VERSATILE ENAMEL CUPS/MUGS – These enamel mugs are perfect for serving many drinks while at home, in the office and especially when in the outdoors or travelling i.e. camping, picnics, outdoor tea parties or caravan trips. It is an ideal lightweight ser to serve various drinks, especially hot drinks; tea, coffee, latte, cappuccino, hot chocolate, espresso, iced/fruit tea and much more! It is a set you can use multiple times to serve multiple different drinks.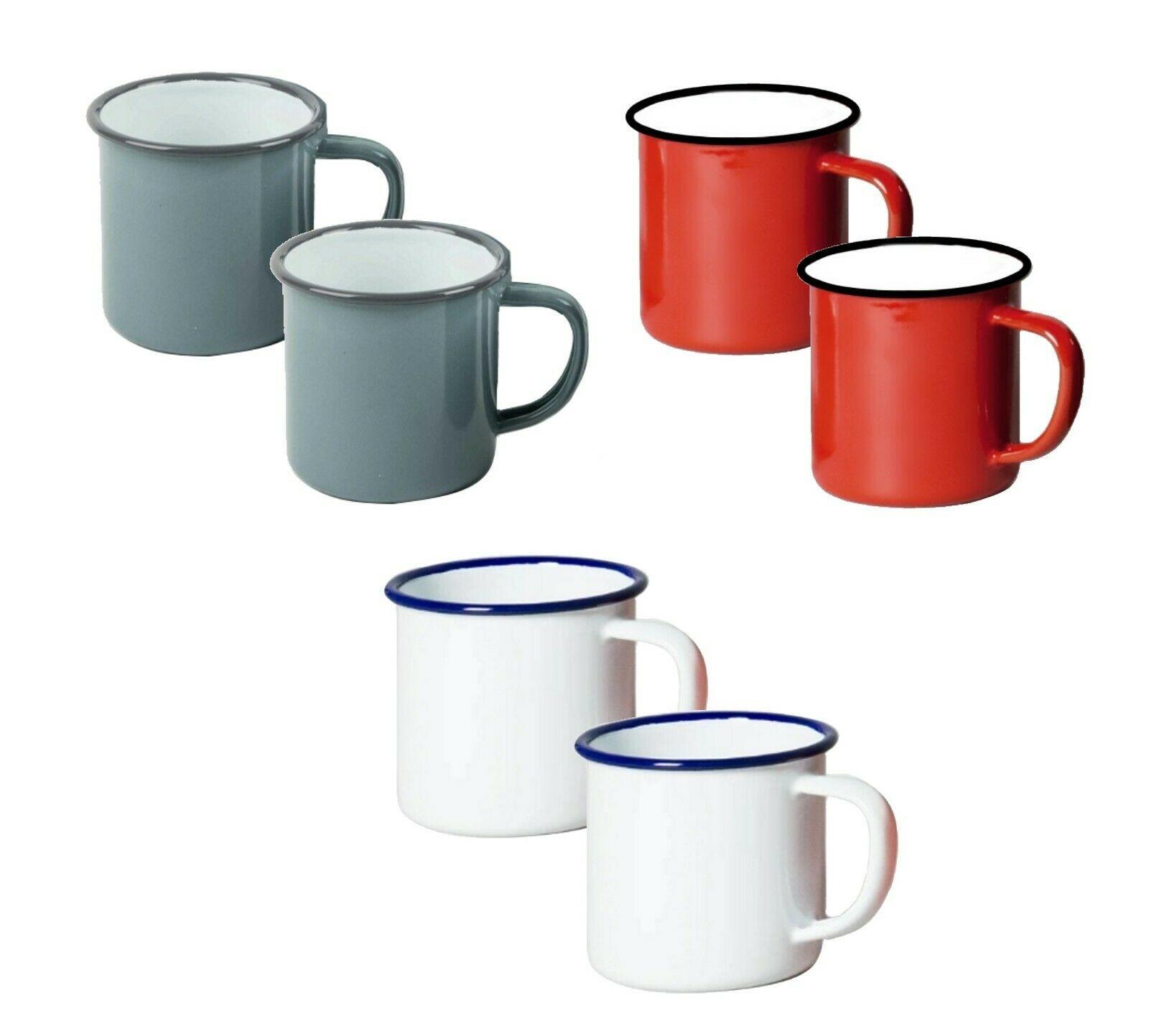 Recommend this product to a friend
2 x Falcon Enamel Mugs Cups Tin Metal Camping Outdoor Tea Coffee White Red Grey