2PC Stainless Steel Clear Canister Set Silver Kitchen Jar Food Storage Tea Coffe
---
---
---
2PC Stainless Steel Clear Canister Set Silver Kitchen Jar Food Storage Tea Coffee - Small Kitchen Canisters Silver – Multi-Purpose Clear Jars Food Storage
Size Of One Canister – H: 12.5cm x W: 8cm
Secure All Those Loose Ingredients – In all kitchens to make tasty dishes, many loose ingredients are required. Loose ingredients mostly come in small packets which once opened, have to be stored securely. These set of 2 canisters are the ideal set to securely store all those loose ingredients and keep your kitchen drawers and cupboards clean and tidy.

Keep Food Fresh, Protected & Visible – When purchasing ingredients you always want them to stay fresh and protected for a long time once stored. This set of 2 canisters are perfect as they consist of air-tight seal screw lids to ensure anything stored will stay fresh and in perfect condition for when required. You'll also know where all your ingredients are with these clear storage canisters therefore, you can quickly find the right ingredients when required and know how much is left so you can stock up when necessary

Perfect Kitchen Organiser – This 2pc storage canisters are the ideal kitchen organiser no matter if it is placed in your kitchen cupboard or displayed on the kitchen worktop. As well as storing food this canister set can also be used as a centre piece on any table to serve small refreshments i.e. dry fruits, nuts or mouth freshener (mukwas).

Strong & Light Weight – As all kitchen accessories can be used indoors, you also want something that can be easily carried and taken out i.e. if going on a picnic. This canister set can also be used individually without the tray. Due to its strong structure and light weight these canisters can also be used to carry small ingredients on picnics, barbecues or during camping. There will also be no spillages due to the air tight seal screw lids.

Matches Any Kitchen Interior Or Table Setting – Having matching kitchen or table accessories complete interior décor or display. With a clear as glass finish and stylish yet simple design this canister set will perfectly match any kitchen interior décor or table setting.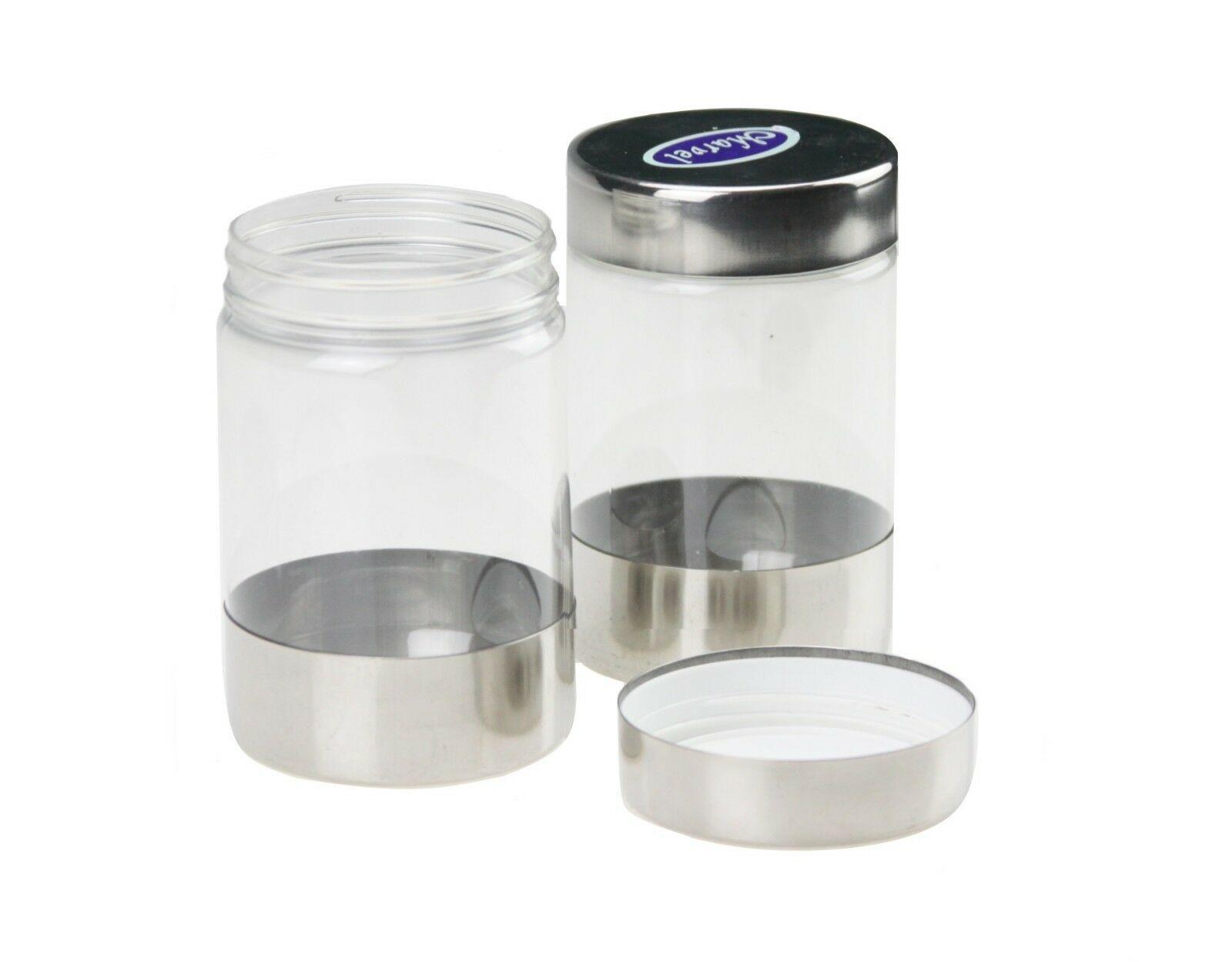 Recommend this product to a friend
2PC Stainless Steel Clear Canister Set Silver Kitchen Jar Food Storage Tea Coffe