3 Tier Stainless Steel Tiffin Lunch Box Indian Tiffin Tin Box Food Storage
---
---
---
3 Tier Stainless Steel Tiffin Lunch Box Indian Tiffin Tin Box Food Storage - Double Insulated Tiffin Tin Lunch Box 3 Tier Stainless Steel Indian Tiffin Box Food Storage Hot Food Flask
Size Overall Including Bag: H: 22cm x W: 14cm x D: 15cm 
Size Of Tiffin : H: 21cm x W: 14cm
Traditional Yet Practical Food Carrying Solution – Tiffin lunch boxes have been a part of Indian lifestyles for many generations from when children where taking lunch to school to parents taking lunch at work. This stainless steel 3 tier lunch box is that practical solution where you can take all your favourite lunch or snacks in one container and not have to carry loads of small bags or tubs. The food content placed shall also stay warm and safe due to the stainless steel double insulated body and locks.




All In One Food & Snack Carrier - Having a lunch box or snack box that is easy to carry and contains everything you require is always ideal. This stainless steel tiffin lunch box is made up of 3 stackable tiers and each individual tier has its own lid. This ensures that none of the contents placed will spill or leak and you can take a variety of food along with you. It also comes within a carry bag therefore, it is easy to carry or place when on the go.




Great When In The Outdoors Or On The Go - This stainless steel 3 tier tiffin lunch box has been designed with a strong and durable structure so that you can easily carry food and snack during picnics, barbecues or camping. Also ensuring that it lasts for many years.
Preserve Food & Keep It Fresh - Not matter if its packing food and snacks for school, work or the outdoors; this stainless steel lunch tiffin will allow you to transport delicious foods and snacks where ever your travelling. It keep content fresh and hold many lunch and snack options from sandwiches and wraps to salads, fruits and biscuits.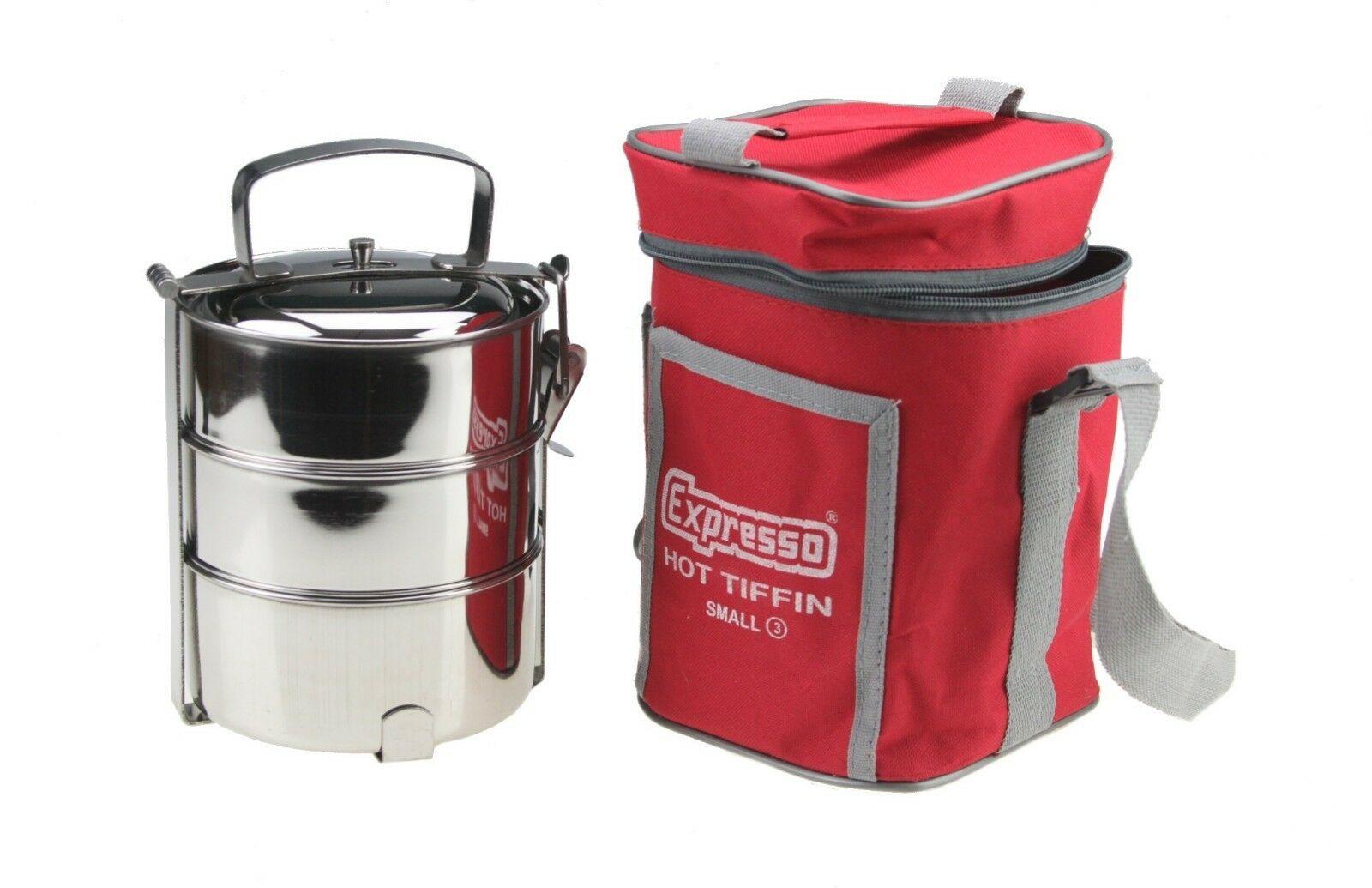 Recommend this product to a friend
3 Tier Stainless Steel Tiffin Lunch Box Indian Tiffin Tin Box Food Storage