3 x Rectangle Silver Effect Serving Plate Dinner Tray Platter Mirror Polished
---
---
---
Silver Rectangle Serving Tray Set 3pc Nickel Plated Metal Serving Trays Silver Effect Polished Rectangular Drinks, Fruits, Platter, Tray Tea, Coffee, Snack Food Serving Trays Dish Plate
Set of 3 nickel plated rectangular trays made to easily serve and present food. Sleek and stylish mirror polished finish with a simple central design to enhance the display of anything. No matter if your serving snacks, appetizers, salads or drinks, these trays will make that process easy. Size - H: 19.5cm x W: 28cm.

Nickel Plating For Endless Duration/Life Time Utilization - Nickel plated rectangular trays made to last. Having a nickel covering, will make these trays very durable and robust. It will not bend, rust, corrode or wear. It gives the tray a bright mirror polished finish which will just require a gentle wipe to bring it back to it original condition. Without any problems or worries these rectangular trays will last you years for numerous purposes.

All-Rounder Edged Tray - Serve and present food and drinks with ease. Simple light weight trays with a easy hold rim allowing you to place or serve the tray without any difficulty. You can serve naan, vegetables, drinks or even tasty hot dishes. The inner curved edge shall insure food served can be scooped up easily and drinks do not slip or slide.

Ideal Serving Solution - Not matter if the occasion is big as a party or small as a gathering, this 3 piece nickel plated serving tray set is perfect and will suit all needs even if you have more or less guests.

Touch Of Class To Any Dining Experience - Add that extra touch of elegance to your coffee table, dining table or even catering service with this beautiful and antique design tray set. With a high gloss mirror polished finish, the quality of your presentation will look the finest and your tea, coffee, fruits or desserts will be gone in seconds.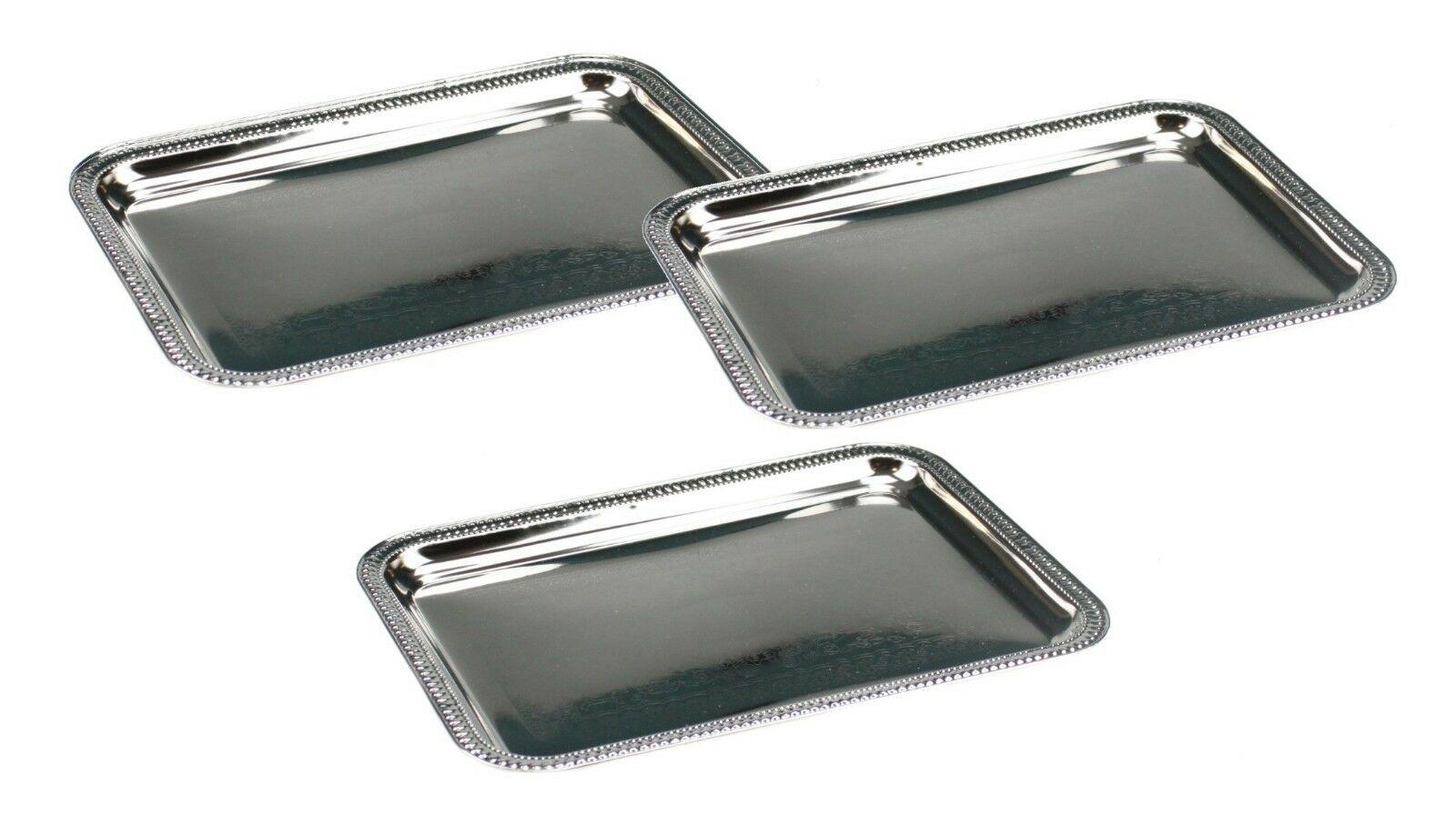 Recommend this product to a friend
3 x Rectangle Silver Effect Serving Plate Dinner Tray Platter Mirror Polished