4 x Plastic Ice Cream Dessert Bowls Sundae Dishes Cocktail Fruit Childrens Cone
---
---
---
Plastic Dessert Bowls Ice Cream Sundae Dishes Set Of 4 Appetiser Fruit Salads Pudding Dishes Kids Children Plastic Reusable Outdoor Starter Bowls 300ml
•Set of uniquely styled lightweight & colourful dessert bowls for you serve a variety of foods. High quality double layer plastic ice cream cone shaped bowls with a coloured transparent surface and base for you to present and serve desserts, ice cream, sundae's, fruit salads, puddings and many other foods.
•These ice cream bowls are available in set of 4. The capacity of each dessert bowl is 300ml. Dimension of each dessert bowls is - Height – 11.5cm & Diameter: 8.5cm.
•PRACTICAL DESSERT BOWLS – If it's making desserts in a fun way for children or serving summer dessert during your garden party; these versatile ice cream cone shaped bowls will come in handy. Due to the bright colours and transparent look, they will excite children and will stand out no matter what dessert your serving. You can also take these along without during outdoor trips i.e. picnics.
•DURABLE HIGH QUALITY PLASTIC – These bowls are made with a double layer, not just so they look nice but to also make them long lasting. They will be perfect for young children and there little hands as they are lightweight, children will be able to hold them with firm grip and stability. Even if they get dropped, they will not break on floor and are a safe dining solution especially for kids.
•SERVE INDIVIDUAL PORTIONS - No matter if you want to serve ice cream dessert or fruit; this set of plastic dessert bowls are made to be versatile. Everyday or on special occasions, with these practical bowls give everyone individual portions of the tasty food you have made. Make sure every dish is as perfect as possible!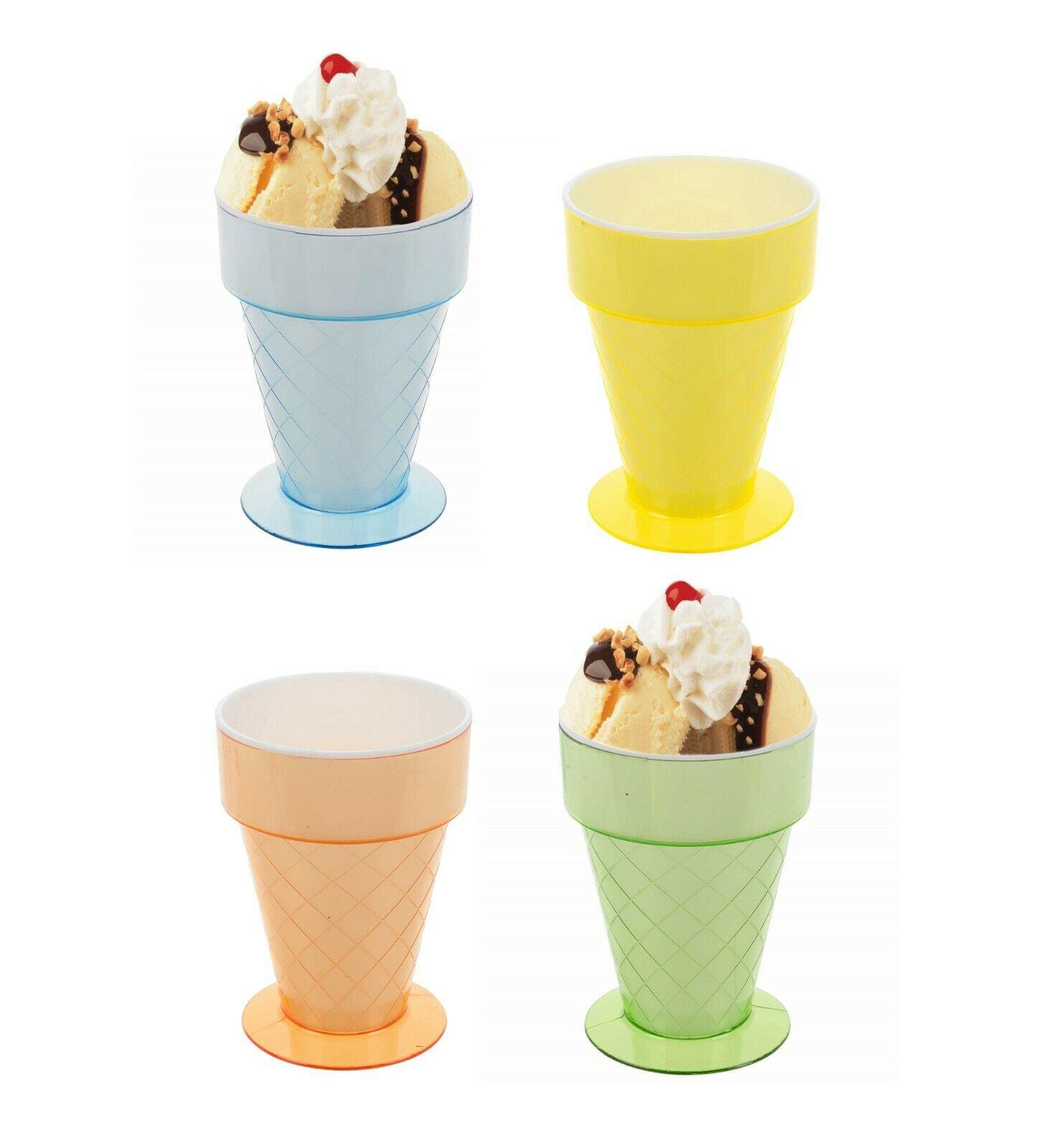 Recommend this product to a friend
4 x Plastic Ice Cream Dessert Bowls Sundae Dishes Cocktail Fruit Childrens Cone