5 Pcs Porcelain Set with Wooden Stand for Olive Oil Vinegar Salt Pepper
---
---
---
Royalford 4 Pcs Porcelain Cruet Set with Wooden Stand - Ideal for Daily Use – Non-Toxic, Ecologically Tasteless, Smooth Surface, Comfortable Grip and Lightweight – Durable and Elegant Design
PORCELAIN BUILD - Condiment your favorite dishes after serving or during meal prep with this elegant cruet set made in porcelain, with a wooden stand, plastic cork stoppers and a wooden handle for an easy reach

MINIMALIST DESIGN - Bring the elegance and beauty to your home or restaurant, this showpiece of unique craftsmanship with beautiful design will add style class and gives a rustic yet modern look decoration on your dining table. Suited to both casual and formal entertaining and acts as an elegant table center piece.

SET INCLUDES - This condiment set includes Oil pourer, vinegar pourer, salt and pepper shakers and display stand. Featuring a convenient wooden handle for carrying to and from the dining table with durable design with easy re-fill for use time and time again

DURABLE & VERSATILE SERVE WARE - Premium quality condiment set ideal for quickly drizzling and pouring over pasta, salads and other foods. This stylish design condiment bottle and salt/pepper shaker set is perfect for kitchen prep or serving at the dining table or al fresco meal times with durable build & smooth gloss fine work glaze finish.

EASY TO CLEAN & MAINTAIN - porcelain pieces are dishwasher safe; wooden stand can be cleaned by hand with wet cloth. Perfect bottle shape for firm hold and dispensing, easy removable caps for filling, perfect plastic stoppers.

The Royalford porcelain cruet will brighten up your kitchen or table with these white color and charming shabby chic patterns with wooden stand that will have your cooking and dining in style for years to come. Add those final flavors to your delicious meal with the 4pc condiment set that combines chic white porcelain and natural wood for a striking look on your dining table. Perfect for mixing and matching with each other for a lovely look!

The rectangle-shaped Salt and Pepper shakers have a medium capacity and are secure in the hand when shaking due to the elegant design. The ideal dispenser set for the dining table. These stylish drizzlers are great for when serving pasta and other meals or salads and fast to use during food preparation in the kitchen. The perfect bottle shape for a firm hold and easy dispensing, great for rapeseed, coconut, truffle and many other oils, soy sauce, white wine and balsamic vinegars. The removable pouring spout with plastic cover cap stopper on top for sealing and preserving contents. Easily refill with a kitchen funnel.

The set includes 1 x bottle for oil, 1 x bottle for vinegar, 1 x salt shaker, 1 x pepper shaker and wooden tray. Durable and versatile serve ware, classical white crockery liquid holders, super for the home, caravan, camping and catering uses. High quality vitrified porcelain with a smooth glaze finish, easy to clean and dishwasher safe.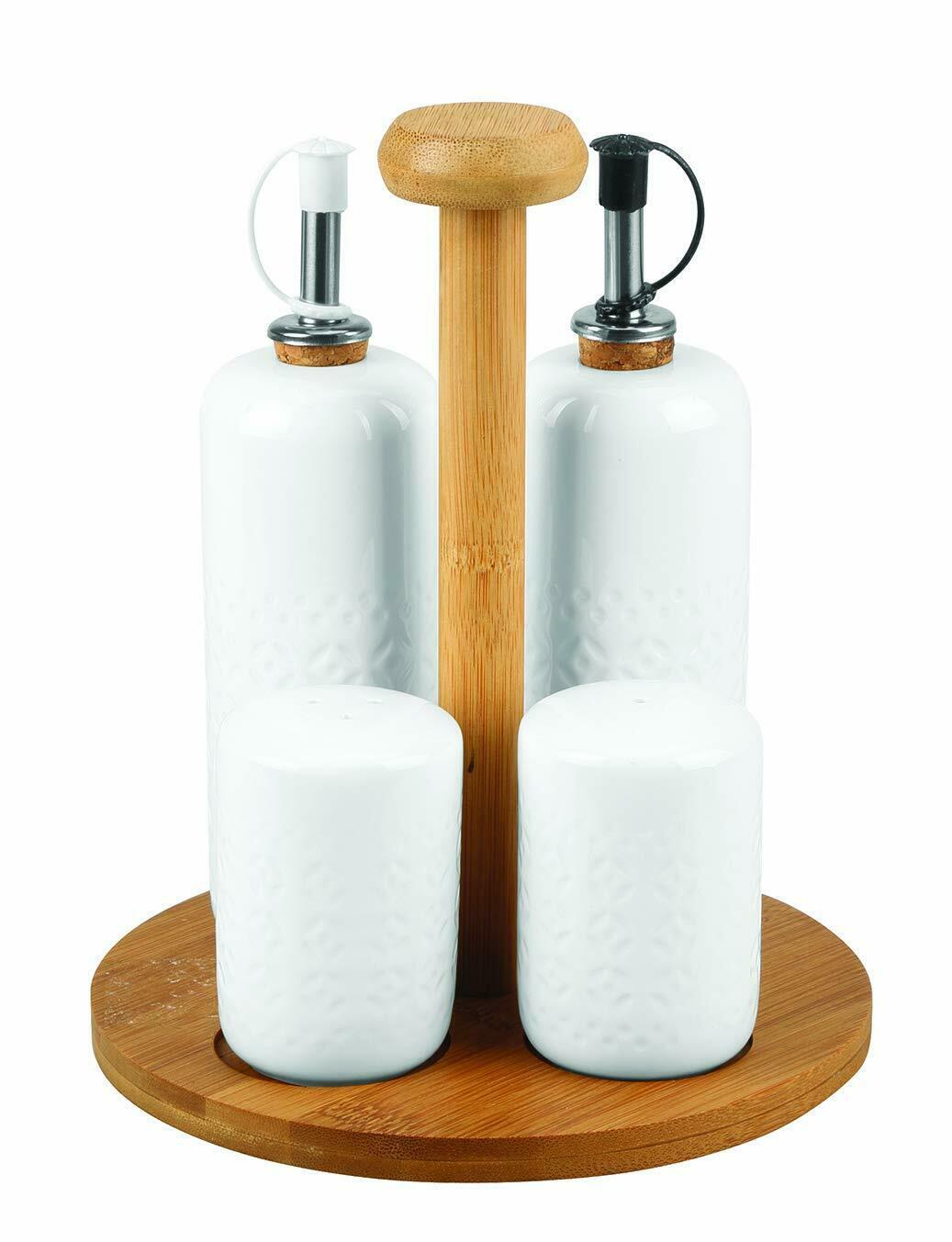 Recommend this product to a friend
5 Pcs Porcelain Set with Wooden Stand for Olive Oil Vinegar Salt Pepper