6 Piece White Porcelain Snack Appetizer Dish Nibbles Condiment Dip Serving Tray
---
---
---
6 Piece White Porcelain Appetizer Snack Dish Nibbles Condiments Dips Heart Shape Serving Bowl Sauce Dish Bowl
•A 6 piece white porcelain serving dish set to be the perfect and practical serving solution for appetizers, nibbles, snacks, condiments or even sweets! This serving dish set consists of 6 individual heart shape dishes made from durable porcelain with a smooth polished finish, to make your serving a range of food much more easy.
•Dimensions of EACH INDIVIDUAL DISH ARE – H: 4cm x D: 12cm x D: 8.5cm. This serving dish is Food Grade Quality and Dishwasher Safe.
•MADE TO LAST PORCELAIN SERVING DISHES – This 6 piece heart shaped serving dishes are made from the finest quality stoneware, porcelain, to be sturdy and long lasting. The dishes will last you a long time without you having to worry about them getting scratched or being damaged. They have a smooth high resistant surface which shall ensure they do not get any chips, scratches or break.


•ENHANCED PRESENTATION - Easily improve your presentation in seconds and add that touch of class with this heart shaped white porcelain 6 piece snack serving dish. This dish is a stylish yet a practical solution that not only holds reasonable volumes of food but also is great for presenting food. Serve olives, dips, snacks, crisps, dry fruit, nuts and more.
•SERVE EQUAL PORTIONS OF FOOD - Along with being able to serve 6 different snacks and having better presentation; this dish also allows you serve equal amounts of food. Together or indivdually, with 6 equal sized compartments you easily serve the same amount of different food to your guests.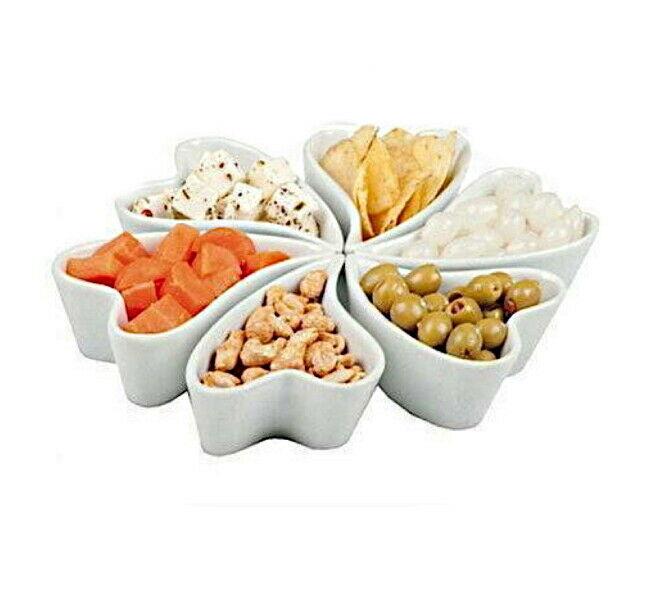 Recommend this product to a friend
6 Piece White Porcelain Snack Appetizer Dish Nibbles Condiment Dip Serving Tray