6 Rakhi Thread Raksha Bandhan Aum Om White Multicolour Bead Dora Hindu Festival
---
---
---
6 x Rakhi Thread Raksha Bandhan Aum Om Ohm White Multicolour Beaded Rakhi Hindu Indian Festival Wrist Band Rakhi For Brother Friendship Bracelet Raksha Bandhan Gift.
These are available in set of 6 ONLY.
Exclusive Raksha Bandhan Rakhi threads/bracelet adorned with beads for your dear brother on the auspicious occasion. Please Note- As they are hand-made, colour or design may slightly vary from the photo.
Adorn your brothers wrist with these beautiful sacred thread of protection. Crafted with a Aum/Om/Ohm bead centre and colourful crystal style beads either side, on a long & strong white cotton thread, so you can tie the perfect knot on the special occasion of Raksha Bandhan. This will strengthen the inseparable bond of love between a brother and sister!
Show Your Love To Your Dear Brothers – Raksha Bandhan is that one hindu celebration which only comes once a year and is dedicated to our dear brothers and sisters. These beautiful and unbreakable cotton threads/rakhi marks and upholds that special bond between a brother and sister.
Knot Of Protection – The word 'Raksha' means protection and the word ' Bandhan' means tie/bond. As this rakhi is tied, the sister prays for his happiness and prosperity whereas, the brother in return gives her a token of gift and ensures he follows his religious duty and protects his dear sister.
Traditional Hand Design Bracelet – These rakhi are hand-made from colourful interwoven cotton threads and adorned with beads to give a beautiful hand design. These rakhi threads don't just have to be used on hindu festival of raksha bandhan but can also be used as a friendship bracelet to mark that special bond between you and your dear friends.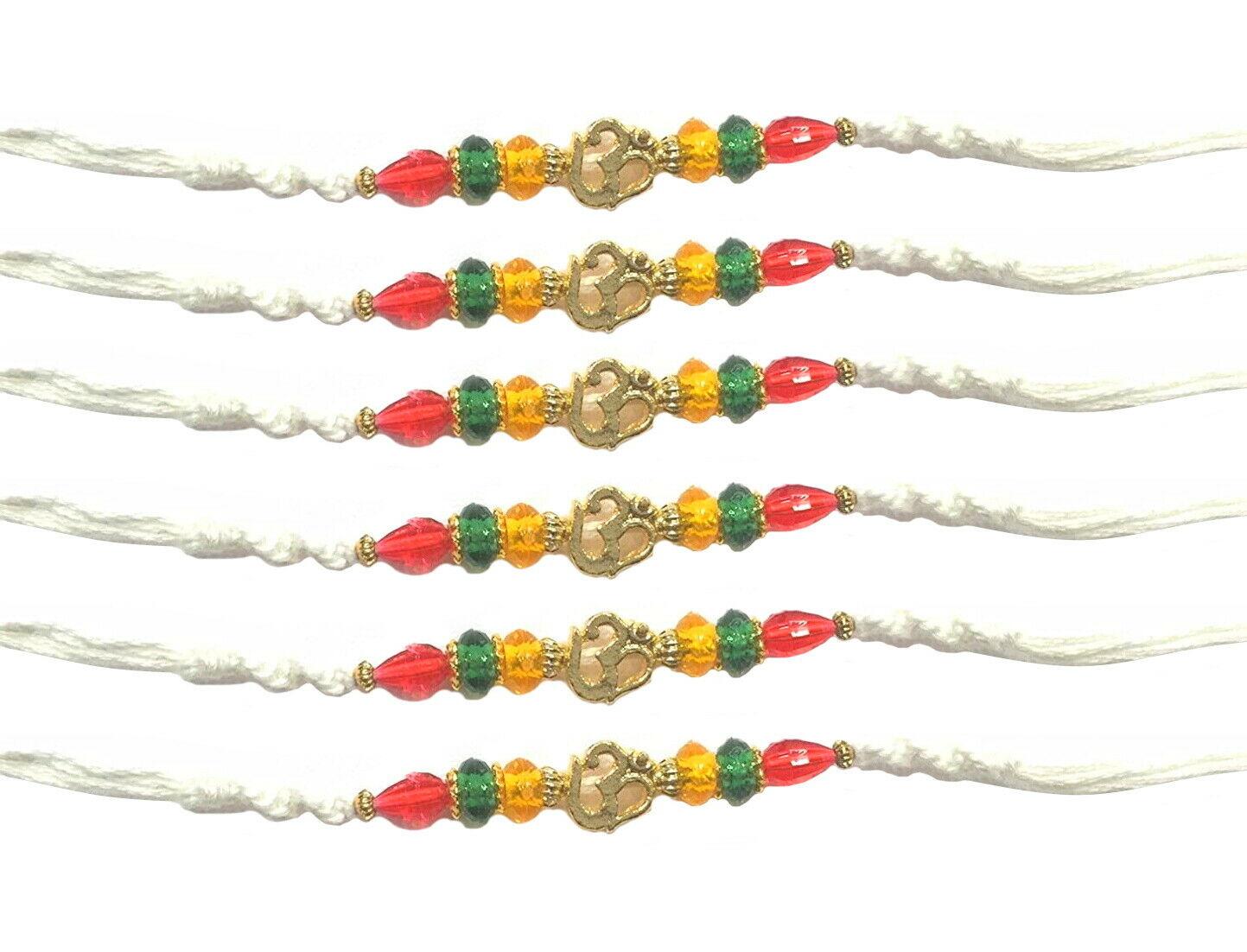 Recommend this product to a friend
6 Rakhi Thread Raksha Bandhan Aum Om White Multicolour Bead Dora Hindu Festival