6 Rakhi Thread Raksha Bandhan Neon Bead Stone Dora Rakhi Bracelet Hindu Festival
---
---
---
6 x Rakhi Thread Raksha Bandhan Neon Golden Bead Stone Rakhi Hindu Indian Festival Wrist Band Rakhi For Brother Friendship Raksha Bandhan Gift
Adorn your brothers wrist with these beautiful sacred thread of protection. Crafted with a small neon beads and silver effect stones, on a long & strong neon yellow/light-dark orange coloured cotton thread, so you can tie the perfect knot on the special occasion of Raksha Bandhan. This will strengthen the inseparable bond of love between a brother and sister! These are available in set of 6 ONLY. A set of 6 at random colour will be sent out

Exclusive Raksha Bandhan Rakhi threads/bracelet adorned with beads for your dear brother on the auspicious occasion. Please Note- As they are hand-made, colour or design may slightly vary from the photo.

Show Your Love To Your Dear Brothers – Raksha Bandhan is that one hindu celebration which only comes once a year and is dedicated to our dear brothers and sisters. These beautiful and unbreakable cotton threads/rakhi marks and upholds that special bond between a brother and sister.

Knot Of Protection – The word 'Raksha' means protection and the word ' Bandhan' means tie/bond. As this rakhi is tied, the sister prays for his happiness and prosperity whereas, the brother in return gives her a token of gift and ensures he follows his religious duty and protects his dear sister.

Traditional Hand Design Bracelet – These rakhi are hand-made from colourful interwoven cotton threads and adorned with beads to give a beautiful hand design. These rakhi threads don't just have to be used on hindu festival of raksha bandhan but can also be used as a friendship bracelet to mark that special bond between you and your dear friends.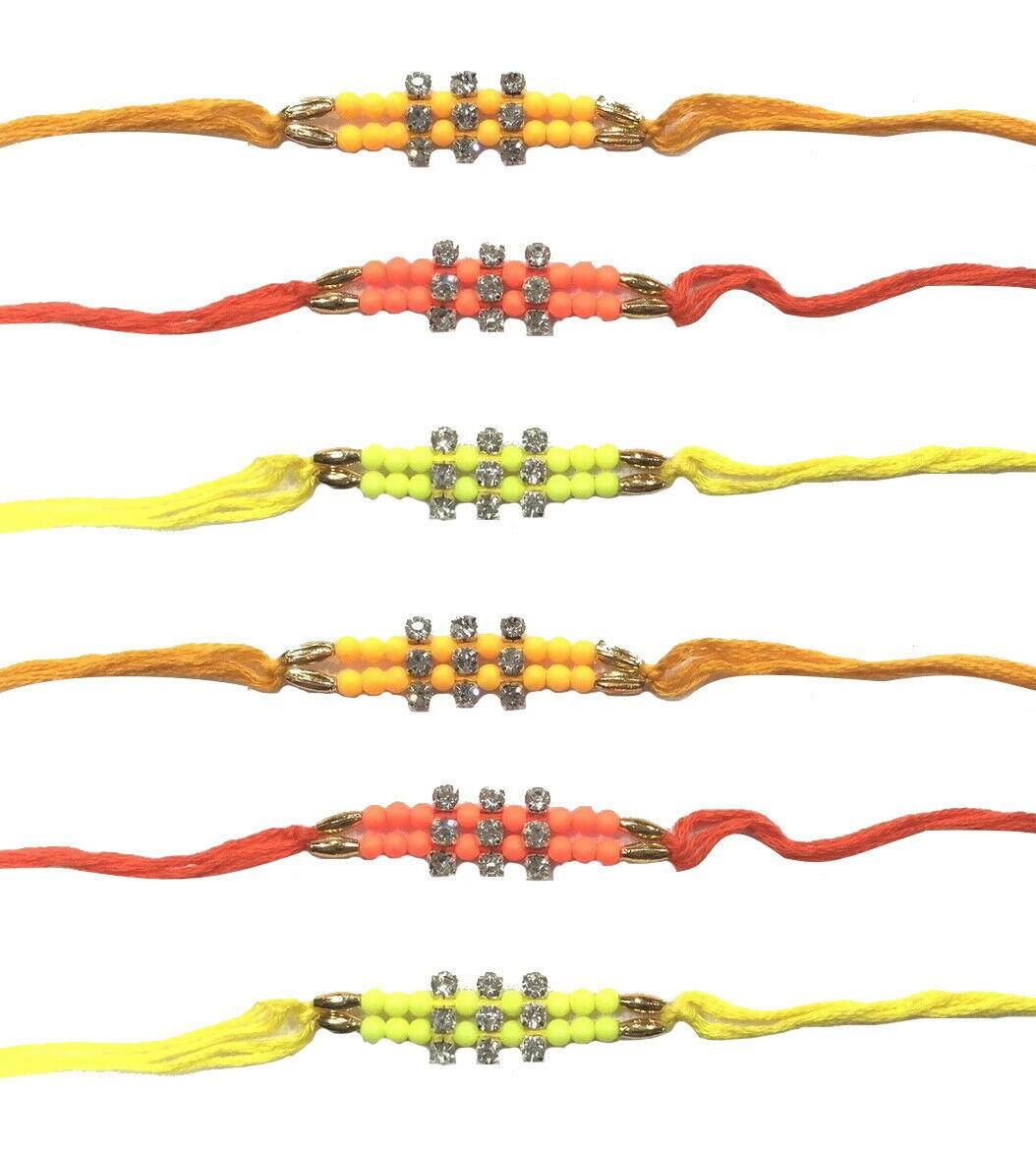 Recommend this product to a friend
6 Rakhi Thread Raksha Bandhan Neon Bead Stone Dora Rakhi Bracelet Hindu Festival