6 x Glass Prawn Cocktail Bowls Appetizer Starter Serving Glasses Stemmed Dishes
---
---
---
Set Of 6 Glass Prawn Cocktail Bowls Dishes Stemmed Appetizer Prawn Cocktail Starter Serving Glasses Appetiser Prawn Seafood Shrimp Salad Cocktail Nibbles Glass Bowls, 225ml
•
Make your starters look even tasty with these prawn cocktail glasses. bowls with a short stem pedestal base crafted from durable transparent glass, with a smooth polished finish so you can perfectly layer and display individual portions of delicious appetizers/starters such as prawn cocktails, seafood salad or even a veg alternative.
•
These Prawn Cocktail Glass Bowls come as a Set Of 6.
Size – 8.5 x 9cm
•
MARTINI PRAWN COCKTAIL BOWLS - Make those classic prawn cocktails look even more delicious with these martini look bowls. Due to the transparent and wide glass structure, you will be able to perfectly layer different items such as lettuce, avocado, salad, mayonnaise, sauces, prawns, shrimps and a touch of lemon slice. Smooth reflective glass surface shall catch any form of light to make your starter even more tempting!
•
EFFORTLESSLY SERVE INDIVIDUAL PORTIONS – As these prawn cocktail dishes are deep, you will be able to fill them with many rich flavoured fillings to give your diners a blast of numerous crisp & tangy flavours! They are the perfect size to serve individual portions of delicious appetizers, starters, or maybe even desserts, so make every dish as perfect as possible!
•
HEAVY-DUTY GLASS DESIGN – High-quality glass is what makes these prawn cocktail bowls extremely durable. The extra thickness of the glass surface and high resistance shall ensure these starter cocktail bowls remain robust and resistant to common damage i.e. chips/cracks/scratches. Heavy-duty glass will make each bowl feel weighty to always provide balance and stability, especially when serving.
Size – 8.5 x 9cm
Elegant Presentation – Uniquely styled dessert bowls ideal for presenting a range of desserts no matter what the setting. A clear glass contemporary structure with a stemmed base will make your dessert look finest and impress your guests. Ideal for parties, dinners, events & festive occasions.
Durable Glass Structure – Strong glass designed with a long lasting finish to make these dessert bowls remain a crisp clear condition after numerous uses and repeated washes. With hygienic non porous and inert properties of glass, with these bowls your desserts will always remain fresh from when there dished up to being served.
Space Saving Storage - Along with being a practical tool for serving tasty small foods and desserts; these dessert bowls are also provide easy stackable storage to ensure your cupboards remain neat and tidy.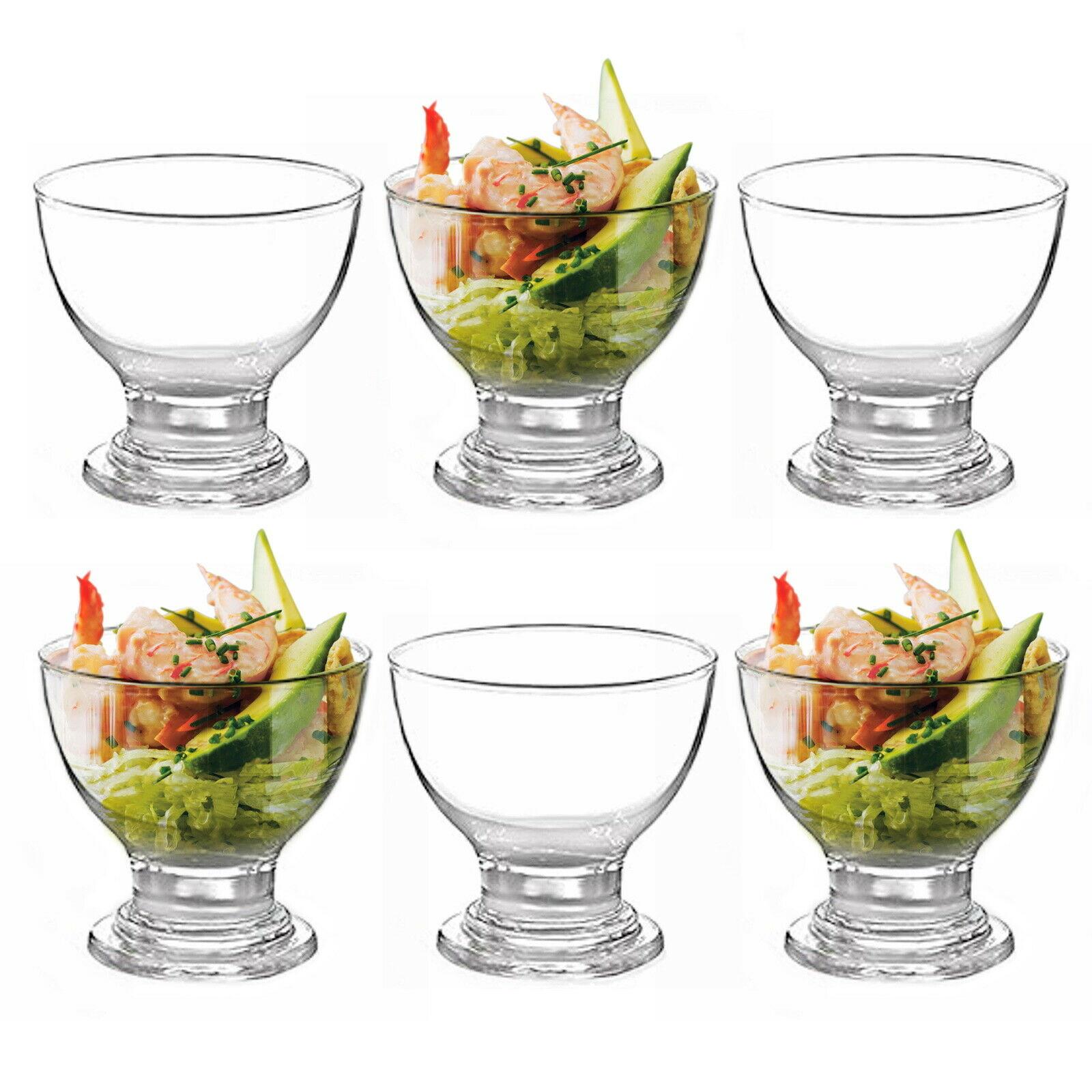 Recommend this product to a friend
6 x Glass Prawn Cocktail Bowls Appetizer Starter Serving Glasses Stemmed Dishes