7 Chakra Hematite Buddha Bracelet Magnetic Therapy 7 Chakra Healing Stones Yoga
---
---
---
7 Chakra Hematite Buddha Bracelet Hematite Magnetic Therapy 7 Chakra Stones Yoga Meditation Healing Crystals Stretch Bracelet With Buddha
A beautifully polished and colourful bracelet with 7 chakra, hematite and buddha beads. A combination of different healing beads to bring you inner peace and ease of pain. Hematite beads for magnetic healing therapy and 7 chakra beads to balance energy levels between 7 centre's of the body. A complete bracelet which will not only provide numerous health benefits but also look eye catching on the wrist.

Ultimate Fashionable Healing Bracelet – A beautiful bracelet with a fusion of different healing stones, full of exceptional healing powers made for you. This bracelet is a complete package which will help to keep your body in balance, pain free and look stylish. Along with well-being benefits this bracelet can be worn by anyone, made of strong elastic stretch thread this bracelet will never break and a buddha to add to the style.

Hematite Beads – Hematite beads is a magnetic healing therapy which has been used for many years to ease pain, reduce inflammatiom and improve blood circulation. This hematite bead 7 chakra bracelet will provide natural pain relief for many symptoms such as arthritis, joint pain and cleanse blood circulation. With this bracelet you relieve numerous without having to buy medicines.

7 Chakra Beads – 7 Chakra's are known to be the 7 rotating centre's inside the human body. Within this bracelet each of the colourful beads represent and heal one of those 7 centre's. As all 7 chakra stones are together, any imbalance with your body will be healed and vitality will be promoted by this bracelet.

A great gift for dear ones not just to be worn but also for prayer, meditation and yoga practices.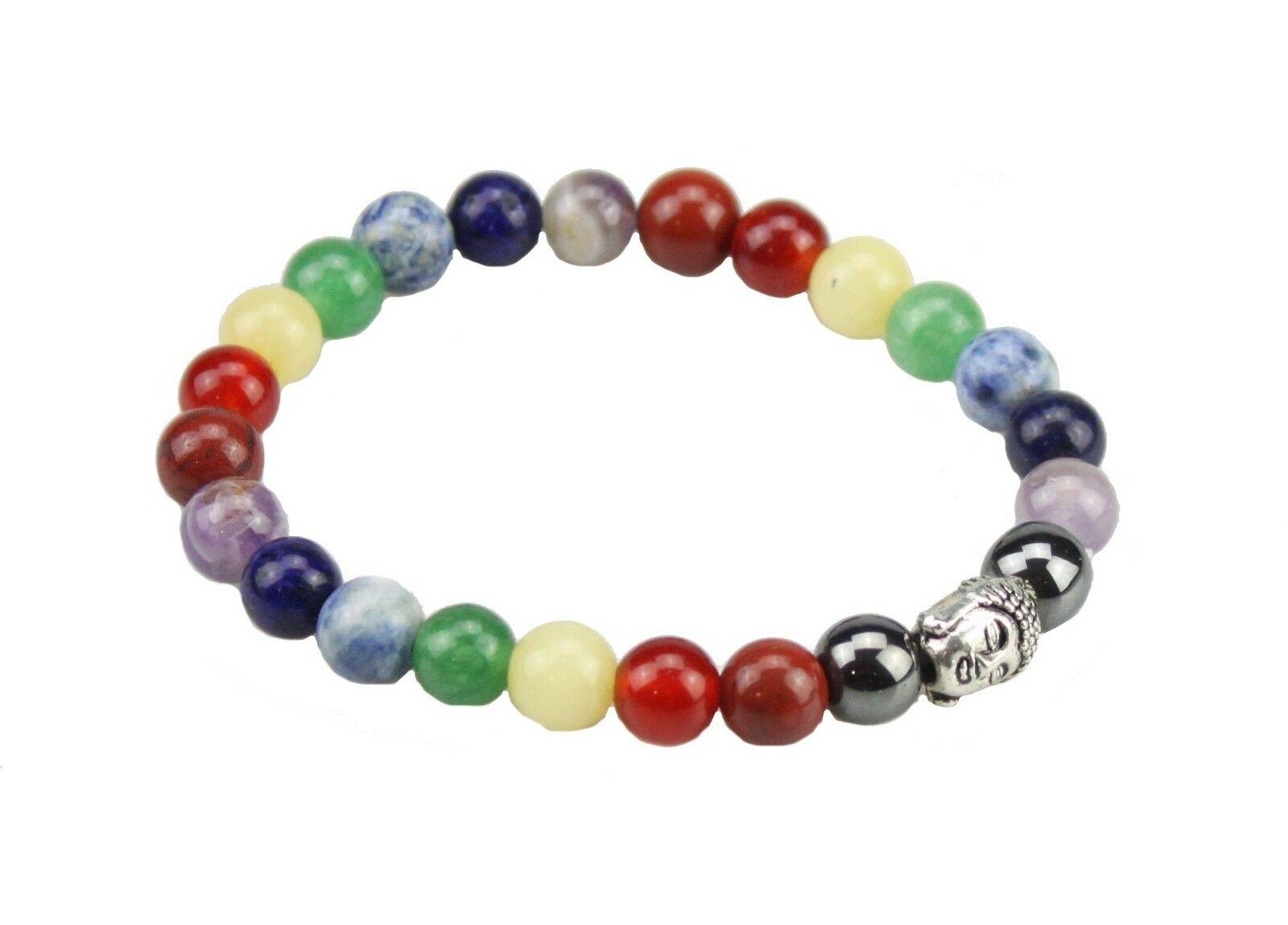 Recommend this product to a friend
7 Chakra Hematite Buddha Bracelet Magnetic Therapy 7 Chakra Healing Stones Yoga