Aluminium Foil Dishes Platters Roasting Trays Disposable Baking Buffet Catering
---
---
---
Aluminium Foil Dishes Platters Roasting Trays Disposable Baking Buffet Catering
•Dimensions of each are –
Round Aluminium Foil Dishes
Pack Of 5 Flan Dishes (Diameter: 21.5cm
Pack Of 3 Casserole Dish (Diameter: 23cm)
oAluminium Foil Platters Trays
oAluminium Foil Roasting Trays
Jumbo Oblong Roaster (39.5cm x 34cm)
Pack Of 2 Large Roasting Dish (32.5cm x 26cm)
Jumbo Oval Deep Roaster (47cm x 34cm)
Jumbo Oblong Deep Roaster (46cm x 34cm)
•All aluminium foil trays/platters/dishes are Oven & Freezer Safe. NOTE – ONLY YOUR CHOSEN SHALL BE SENT OUT.
•ALUMINIUM FOIL UTENSILS - Perfect utensils for perfect cooking! As aluminium has excellent heat conductive properties, these foil dishes/trays are a great way to cook/bake/roast food in the oven while minimizing processing time. While the platters are a great way to serve platters hot food during parties, BBQ's, catering events, buffets & more.
•MULTI PURPOSE DISHES/PLATTERS/TRAYS – As each item is Oven and Freezer Safe they are suitable for all food purposes.
oROUND DISHES - Shallow or deep you can bake flans, pies, quiche, tarts and casseroles, or roast meat and veg.
oPLATTER TRAYS - These aluminium platter trays are perfect for serving sharing portions of roasted meats, vegetables, skewer foods, pastries, sandwiches, desserts, canapes and much more.
oROASTING TRAYS - Wide and deep this large roasting tray are perfect for baking, roasting or broiling vegetable, chicken, turkey, fish, casseroles or even large layered portions of pies.
•They are all versatile to directly serve at the table from the oven, and if want to prepare in advance or want to store leftovers, they are perfect!
•DISPOSABLE & RECYCLABLE – Something more environmentally friendly and great to save on washing up are these aluminium foil dishes/platters/trays. Just like your heavy-duty cookware but lighter and highly effective for cooking, baking, roasting or serving, these aluminium foil utensils are a great solution large dining, parties, picnics, BBQ, catering and much more. When used they are disposable and aluminium is completely recyclable!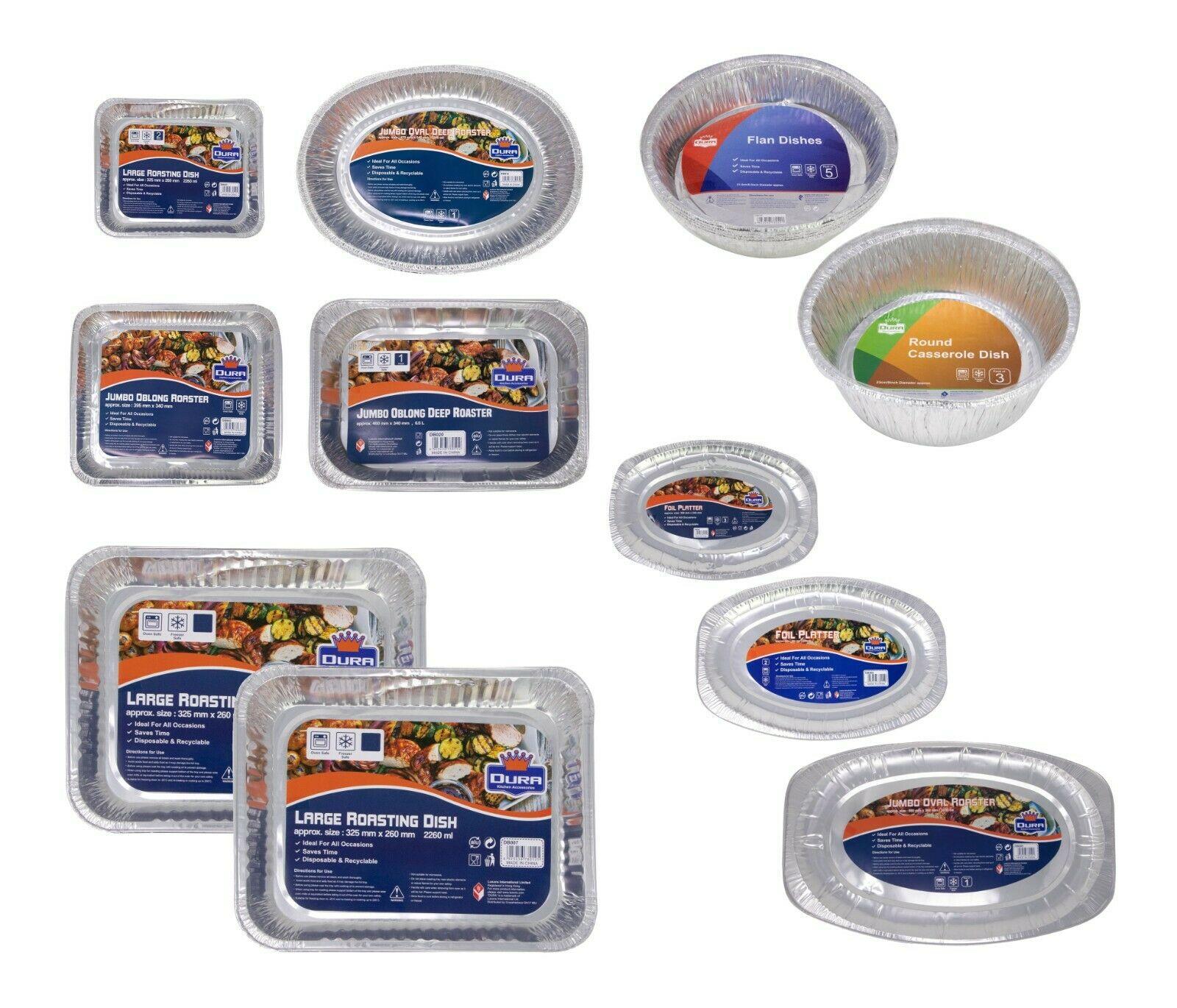 Recommend this product to a friend
Aluminium Foil Dishes Platters Roasting Trays Disposable Baking Buffet Catering