BBQ Grill Pan Stainless Steel Barbeque Grill Basket Tray Vegetable Fish Outdoor
---
---
---
BBQ Grill Basket Pan Stainless Steel Vegetable Fish Grill Pan Barbeque Grilling Roasting Basket Tray Perforated Grill Pan
•Essential BBQ grill pans you need this summer so you can cook or roast some tasty food. Durable stainless-steel pan/s in a rectangular structure with a removeable wooden handle and perforated base so you can perfectly roast small to medium quantities food such as vegetable, meat, fish, prawns, shrimps & much more.
•This Stainless Steel BBQ Grill Pan comes as a Single Pan (25cm x 16cm x 3.3cm) OR Set Of 2 With Wooden Spade/Spatula (17.7cm x 11.3cm x 2cm). NOTE – ACCORDING TO THE ONE YOU CHOOSE EITHER SINGLE OR SET OF 2 SHALL BE SENT OUT.
•PERFORATED GRILL PAN – Make food with the typical grill taste with this/these stainless-steel grill pan/s. Call it a pan, basket or tray, just load it with favourite food and ingredients, and gently cook/roast over the BBQ. A perforated base will ensure, the bbq grillage will remains clean, food does not come in direct contact with the flames and food is cooked to your wanted perfection!
•WOODEN HANDLE – For safety the pan is designed with a removable wooden handle. Wooden handle will not conduct heat from the barbeque; hence you can safely carry and serve or empty grilled food onto another plate. As the handle is removeable, it will be easy to clean.
•STAINLESS STEEL GRILL PAN – High-quality stainless steel moulded to create a durable BBQ grill pan/s. Being made of stainless steel, the pan/s will be resistant to many forms of common damage such as scratches, breakage, rust or corrosion and maintain an excellent finish. Ideal for long term use and many outdoor BBQ's.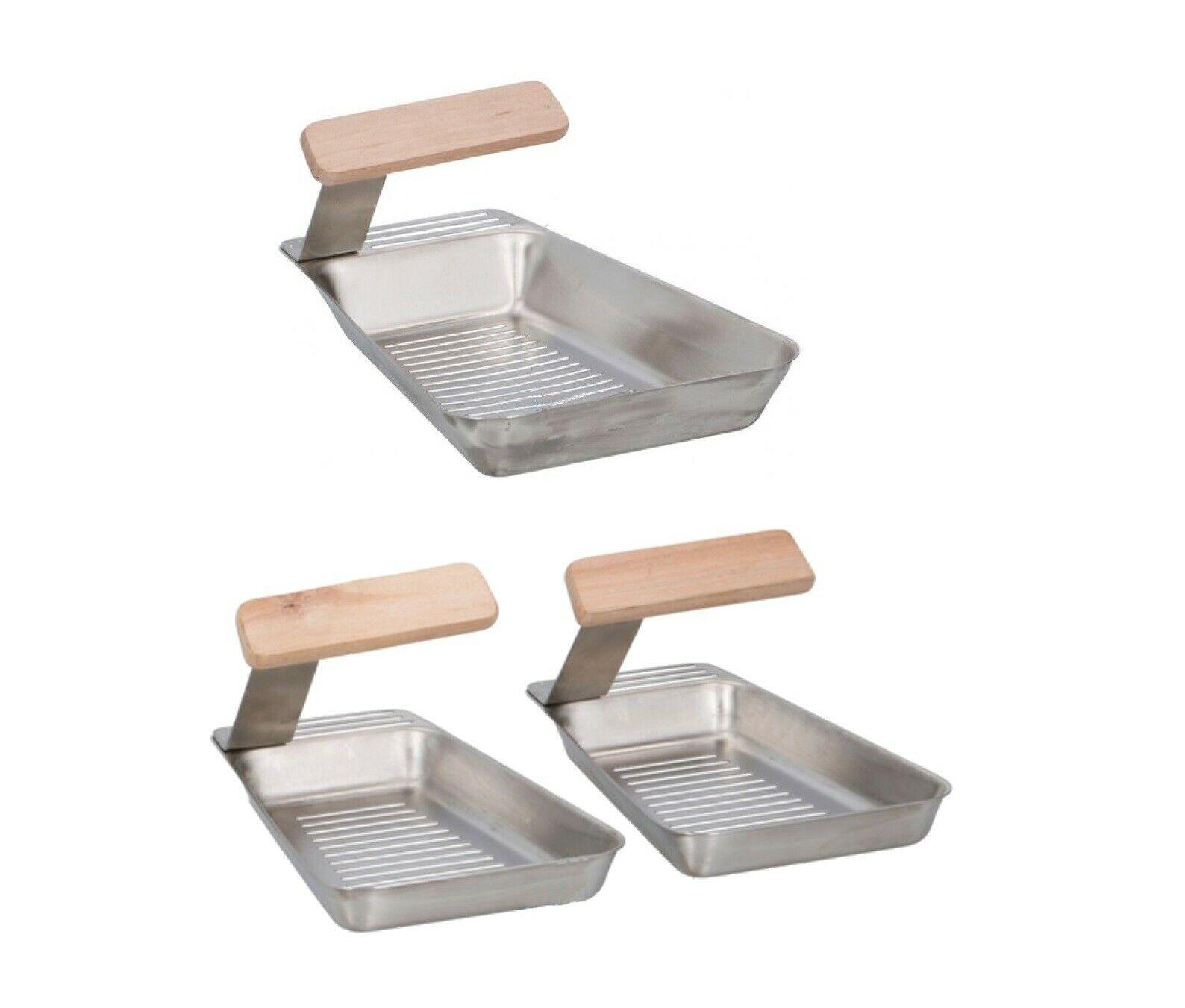 Recommend this product to a friend
BBQ Grill Pan Stainless Steel Barbeque Grill Basket Tray Vegetable Fish Outdoor