Cherub Ornament Tealight Holder Oil Burner Figurine Heart Gift Angel Collectable
---
---
---
Cherub Ornament Tealight Holder Oil Burner Cherubs Figurine Trinket Box Gift Xmas

•Crafted from high quality resin with a stone effect finish are these beautiful winged angel Cherub collectables. Each of distinctive design and many with pink heart or finishing, are these Cherub collectables from display ornaments and figurines, to oil burners, tea light holders and trinket box.

•DISPLAY ORNAMENT - Each Cherub figurine has a beautiful detailed design and wings, making it ideal for various display purposes around the home i.e. side tables, shelves, display units, living room, bedroom & more.

•IDEAL GIFT - These Cherub Collectables have a precious design making them ideal gift this festive season for good wishes to dear ones i.e. Christmas, Stocking Fillers, Secret Santa, New Years, Birthdays, Valentines & more.
Moon and Stars Cherub Ceramic Oil and Tart Burner - 10x10x13.5cm
Ganesh in Hand Lotus Tea Light Holder - 13x10x18.5cm
Mineral Stone Cherub Lying -Height 3.5cm Width 7.5cm Depth 3.5cm
Mineral Stone Cherub Sitting - Height 4.5cm Width 4.5cm Depth 3cm
Rosebud Angel Cherub - Height 13cm Width 10.5cm Depth 8cm
Heart Chain Rose Cherub Figurine - Height 9.5cm Width 8cm Depth 6cm
Peace of Heaven Memory of the Heart Cherub Figurine - Height 7cm Width 6.5cm Depth 3cm
Peace of Heaven Whispers of the Heart Cherub Figurine - Height 9.5cm Width 9cm Depth 3.5cm
Peace of Heaven Love Conquers All Cherub Figurine - Height 5.5cm Width 5cm Depth 2.5cm
Peace of Heaven Kiss from the Heart Cherub Figurine - Height 7cm Width 4cm Depth 3cm - Please note random 1 design will be sent out
Peace of Heaven Playful Heart Cherub Figurine - Height 4.5cm Width 5.5cm Depth 4cm - Please note random 1 design will be sent out
Peace of Heaven Love Everlasting Cherubs Figurine - Height 9cm Width 7cm Depth 4cm - Please note random 1 design will be sent out
Peace of Heaven Forever Love Cherubs Figurine - Height 6.5cm Width 7cm Depth 4.5cm - Please note random 1 design will be sent out
Peace of Heaven Sweetheart Kisses Tea Light Candle Holder - Height 6cm Width 8cm Depth 8.5cm- Please note random 1 design will be sent out
Peace of Heaven Heart of the Rose Cherub Figurine - Height 5cm Width 4.5cm Depth 3.5cm - Please note random 1 design will be sent out
Peace of Heaven Call of the Heart Cherub Oil Burner - Height 10cm Width 10.5cm Depth 10.5cm Dish 11.5x11.5x2cm
Cherub Sat in Pink Rose Head - Height 6cm Width 4.5cm Depth 4.5cm - Please note random 1 design will be sent out
Rosebud Heart Trinket Box Cherub - Height 9cm Width 6cm Depth5.5cm - Please note random 1 design will be sent out
Cherub in Angel Wings Figure in a Bag - Cherub Height 3cm Width 5cm Bag 6 x 6 x 3cm - Please note random 1 design will be sent out
Cherubs Sitting on Book Tea Light Holder - Height 8cm Width 9.5cm Depth 5.5cm - Please note random 1 design will be sent out
Cherubs Sleeping in Wings with Pink Roses - Height 4cm Width 6cm Depth 2cm - Please note random 1 design will be sent out
Cherub Sleeping, Long Wings -Height 5cm Length 9cm - Please note random 1 design will be sent out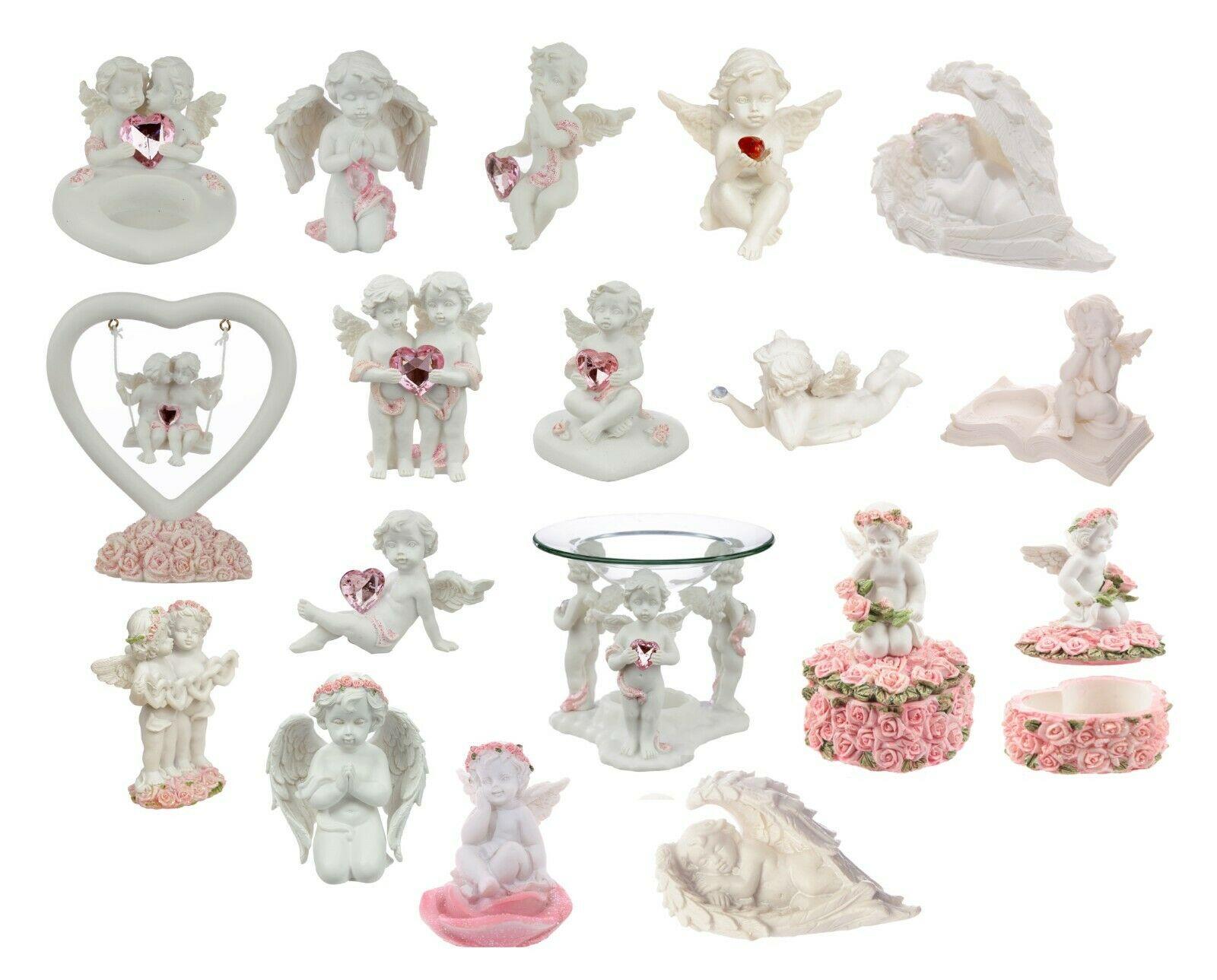 Recommend this product to a friend
Cherub Ornament Tealight Holder Oil Burner Figurine Heart Gift Angel Collectable