Clip Lock Lunch Box Stainless Steel Food Freezer Storage Containers 3PC Airtight
---
---
---
Clip Lock Lunch Box Stainless Steel Food Freezer Storage Containers With Airtight Lids - Set of 3 Clip Lock Lunch Box Stainless Steel
Size Small (350ml) – H: 6.5cm x W: 12cm, Size Medium (600ml) - H:7cm x W:14.5cm, Size Large (1200ml) - H:8cm x W:17.5cm
Preserve Food & Keep It Fresh - Properties of stainless steel make it one of the best materials. Stainless steel does not filtrate any of its metallic properties and therefore, will not affect food or impact the quality of flavour. Not matter if its packing food and snacks for school, work or the outdoors; this 3pc stainless steel containers with airtight clip lock lids will allow you to transport delicious foods and snacks where ever your travelling. Airtight clip lock lids will keep content fresh and hold many lunch and snack options from sandwiches and wraps to salads, fruits and biscuits.

No More Buying Cling Films Or Foil Wraps – Cling film and aluminium foil have always been a convenient, easy and quick method to preserve food. However, have you considered how much unnecessary waste that is? Well to make the environment more friendly and save you some you money, you may want to consider looking into stainless steel food storage containers. Stainless steel food containers have antibacterial properties therefore, will never rust and will last you a long time without any problems. Can also be used in your home to store small foods or any left overs. Also great for carrying food on weekend hikes, camping and road trips.

Easy To Store + Light Weight - Sometimes can be difficult to find space in kitchen cupboards, freezer or bags if travelling. This 3pc stainless steel container set comes in 3 different sizes therefore, you can easily carry all your favourite lunches, snacks and food with you if your travelling or easily store foods at home in your kitchen cupboard or freezer. Also when not being used you can place them within each other which will save space in any bag or kitchen cupboard.

Durable + Reusable - Do you get tired of every so often buying new plastic food storage containers because they have broken, cracked or got stained? These clip lock stainless steel containers are the ideal solution to all your food packing worries. Stainless steel food containers are virtually unbreakable and are built to last a long time, making them much better than plastic lunch boxes. The longevity of the material also ensures that they can be used over and over again without any issues.

Easy To Clean + Maintain – These clip lock stainless steel containers are freezer and dishwasher safe. Therefore, they can be used to store food in freezers and can not only be cleaned by hand but also can be placed in dishwashers for cleaning.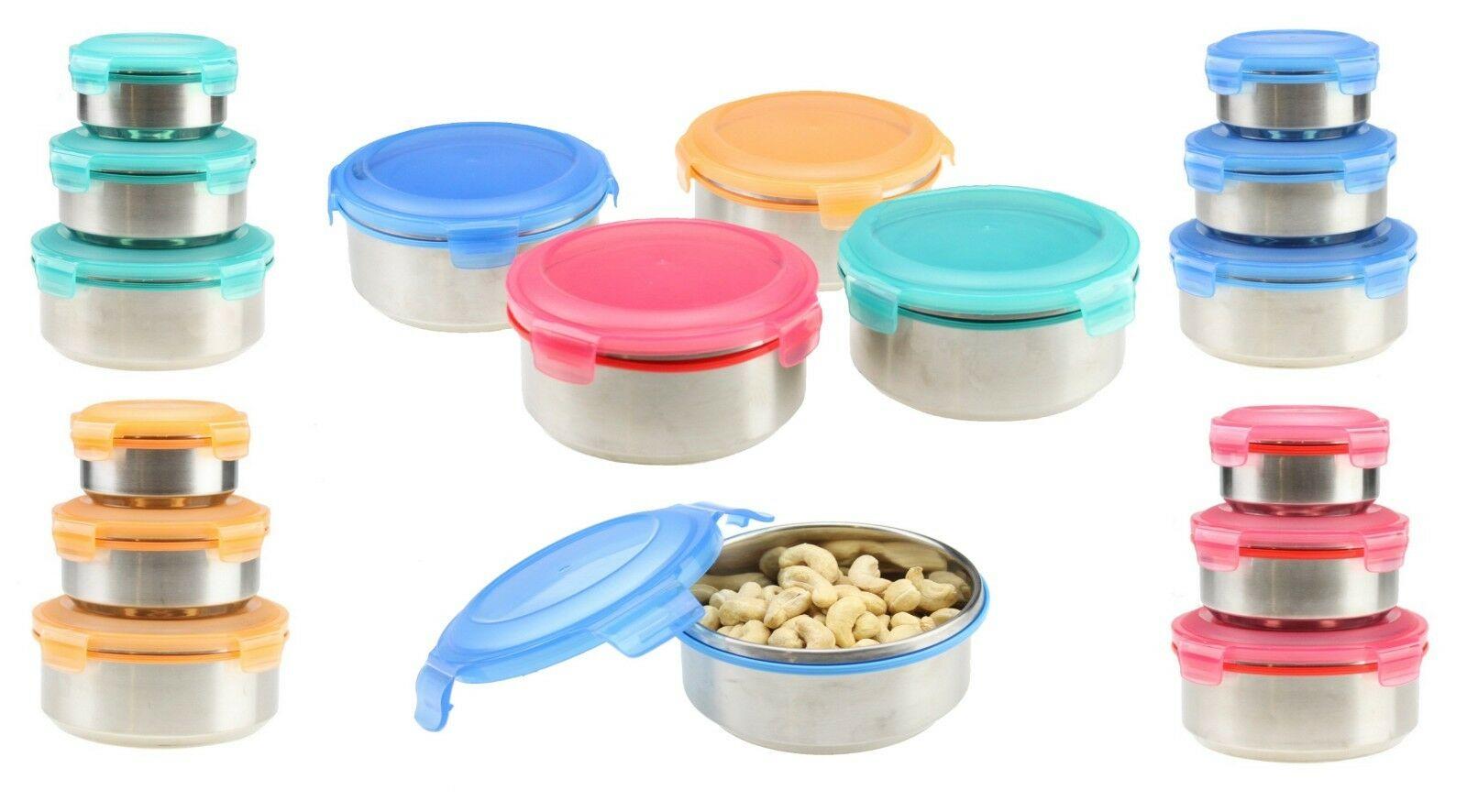 Recommend this product to a friend
Clip Lock Lunch Box Stainless Steel Food Freezer Storage Containers 3PC Airtight