Clip Top Square Preserving Jars for Airtight Food Storage, Pickles & Jam
---
---
---
Clip Top Square Preserving Jars for Airtight Food Storage, Pickles & Jam
Clip Top Glass Storage Jars Vintage Airtight Seal Round Preserving Glass Storage Jars Containers Clip Top Spice Jam Sweets Biscuits Pasta Spaghetti Jars
clear glass clip top jars in a round shape wand airtight clip top seal lids to securely store and preserve small or large quantities of cooking ingredients and foods. These clip top jars are perfect for storing/preserving dry foods such as spices, sweets, biscuits, pasta, spaghetti, lentils, flour, rice, sugar and much more.

This vintage clip top jar is available in 2 different capacities - 1500ml (1.5L) and 2150ml (2L). Note - ONLY 1 jar in your CHOSE CAPACITY shall be sent out.

Clear Glass Structure - Being made from clear glass will make it easier for you to find what your looking for. You will be able to distinguish between foods but also keep any eye out for when content is running low and needs stocking up.

Made To Last, Toughened Glass! - Fine quality glass with a made to last polished finish is what makes these clip top jars extremely durable. As the glass is robust and has a smooth high resistant surface, these jars will be resistant to chips, cracks and scratches.

Safe Food Storage - The glass of these clip top jars is also non-porous, hence they will remain 100% hygienic no matter how much they are used. No form of flavour or aroma shall be affected or remain after use. You can repeatedly wash and use these glass clip top jars without having to face any defects or problems. They are designed to be used for many years!

Clip Top Glass Storage Jars Vintage Airtight Seal Round Preserving Glass Storage Jars Containers Clip Top Spice Jam Sweets Biscuits Pasta Spaghetti Jars.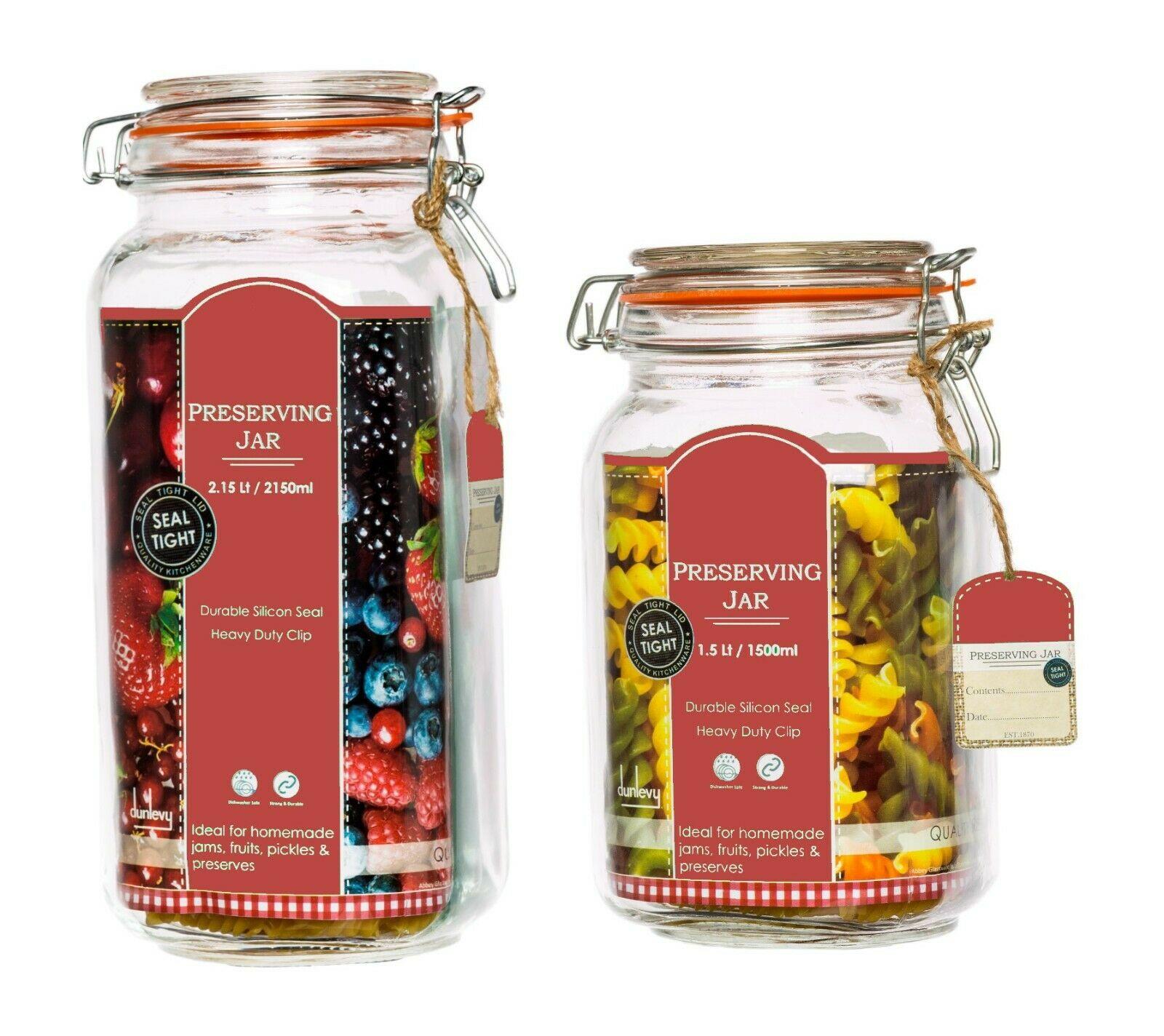 Recommend this product to a friend
Clip Top Square Preserving Jars for Airtight Food Storage, Pickles & Jam