Cracker Storage Container Plastic Box Biscuits Cookies Food Storage Box Kitchen
---
---
---
Cracker Storage Container Plastic Cracker Crispbread Box Clear Biscuit Cookie Rectangular Dry Food Storage Container
•Airtight cracker box perfect for storing your favourite flavour crackers. A rectangular slim clear plastic box with an easy opening clip lock hinged lid to effectively store ready-made crackers, home-made crackers or biscuits, cookies and many other baked goodies, to keep them fresh & retain the original taste and flavour.
•Dimensions of this cracker box are – H: 13cm x L: 20cm x W: 9.5cm.
•CRACKER STORAGE CONTAINER – Keep your ready-made or freshly home-made crackers even fresher for longer with this airtight cracker box. As it is slim and tall with a clip locking hinged lid, it will accommodate many different shape tasty crackers or even biscuit & cookies without it being in contact with any air particles.
•PERFECT KITCHEN ORGANISER – This slim rectangular cracker box is designed to ease your kitchen functioning and give you smarter kitchen storage. As the plastic cracker box has a clear surface design, it will allow yourself and others to easily identify where crackers are placed/stocked. A great way to reduce kitchen cupboard clutter!
•DURABLE CRACKER BOX – Made from hard-wearing clear plastic, this cracker box has a strong structure to give you a long-term kitchen accessory. As it is lightweight, it is ideal for everyday home use and can be taken with you on outdoor trips i.e. picnics or camping to carry your favourite crackers or biscuit/cookies.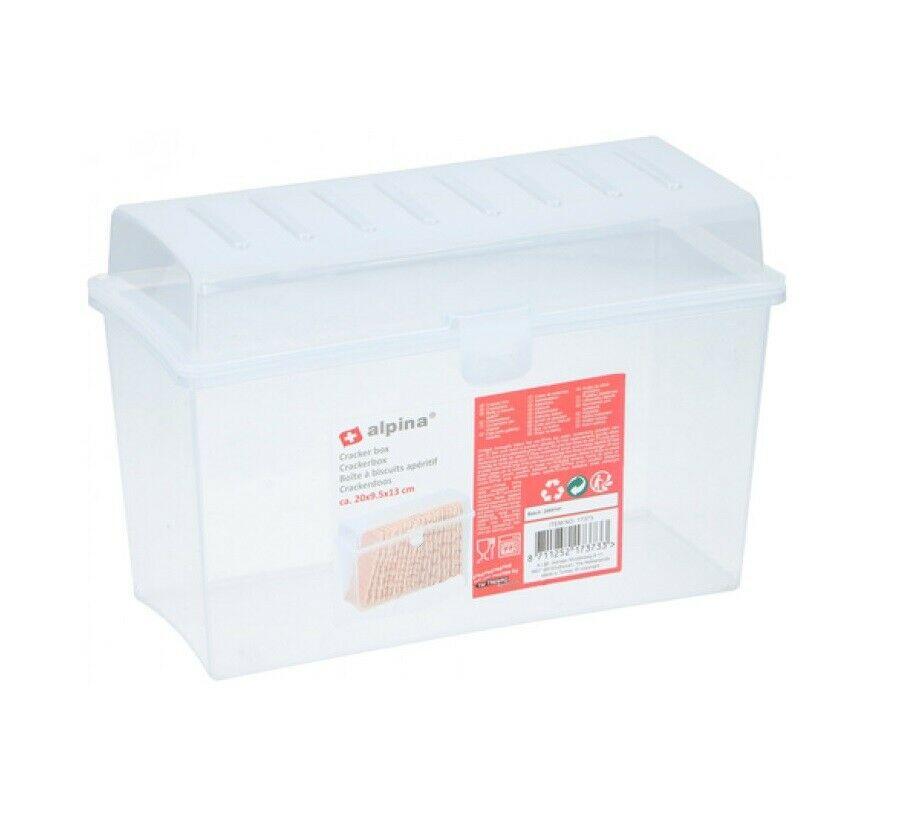 Recommend this product to a friend
Cracker Storage Container Plastic Box Biscuits Cookies Food Storage Box Kitchen