Cumin Seeds 1kg - Whole Cumin, Jeera, Whole Spices Grade A Premium Quality
---
---
---
CUMIN SEEDS - Cummin/ Cuminum Cyminum/ Jeera Whole Seeds
Packed in: United Kingdom
How to Store: Store in an airtight container and keep it in a cool and dry place.
Cumin is generally toasted/roasted gently before adding in a recipe. In order to keep its fragrance and flavour intact, it is generally ground just before preparing dishes.
It is widely used as a spice and employed in cooking as a condiment and flavouring base.
Some Indian vegetarian (jeera daal, aaloo-jeera), chicken curries and rice dishes (biryani, pulao) use cumin on a regular basis. The spice is also a favourite in the Middle East, especially in meat and rice dishes.
The seeds are also been used in the preparation of soups, barbecue sauces, pickling and as one of the ingredients in a variety of curry powders.
Cumin seeds contain many phytochemicals that are known to have antioxidant, carminative and anti-flatulent properties. The seeds are an excellent source of dietary fibre.
It also contains very good amounts of B-complex vitamins such as thiamin, vitamin B-6, niacin, riboflavin, and other vital anti-oxidant vitamins like vitamin E, vitamin A, and vitamin C.
The seeds are also a rich source of many flavonoid phenolic antioxidants such as carotenes, zeaxanthin, and lutein.
Its seeds are employed to prepare a decoction to treat flatulence and indigestion in traditional medicines.
The seeds are being used in traditional medicines to stave off the common cold symptoms.
Food Allergens: This product is manufactured in a facility that processes other product which may contain Soya, Dairy, Wheat, Tree nuts, Peanuts, Mustard, Sulphur Dioxide (Sulphites), Sesame seeds and may contain traces of all of the above.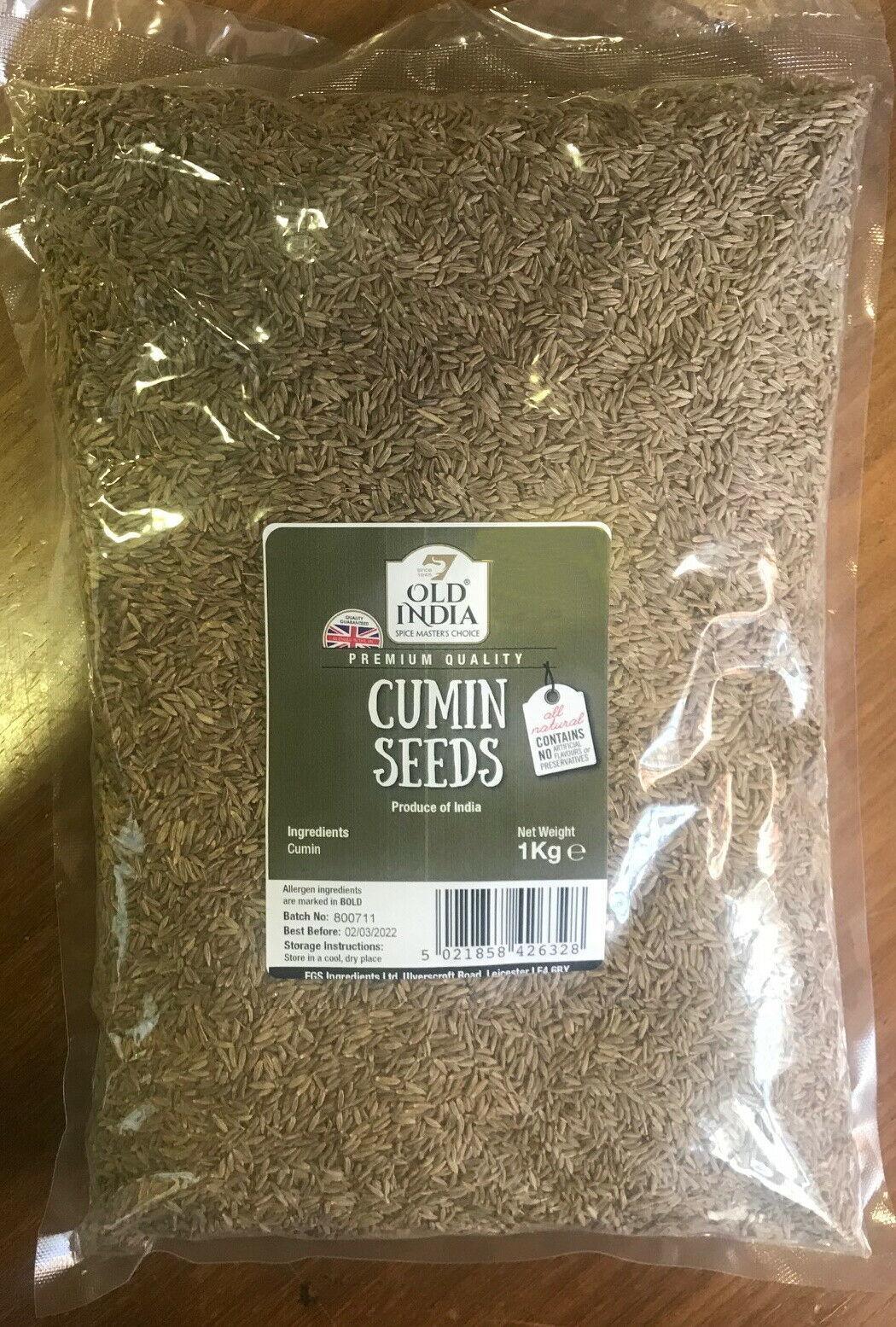 Recommend this product to a friend
Cumin Seeds 1kg - Whole Cumin, Jeera, Whole Spices Grade A Premium Quality