Die-cast Aluminium Casserole with Glass Steel Lid Saucepan Durable Non-Stick
---
---
---
Die-cast Aluminium Casserole with Glass Lid – Saucepan with Durable Non-Stick Coating - Stock Pot with Glass Lid & Heat-Resistant Handles - Cookware Casserole Pan
✅ NON-STICK COATING - With a non-stick coating for improved performance, easy cooking and cleaning. Comes with embossed bottom for quick & even heat distribution. Ideal for stir frying, steaming, pan frying, deep frying, cooking, boiling, stewing and more.

✅ GLASS LID, COOL TOUCH HANDLES - The stock pot features soft touch Bakelite heat resistant handles for easy and comfortable grip. The glass lid with steam vents for more accurate & precise cooking and lets you seal heat, juices, flavours and nutrients inside the pan while still keeping an eye on your food.

✅ MULTIPLE HOP TYPES - Suitable for multiple cooking sources (stove & cooktops): halogen / gas / ceramic cooktops. Here's another benefit of aluminium: it heats up quickly & evenly, so you don't get the 'hot spots'.

✅ BUILT TO LAST, SAFETY & HEALTHY - With safety for your family in mind, the saucepan is made with high- quality aluminium construction meaning no harmful chemicals are released during cooking.

✅ HEALTHY COOKING, EASY GRIP HANDLES – Sturdy base for superior heat distribution and retention. To make things easier, the casserole dish is lightweight for ultimate comfort & safety with every use.

Royalford Aluminium Saucepan with Glass Lid, 36 cm

A healthy way of cooking

Royalford Smart Casserole Dish is a healthy alternative to traditional pots which lets you enjoy beautiful cooked meats and vegetables.

Non-Stick Stylish Saucepan for Ultra Cooking Performance

Enhance your kitchen with the Royalford Casserole Dish, featuring unique non-stick professional-quality cookware designed for optimum cooking performance at home. Enjoy meals without food sticking to the pan during cooking. With less oil or residue, they are delightfully easy to clean which is ideal for active cooks and busy kitchens. Great for modern living, preserve better over time compared to standard metal cookware, so they will still look and feel fresh even after daily use.

Ideal for Healthy Cooking

Requiring little to no oil thanks to its non-stick coating, this saucepan is ideal for creating healthy, low-oil alternatives to a variety of meals.

Ease of use

With close-fitting toughened glass and stainless steel lids, you can control your cooking to ensure no messy spills and complete cooking convenience.

Glass Lid

A close-fitting, toughened-glass lid lets you seal heat, juices, flavors and nutrients inside the pan while still keeping an eye on your food.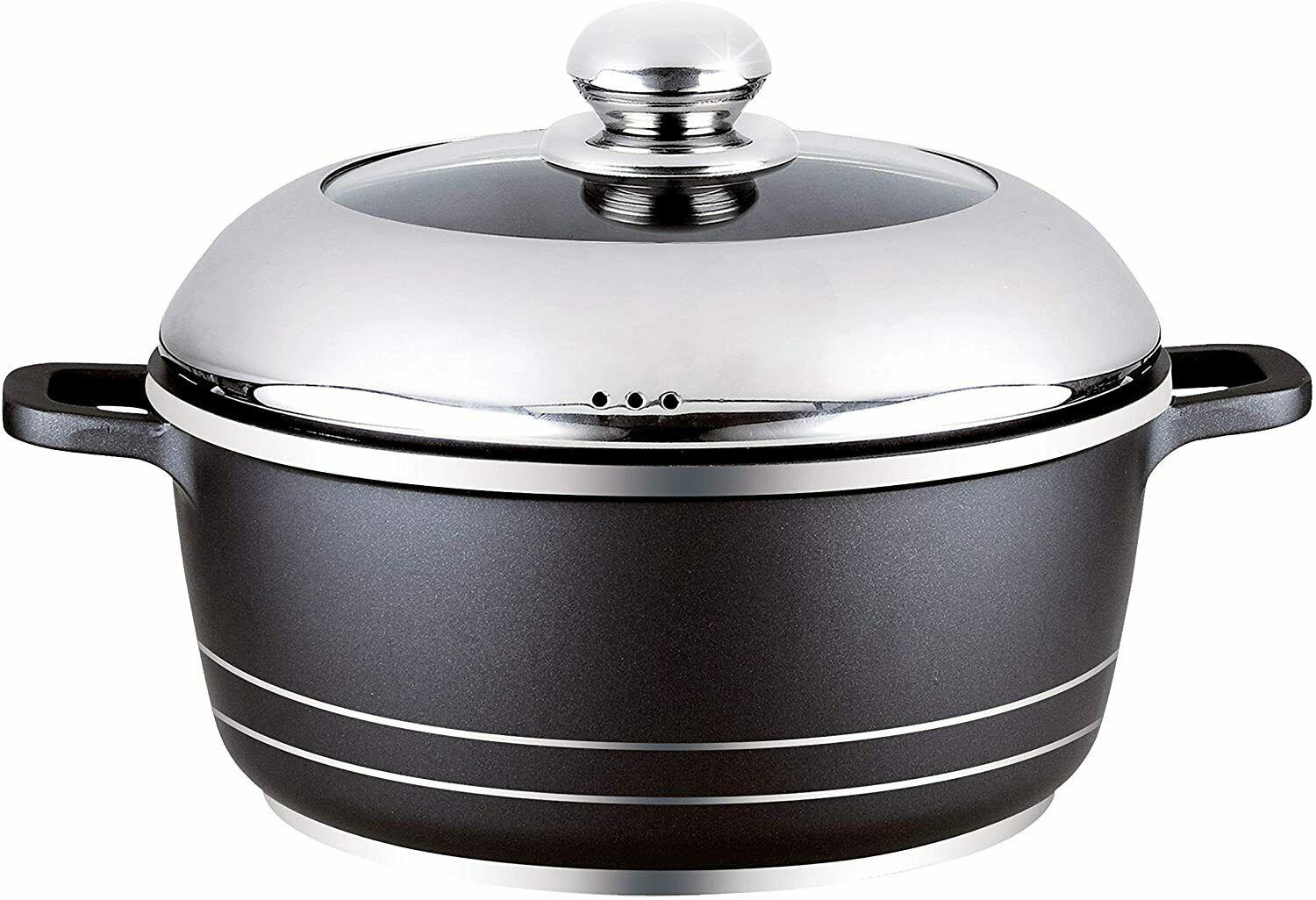 Recommend this product to a friend
Die-cast Aluminium Casserole with Glass Steel Lid Saucepan Durable Non-Stick