Dry Wipe Magnetic Mini Whiteboard Office Notice Memo White Board Pen & Eraser
---
---
---
Dry Wipe Magnetic Whiteboard Mini Notice Memo Office Kitchen Fridge A5 Kids Drawing Whiteboard With Pen, Eraser & Magnet (Green/Peach/Grey)
· A magnetic whiteboard with a magnetic back for hands-free operation! L-20.5cm x W-15.5cm size magnetic whiteboard, pen with eraser head and magnet to write up quick notes or keep small papers safely. It is great for use at home or in the office, for adults and children!
· This whiteboard set consists of – 1 x Magnetic Whiteboard With Pen Holder, 1 x Pen With Eraser and 1 x Magnet. It is available in 3 different colours – Green, Peach and Grey. Dimensions of the magnetic whiteboard are - L-20.5cm x W-15.5cm. NOTE – ONLY 1 SET IN YOUR CHOSEN COLOUR SHALL BE SENT OUT.
· A5 MAGENTIC WHITEBOARD – A magnetic whiteboard suitable for both adults and children. It is size magnetic whiteboard with a curved edge colourful frame, pen holder and a magnetic back so you can place up on magnetic/metal surfaces i.e. fridge/freezer. This is a great way to reduce paper wastage as you can quickly write temporary notes and dry wipe them away.
· VERSATILE WHITEBOARD – This whiteboard can be useful to have for many purposes around the home and office. You can use place it on your kitchen fridge/freezer, office notice boards, study room or even bedroom to writeup shopping lists, appointments reminders, important messages, recipes, diet tips, study notes or even just a beautiful message to motivate yourself from the start of the day.
· PERFECT FOR THE KIDS – Being size, this is the perfect magnetic whiteboard children. For educative learning or during playtime hours, this dry wipe board is essential for there learning in many areas. It is great to for children's drawings or for additional school subject notes and practise. As it is A5, it is the perfect size for the hands!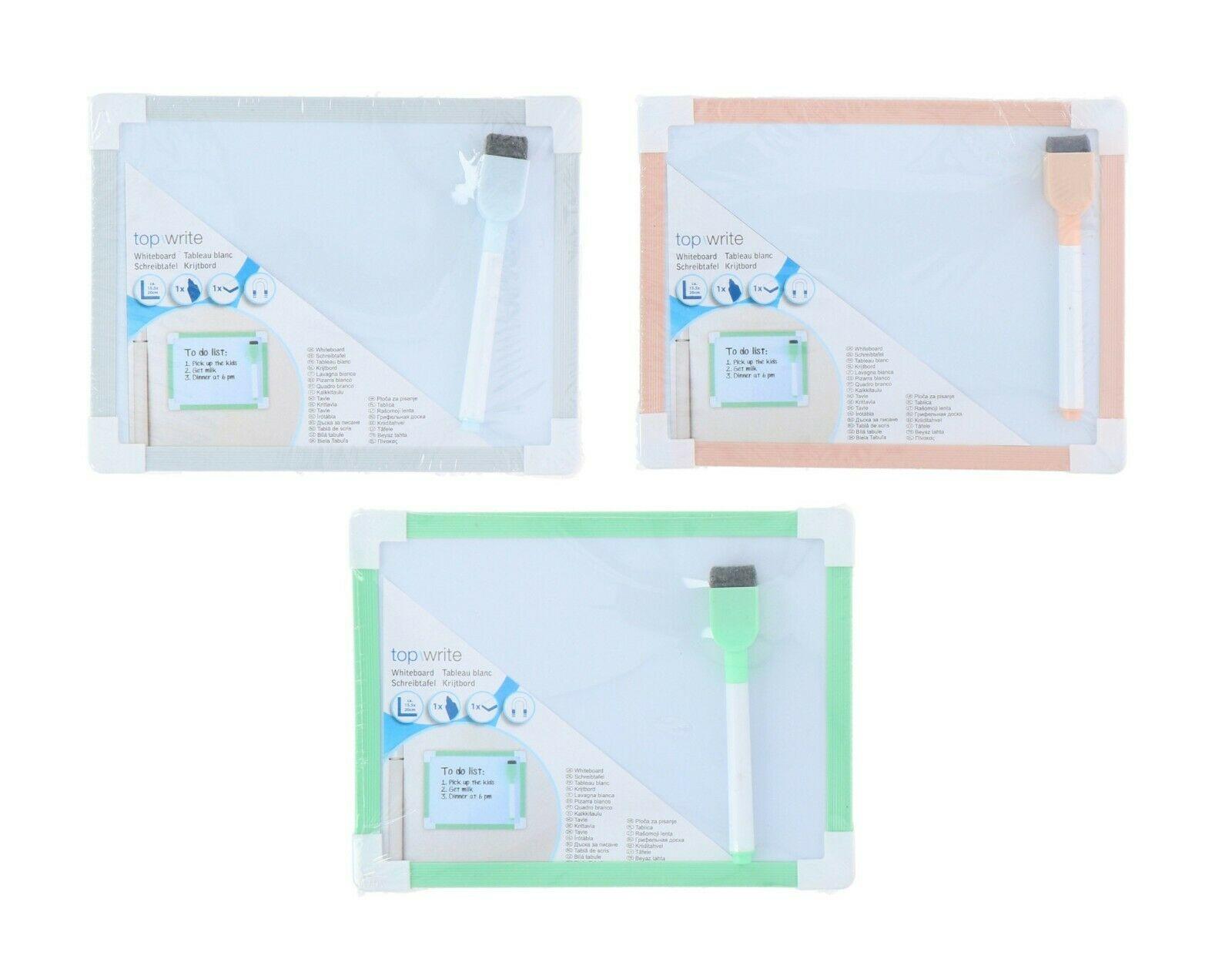 Recommend this product to a friend
Dry Wipe Magnetic Mini Whiteboard Office Notice Memo White Board Pen & Eraser