Freshbox Round Glass Bowls 20.5cm Blue Lids Set 2pc Airtight Food Storage
---
---
---
Duralex Freshbox Round Glass Bowls with Blue Lids Set Airtight Food Storage Stackable Glass Serving Square Bowls Meal Prep Containers Boxes Microwave Freezer Dishwasher Safe
Set of round clear glass storage bowls with blue plastic lids from Duralex's Freshbox range. Prepare meals ready to warm-up, store & freeze leftovers or serve delicious food at the table; these stackable, ultra-resistant, heavy-duty and thick glass round glass bowls fit with an air-tight ergonomic lid will keep food fresh and preserved while it is waiting to be warmed up, served, stored or even frozen!

This Duralex Round Freshbox Glass Bowls With Blue Lid Set of 2 - (Dia: 20.5cm). In EACH CAPACITY these containers are available as a set of 2, These Duralex Freshboxes are ONLY Dishwasher Safe, Microwave Safe, Freezer Safe, and the glass is 100% Non-Cutting Safe Glass.

VERSATILE FOOD STORAGE/SERVING SOLUTION – These Round Duralex Freshboxes are designed so that you can get as many uses of them as possible. No matter if you want to warm-up food in the microwave, store leftovers in the fridge or freezer, serve food at the table or take food with you and serve during outings; these glass bowls/containers can be used in many ways with or without the lid. NOTE – Plastic Lids are BPA Free & recommended NOT TO BE USED IN Microwaves and Dishwashers cycles over 55°C.

ULTRA RESISTANT TEMPERED & TOUGHENED GLASS – Fine & thick quality shock resistant tempered glass is what makes the glass bowls extremely durable. The glass storage bowls are heated at high temperatures before cooled down, to ensure they are extremely resistant to damage i.e. bend, chips, cracks, and scratches. Being toughened glass means they are thermal shock resistant, hence they can withstand temperature variation up to 130°C.

OPTIMUM UTILIZATION OF SPACE - Stackable round glass bowls set put together to provide you much more organized storage. Being available in 4 different capacities and in a convenient round shape, you will be able to stack them neatly in the cupboards or in the fridge/freezer.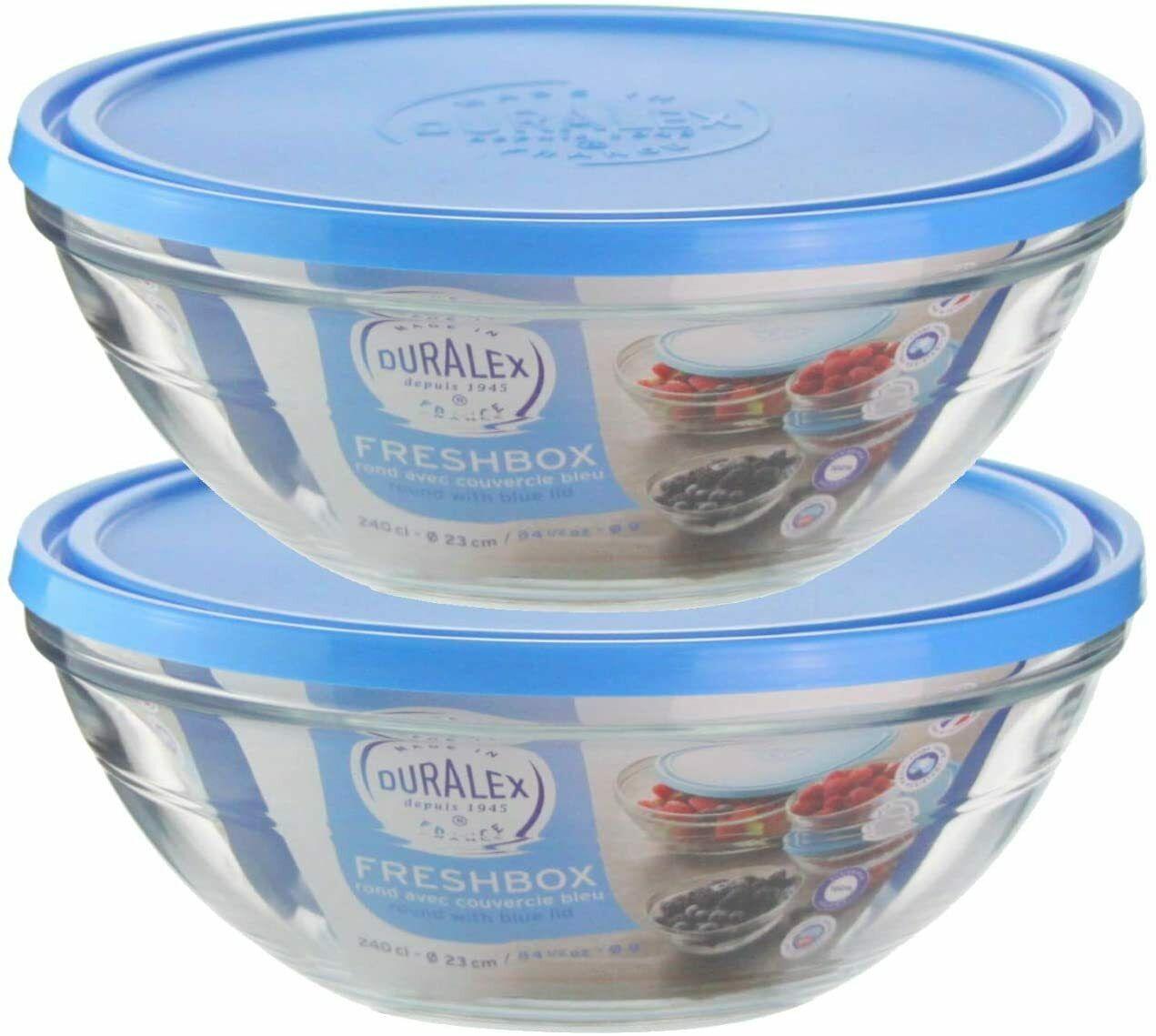 Recommend this product to a friend
Freshbox Round Glass Bowls 20.5cm Blue Lids Set 2pc Airtight Food Storage