Garden Bench Childrens Kids Seat Outdoor Seating Furniture Bench Steel Blue/Pink
---
---
---
Kids Garden Bench Children Outdoor Patio Bench Garden Chair Furniture Picnic Steel
•Vibrant and colourful children's bench suitable for many seating purposes. Eye-catching colour bench crafted from durable steel frame with a textilene fabric seating surface and arm rest on both ends in the perfect size for children to comfortably sit while indoors or outdoors in the garden, picnics, outdoor activities and games or even during meal time or a barbeque.
•This kid's bench is available in 2 DIFFERENT COLOURS – Blue and Pink. Dimensions of EACH bench are – H: 58cm x L: 69cm x W: 55cm. NOTE – ONLY 1 BENCH IN YOUR CHOSEN COLOUR SHALL BE SENT OUT.
•COMFORTABLE SEATING FOR CHILDREN – Fun, colourful and engaging way to provide children secure & comfortable seating during play time or study time. Instead of legs dangling or having to sit in stretched postures, this bench is structured the perfect size so that children can sit with feet flat on the floor, arms rested and back against the chair not matter if its indoors or outdoors. The ideal way to promote good posture & independence.
•DURABLE STEEL & COMFORTABLE TEXTILENE – A highly durable tubular durable steel frame with a mesh surface design textilene fabric seating area, making this bench perfect for outdoor seating purposes. The matching colour textilene seat surface is easy to clean and will support to give children a comfortable seating posture. Place it in the garden, patio or balcony and even place a small cushion so children can relax.
•The bench is suitable to move around and use indoors or outdoors. When no longer required, due to the small dimensions it can easily be placed in a corner for out of the way easy storage. Ideal bench to use at home, school, nursery, garden, picnics, tea parties & more.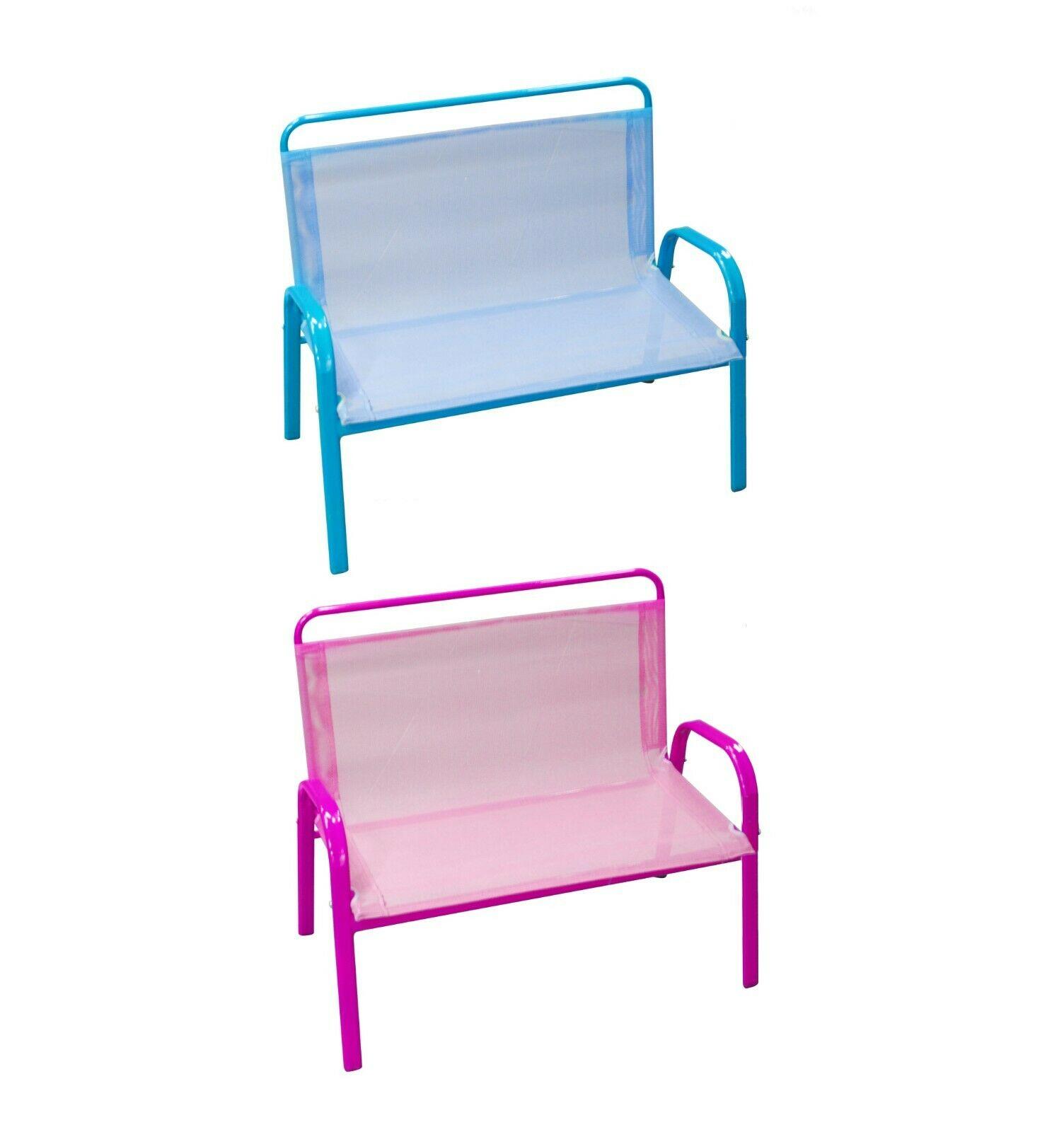 Recommend this product to a friend
Garden Bench Childrens Kids Seat Outdoor Seating Furniture Bench Steel Blue/Pink