Glass Cake Cupcake Muffin Display Stand Serving Plate with Cake Dome Lid
---
---
---
Pasabahce Glass Cake Plate Stand With Dome Cover 32cm Large Cupcake Platter Display Plate
•        A simple clear glass flat plate with dome cover lid to display, serve and protect numerous delicacies at the table. A round 32cm glass plate stand with a waved risen edge and glass dome with glass handle for you to display large cakes and food platters. This glass plate stand is perfect for serving pastry platters, cakes, cupcakes, macaroons, sandwiches, canapes, muffins, fruits and many other tasty foods.
•        This Pasabahce Flat Cake Stand consists of – 1 x Flat Glass Plate/Stand and 1 x Glass Dome Cover Lid. Dimensions of this flat cake plate stand are – DIAMETER: 32cm & Height (including dome lid): 15cm.
•        PRESENT FOOD IN STYLE – Add this flat glass plate stand to the centre of your table and serve food in style. No matter if it's an afternoon tea party, home made cake or desserts in the evening, use this plate stand to keep food content looking great and your table setting complete. This glass plate stand will allow you too easily assemble a tasty food display and give your guests easy access to food.
•        PROTECT FOOD & KEEP IT FRESH – No matter if your getting food display preps early or storing a delicious a cake; this flat cake stand comes with a clear glass dome lid to protect content from open air particles and ensure it remains fresh. The dome lid has an easy to use handle to give quick & easy access to your tasty food.
•        STRONG & SAFE GLASS CONSTRUCTION - Made from high quality glass with a long lasting polished finish, is what will make this flat glass cake plate remain a crisp clear condition after repeated uses. Thick glass structure will make this plate extremely durable and ensure it stays resistant to damage. Due to hygienic non porous properties of glass and inert material, your sweets will be 100% safe.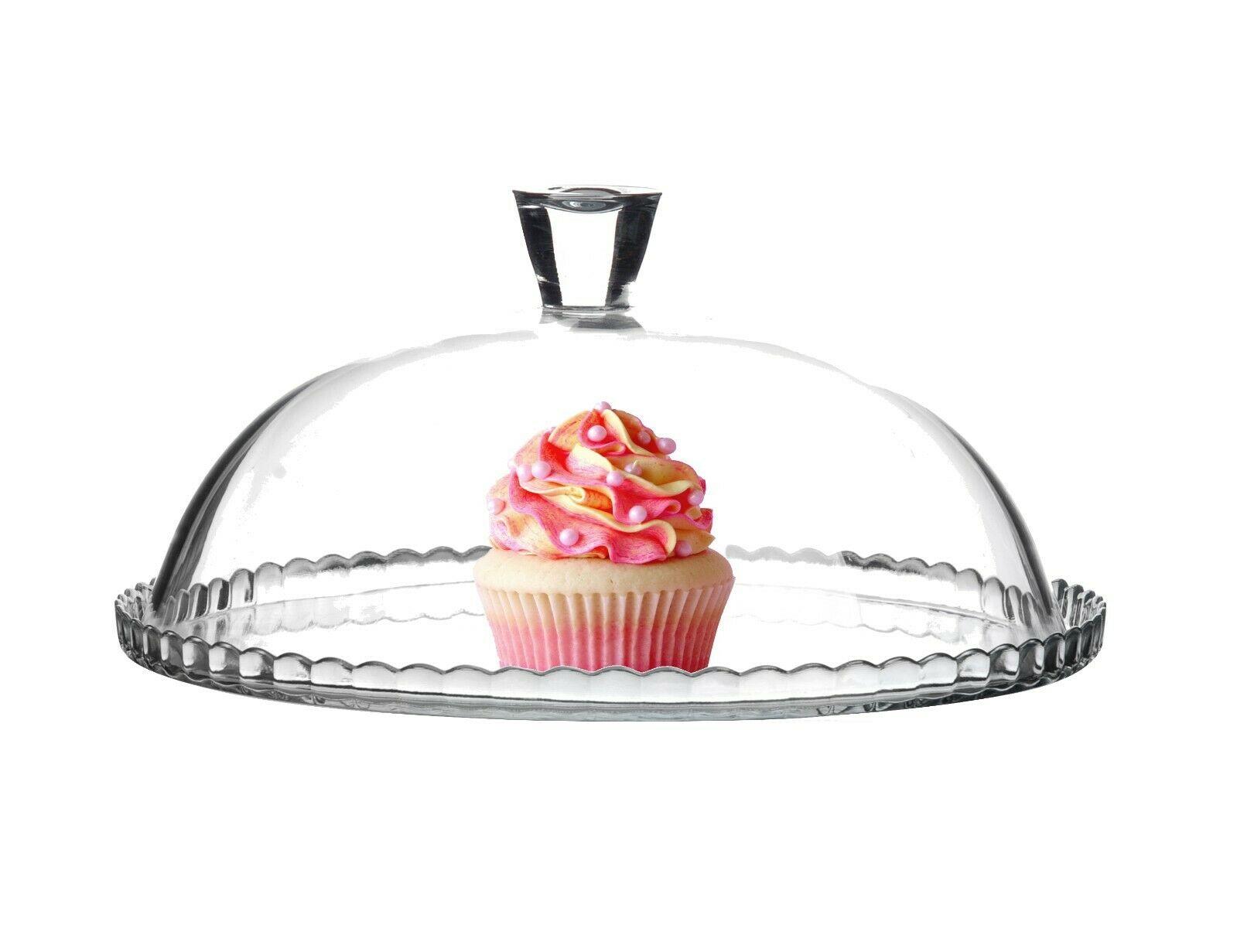 Recommend this product to a friend
Glass Cake Cupcake Muffin Display Stand Serving Plate with Cake Dome Lid