Glass Ice Bucket with Tumblers Set 5PC Clear Glass Ice Cube Bucket With Handle,
---
---
---
Glass Ice Bucket with Tumblers Set 5PC Clear Glass Ice Cube Bucket with Handle, Ice Tongs & 4 Drinks Water Glasses Tumblers 250ml Set for Parties, Gatherings, Bars
A complete premium quality ice bucket set to enjoy a cool moment of your favourite drink. A mini ice bucket with carry handle and mini tumblers made from thick glass with mini serving tongs will make this set ideal to use for numerous purposes. A classic lined etched base design shall also add a crystal effect especially when serving drinks.

This mini ice bucket set consists of the following items: 1 x Clear Glass Ice Bucket (Height (excluding handle): 13cm & Diameter: 12cm), 1 x Mini Tong (Length: 13cm) and 4 x 250ml Clear Glass Glasses (Height: 9cm & Diameter: 7.5cm).

Made To Last, Toughened Glass! - Fine quality thick glass with a made to last polished finish is what will make this ice bucket and tumblers set extremely durable and long lasting. As the glass is robust and has a smooth high resistant surface, this ice bucket and tumblers will be resistant to chips, cracks and scratches.

Smart Glass Construction - Being made out of premium quality glass, with this ice bucket set you shall be assured cold drinks and ice will always be safe especially when being served. The ice bucket and tumblers have been designed with a thick base to provide great stability and give a weighty feel; which will prevent spillages from happening.

Handle can easily be removed from ice bucket for washing purposes. Ideal for home use, small gatherings, BBQs, picnic, parties, bars, clubs, restaurant and during other outdoor activities.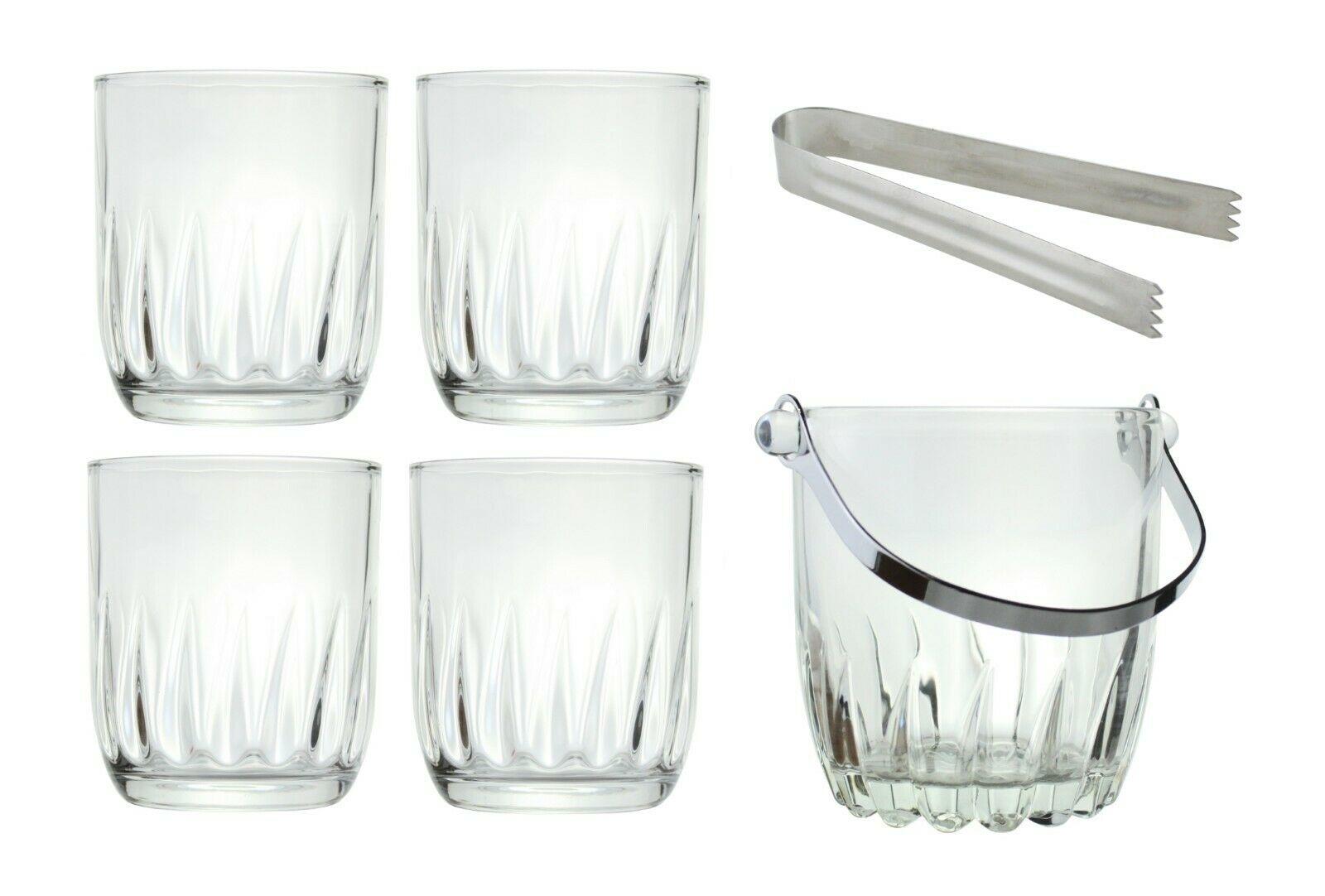 Recommend this product to a friend
Glass Ice Bucket with Tumblers Set 5PC Clear Glass Ice Cube Bucket With Handle,