Glass Jars with Stainless Steel Screw Lid Set Pasta Jar Spaghetti Jar Silver Jar
---
---
---
Glass Jars with Stainless Steel Screw Lid Pasta Jar Spaghetti Jar Glass Food Storage Jars Canister With Steel Metal Screw Cap Tall Round Jars Glass Container Sweet Flour Jars
A high quality durable glass storage jars with tight metal screw on lids to keep contents fresh and its original quality. These clear glass round jars are a cylinder shape and have a matte stainless steel lids to be an essential storage feature in your kitchen. jars perfect for storing a wide variety of foods i.e. pasta, tea, sugar, flour, sweets, lentils, nuts and many other foods.

Dimensions:

H: 27cm x W:11cm. Capacity: 2100ml

H: 22cm x W:11cm. Capacity: 1600ml

H: 17cm x W:11cm. Capacity: 1100ml

H: 11.5cm x W:11cm. Capacity: 750ml

3 in 1 Clear Glass Kitchen Storage Jars - With these clear glass storage jars you will get many kitchen storage benefits. A transparent structure will allow you to easily identify content and it's quantity, helping you to know when to stock up and give your kitchen better organisation. Screw on air-tight lids shall ensure food content stored is preserved and ensure it does not get spoiled or contaminated in any way. With these jars you will be able to keep food clean, fresh, tasty and nutritio

Safe Food Storage - Being made out of high quality glass, with these jars you shall be assured that all food stored and taken out will be safe to eat at any time. Glass is a non-porous and inert material therefore, it will not react with any food stored, no matter if its hot or cold.

Everlasting Storage Design - These glass jar are made from thick, strong and heavy glass to make it most durable and everlasting. You will repeatedly be able to wash and use this glass jar without having to face any defects or problems. The edge at bottom of the jar has a slight design to reduce chances of them slipping and sliding.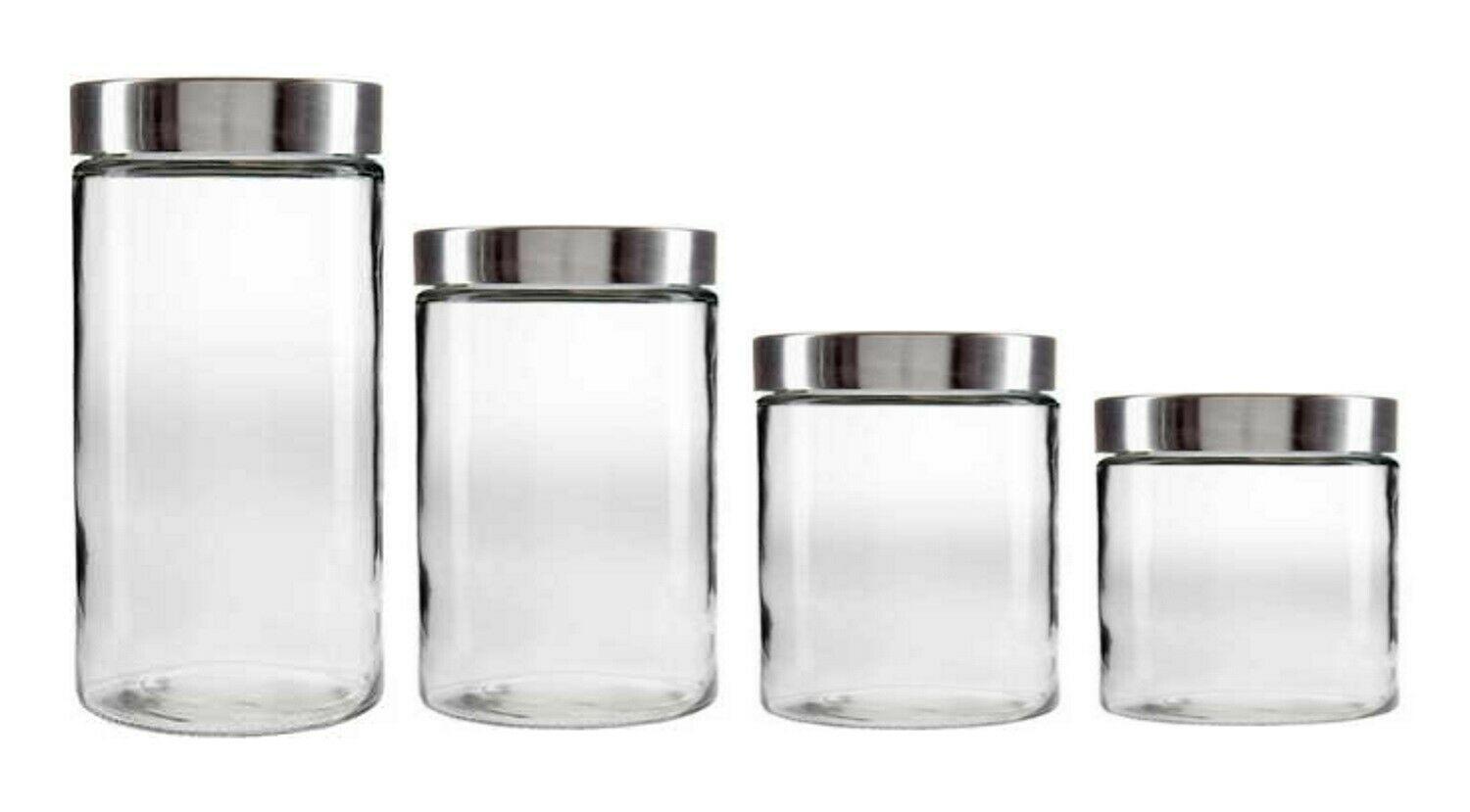 Recommend this product to a friend
Glass Jars with Stainless Steel Screw Lid Set Pasta Jar Spaghetti Jar Silver Jar