Glass Spice Jar Set Lid 6 or 12 Piece Shaker Salt Pepper Spice Shakers
---
---
---
quare Glass Salt Pepper Spice Shaker Set of 6 or 12 Spice Seasoning Shakers With Screw Top Stainless Steel Lid Square Mini Glass Multipurpose Jar
The needed spice storage set for your kitchen. Set of 6 or 12 80ml clear spice shakers to ensure you never run out of your favourite spices again. All you need to do it just decide which spices you need, pick up the shaker and start shaking to add tasty flavours to your dish.

Coat, Dust, Sift And Sprinkle Away - With a screw on perforated lid, a quick shake of this shaker will provide a steady stream of small or powdered ingredients. It's ideal for storing small quantities of spices, salt, pepper, baking ingredients i.e. icing sugar, cocoa and lots more. As well as sprinkling, this shaker helps to sift out lumps, so you won't have to run ingredients such as through a sieve before you shake them.

Glass Structure To Know Your Spices - These spice shakers are structured from clear glass. Clear glass will allow you to easily know and find spices when cooking up food or even at the centre of the table. Along with knowing which shaker has which spice, you will also know when spices shakers need refilling, this will ensure those spices running out are on you shopping list.

Stainless Steel Perforated Lid - These screw on lids with a perforated structure are made from stainless steel. Stainless steel means it will never scratch, break, rust or corrode. It also has properties which ensure flavours are always preserved and quality of food is not affected. Therefore, no matter how many times content comes in contact with the lid; if its filled with aromatic spices, salt or sweet sugar, there flavours will not change to affect taste at any time.

Have No More Mess - When taking ingredients out of packets, high chances are that they may spill and cause a big mess. These shakers are a handy tool especially for those small refined ingredients to ensure you get out without any mess. These shakers will save you time and you will no longer require pouring ingredients out of large packets.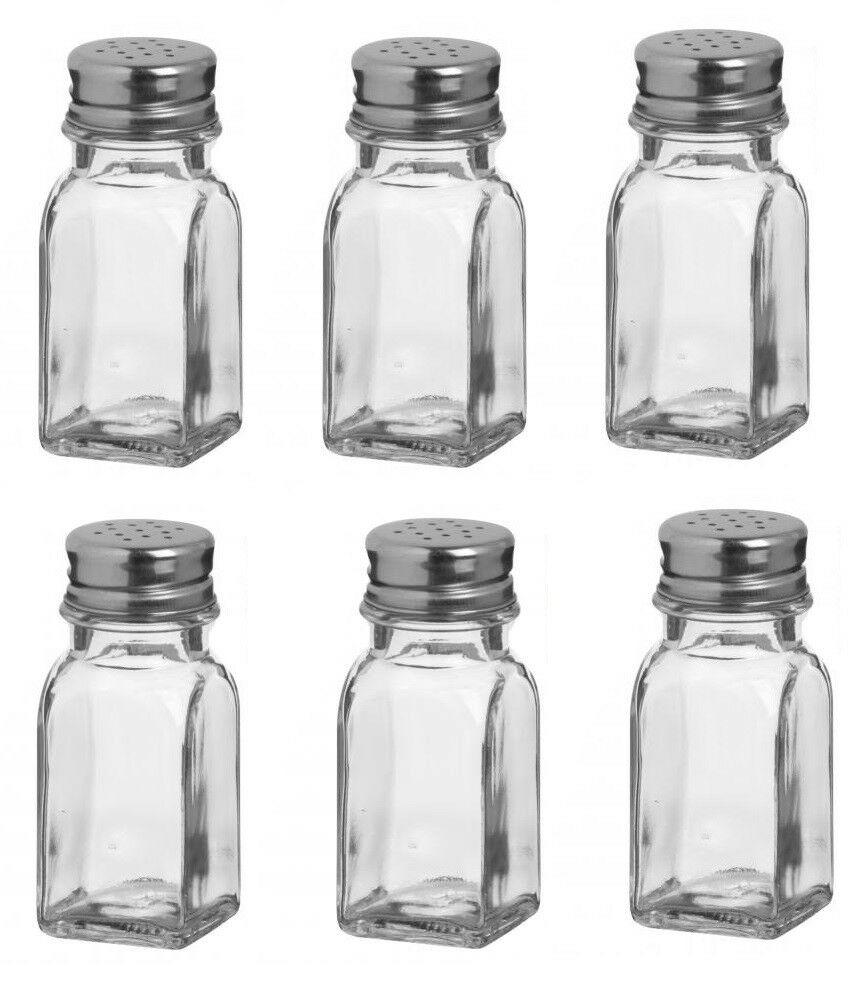 Recommend this product to a friend
Glass Spice Jar Set Lid 6 or 12 Piece Shaker Salt Pepper Spice Shakers