Glass Storage Jars Set 3 Airtight Clip Top Lid Food Preserve Jar 0.75L/1.3L/1.9L
---
---
---
Clip Top Glass Jars Preservation Airtight Silicone Seal Round Storage Preserving Jar Vintage Barrel Dry Food Biscuit Jam Pickle Jar Canister Kitchen Storage Set of 3
· Classic clip top glass jars ideal for various essential food storage. Heavy-duty, transparent and durable glass barrel style storage jar available in a range of capacities with a transparent glass clip top functionality lid and orange silicone seal ring for airtight preservation and storage of foods such as biscuits, tea, pasta, sweets, pulses, rice & more!
· This Set of 3 clip top glass jar is available in 3 DIFFERENT CAPACITIES – 750ml, 1.3L and 1.9L. NOTE – ONLY 3 JARS SHALL BE SENT OUT. 1 x 750ml, 1 x 1.3L & 1 x 1.9L
· TRANSPARENT AIRTIGHT SILICONE SEAL LID – A transparent glass lid with a metal buckle clip top opening/closing functionality and orange silicone seal ring lid to give extra airtight protection, strong sealed food storage and effortless access to food inside the jar without out having to twist open/close lids. You will be able to see inside the jar from the lid if placed inside your bottom kitchen drawers. It is a jar that will preserve aroma, flavour and freshness!
· BARREL STYLE ESSENTIAL STORAGE JARS – Structured similar to a barrel shape are these round cylindrical clip top glass jars with a wide centre and narrow lid & base. Small or large quantities, dry or liquid based foods; you will have reusable jar for long term preservation of food. The transparent glass surface will let you or others clearly identify in a glance what is stored inside and inform you when stock is running low.
· HEAVY-DUTY GLASS STORAGE JARS – Thick and heavy-duty transparent glass with a made to last polished finished is what makes this clip top jarextremely durable and long-lasting. As the glass is robust and has a smooth high resistant surface, the jars will be resistant to chips, cracks and scratches. The glass is non-porous; hence the jars are 100% hygienic and no form of bacteria or flavour will remain no matter how much they are used.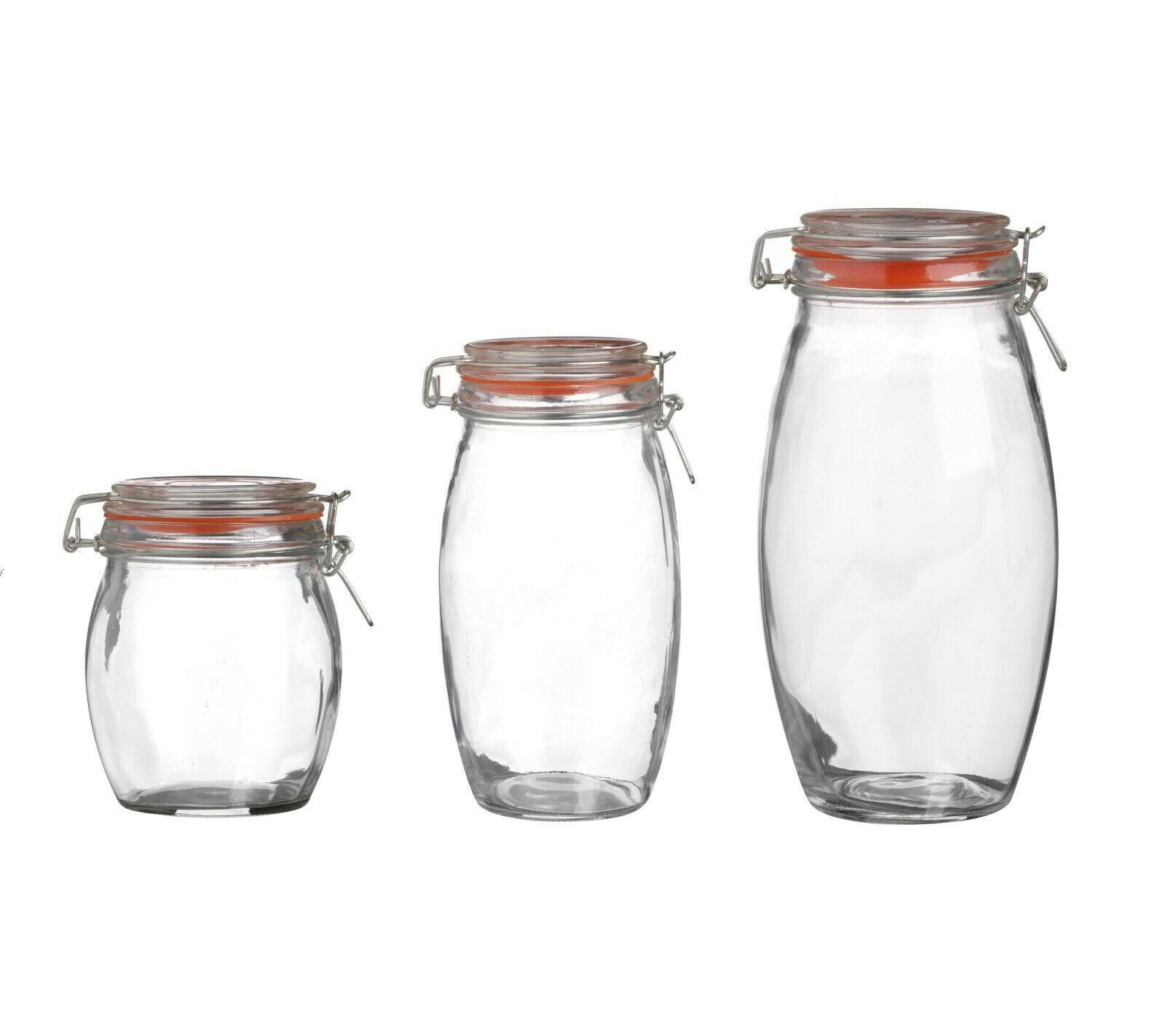 Recommend this product to a friend
Glass Storage Jars Set 3 Airtight Clip Top Lid Food Preserve Jar 0.75L/1.3L/1.9L