Herb & Spice Carousel Revolving Masala Rack 6 Jars Plastic Spice Kit Push Button
---
---
---
Herb And Spice Carousel Revolving Masala Rack Jars Plastic Spice Kit Push Button 6 Jars
Keep Those Spices Central – Keep all your core and favourite herbs and spices at hand with this herb and spice jar carousel. With a rotating structure any spice will be at your hand in seconds. Jars have air-tight storage to ensure all your spices stay fresh for longer.

Get Spices in Required Proportion – When trying to make that perfect dish and you add more herbs and spices than required can be difficult to solve. To provide a solution to those problems, this carousel consists of jars that have a push button method. Push button method provides more accuracy and precision; it will allow you to get the right amount of herbs and spices you require. (1 press of button = ¼ tsp quantity dispensed)

Easily Sprinkle & Refill Spices – Along with the push button facility to dispense spices, the lid of the jars along with being air tight also allow you to sprinkle spices if you prefer that option. Also due to the clear jars you will know when spices are finishing and when you need to stock up.

Improve Your Kitchen Storage – Like all kitchens, all cupboards and drawers are full of different ingredients. When it comes to herbs and spices you always want them to be in one secure place. With this herb and spice jar carousel you will improve your kitchen storage and save a lot of space in your kitchen cupboards very easily. This herb and spice jar carousel has a portable and compact structure therefore, it can sit on your kitchen worktop or counter without taking too much space. It will also free-up space in your kitchen cupboard

Great Gift For Those Cooking Lovers – This kitchen gadget is also a great gift for those cooking lovers on special occasions i.e. christmas, birthday, house-warming and many more.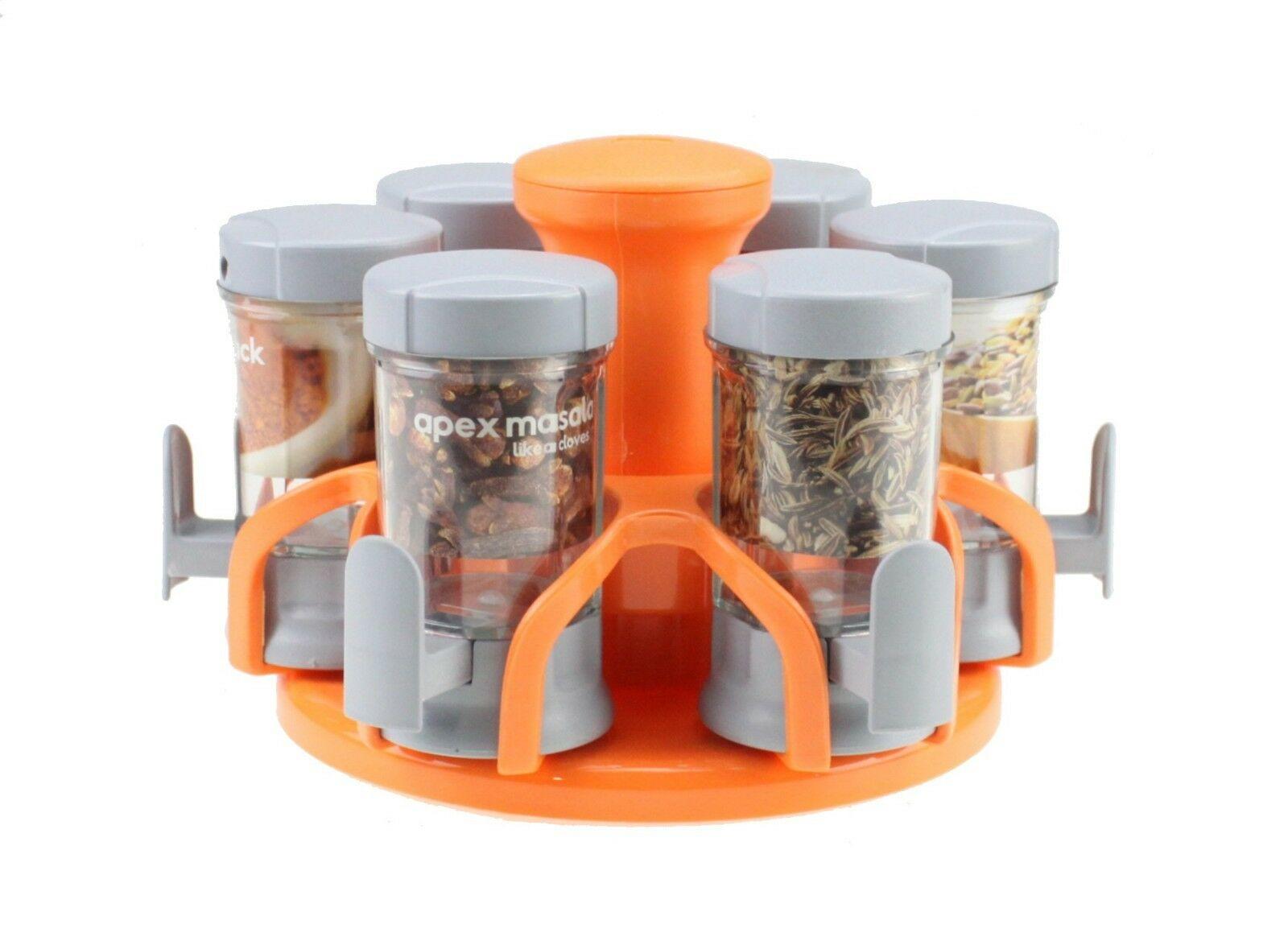 Recommend this product to a friend
Herb & Spice Carousel Revolving Masala Rack 6 Jars Plastic Spice Kit Push Button