Iron Fry Pan with Wooden Handle Iron Tawa Flat Tava Black Flat Iron Heavy Duty
---
---
---
Iron Fry Pan with Wooden Handle Iron Tawa Flat Tava Black Flat Iron Heavy Duty

A traditional heavy duty Flat ironFry Pan tawa with a wired raised wooden handle, designed to make cooking easier. Iron tawa, Flat surface and risen wooden riveted handle are the 3 key features which will make this your favourite tawa in your kitchen. Get even cooked food but not get yourself burnt with this iron tawa. Perfect for making roti, dosa, indian flatbreads crepes and pancakes. Available in 3 sizes - 9", 10" and 11".

Pure Iron Surface - This black iron tawa is made from traditional pure iron and DOES NOT have ANY non-stick coating. This tawa is entirely handmade therefore, the surface will not be completely smooth and may contain marks or bumps.

Iron Cookware Preparation - To attain optimum use of this black iron tawa, it should be prepared and seasoned before use (See Description On How To Prepare & Season Iron Tawa). The surface of this tawa does have an oil coating to protect the material as it is pure iron. Following the preparation tips, this oil coating will get removed and your tawa will be ready to use.

Heavy Duty Iron Tawa For Better Cooked Food - Iron tawa is different to general cookware as they are not coated with any chemicals. The heavy surface of this iron tawa has been designed to provide steadiness and fast even heat distribution when on the stove. It will be able to take high heat and cook food evenly and consistently, without any hot spots or burning your food; so now you can cook without fear.

Flat Structure - The surface of this iron has a Flat surface . With this iron tawa you will be able to bake tasty flatbreads, make sweet pancakes, roast vegetables, fry in small quantity of oil or maybe just even pre-heat food to make it taste fresh. Perfect for griddle use

Preparation & How To Season The Black Iron Tawa must be prepared and seasoned before use. First clean the Tawa thoroughly to remove any manufacturers protective oil & rust, then dry completely. Now to season, heat the Tawa for a few minutes until its entire surface is hot. The first time you do this you may see parts of the black surface begin to peel away, this is fine as sometimes a protective layer is added by manufacturer for safe transit. With a cloth wipe on a thin layer of oil, then turn up the heat to burn it off, and let it cool down. Cleaning Rinse the Black Iron Tawa with hot water. Gently lift off or scrub away food particles with a non metallic scrubber. Rinse, Dry the surface and to finish drying, place over medium to high flame and 'burn', to sterilise it ready for your next cooking session. It is best not to wash with detergents, as it will take away all your hard work with seasoning.

Available in 3 sizes - 7.5", 9" and 10.5"".

Iron composition, Flat surface and risen wooden riveted handle are the 3 key features which will make this your favourite tawa in your kitchen. Riveted handles are known to be the sturdiest handles, due to there strong construction as they are permanently attached to give strength. Hence, with this tawa you will never have to worry about the handle becoming loose, breaking or having to be tightened. Durable risen wooden handle shall ensure that you can easily manoeuvre the tawa without getting your hands burns as it will not conduct heat. Can be used in Gas,Induction,Electric and Hotplate stoves.

Make food more healthier and without lots of oil with this iron tawa. Once the tawa has heated up, just add a small amount of oil thinly spread on the surface will give a sufficient layer of oil to evenly cook food without burning it. This iron tawa will be able to cook food several inches above the surface therefore, now you can get tasty, evenly cooked and healthier food all at the same time.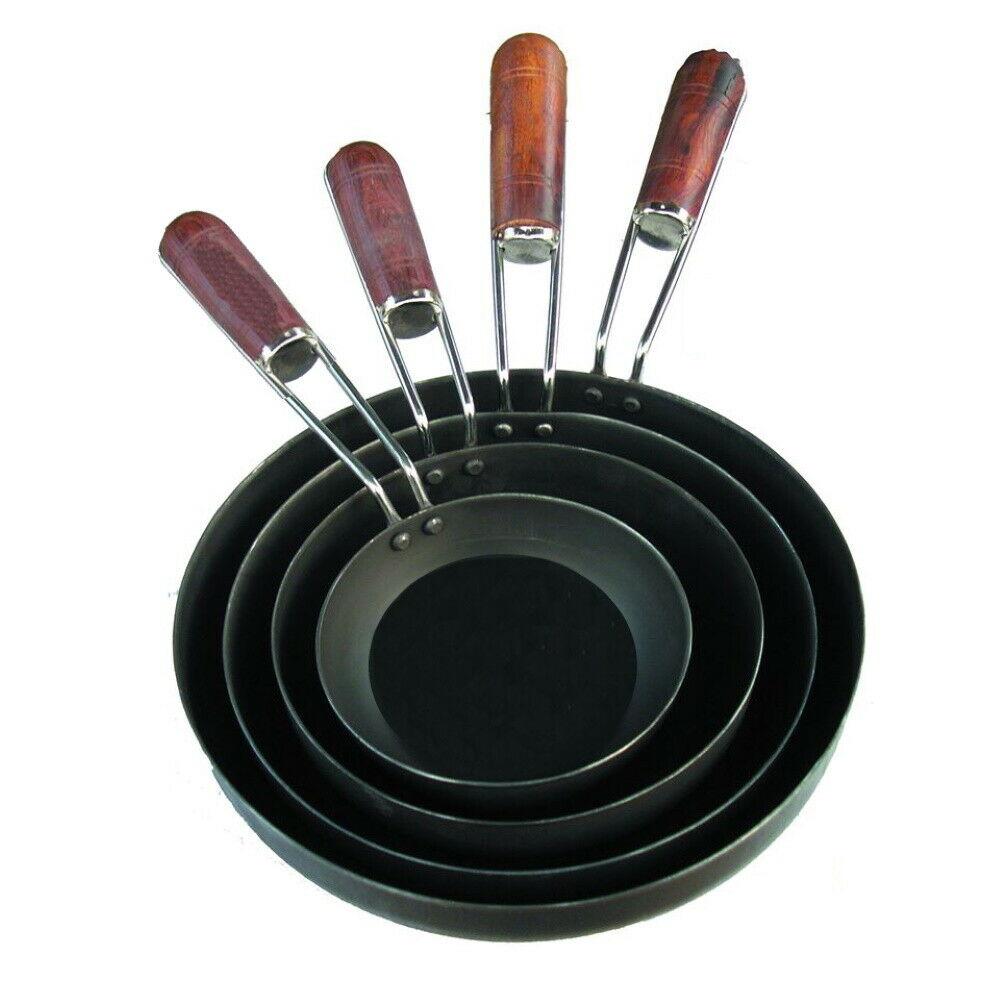 Recommend this product to a friend
Iron Fry Pan with Wooden Handle Iron Tawa Flat Tava Black Flat Iron Heavy Duty