Large Glass Footed Fruit Bowl 7 Piece Set Trifle Dessert Sundae Serving Glasses
---
---
---
Glass Fruit Bowl Set 7 Piece Decorative Glass Ice Cream Dessert Bowls Glass Stemmed Fruit Salad Trifle Sundae Glasses Appetizer Prawn Cocktail Serving Dishes Cups, Set Of 7




•Make your delicious foods look even more tasty with 7 piece glass bowls set. Crafted from heavy-duty transparent glass with a stemmed base and a very intricate circular embossed design, is this glass bowls set consisting of 1 large bowl and 6 matching small bowls. Perfectly display & serve individual portions plus extra of delicious desserts such as ice-cream, sundaes, fruits salads, trifles, cheesecake, puddings or may be even a prawn cocktail starter/nibbles.




•This 7 Piece Glass Bowls Set consists of – 1 x Large Glass Bowl (Height: 16cm & Diameter: 23cm) and 6 x Small Glass Bowls Bowls (Height: 9cm & Diameter: 10.5cm).




•7-PIECE GLASS BOWL SET - Rise the standard of your delicious foods with these stemmed glass dishes. Transparent glass round bowls with a deep and wide structure for you fill with many rich fillings to give your diners a blast of numerous flavours! A smooth polished reflective glass surface with a very detailed circular design shall catch any form of light to make every layer/part of your treats look even more tempting.




•SERVE INDIVIDUAL PORTIONS + EXTRA! - This a complete dining set so extra/seconds can be served easily and diners never hesitate. No matter if it's nibbles, starters or dessert, this is practical & versatile dining set for you to deliver for you to deliver individual portions plus extra to the complete presentation and dining experience.




•HEAVY-DUTY GLASS BUILD – High-quality glass is what makes this 7 piece glass dessert bowls set extremely durable. The extra thickness of the glass surface and high resistance shall ensure each bowl remain robust and resistant to common damage such as chips, cracks and scratches. Heavy-duty glass will make each bowl feel weighty to always provide balance and stability, especially when serving.










Glass Fruit Bowl Set 7 Piece Decorative Glass Ice Cream Dessert Bowls Glass Stemmed Fruit Salad Trifle Sundae Glasses Appetizer Prawn Cocktail Serving Dishes Cups, Set Of 7.

This 7 Piece Glass Bowls Set consists of –
1 x Large Glass Bowl (Height: 16cm & Diameter: 23cm) and
6 x Small Glass Bowls Bowls (Height: 9cm & Diameter: 10.5cm)
Make your delicious foods look even more tasty with 7 piece glass bowls set. Crafted from heavy-duty transparent glass with a stemmed base and a very intricate circular embossed design, is this glass bowls set consisting of 1 large bowl and 6 matching small bowls. Perfectly display & serve individual portions plus extra of delicious desserts such as ice-cream, sundaes, fruits salads, trifles, cheesecake, puddings or may be even a prawn cocktail starter/nibbles.
7-PIECE GLASS BOWL SET - Rise the standard of your delicious foods with these stemmed glass dishes. Transparent glass round bowls with a deep and wide structure for you fill with many rich fillings to give your diners a blast of numerous flavours! A smooth polished reflective glass surface with a very detailed circular design shall catch any form of light to make every layer/part of your treats look even more tempting.
SERVE INDIVIDUAL PORTIONS + EXTRA! - This a complete dining set so extra/seconds can be served easily and diners never hesitate. No matter if it's nibbles, starters or dessert, this is practical & versatile dining set for you to deliver for you to deliver individual portions plus extra to the complete presentation and dining experience.
HEAVY-DUTY GLASS BUILD – High-quality glass is what makes this 7 piece glass dessert bowls set extremely durable. The extra thickness of the glass surface and high resistance shall ensure each bowl remain robust and resistant to common damage such as chips, cracks and scratches. Heavy-duty glass will make each bowl feel weighty to always provide balance and stability, especially when serving.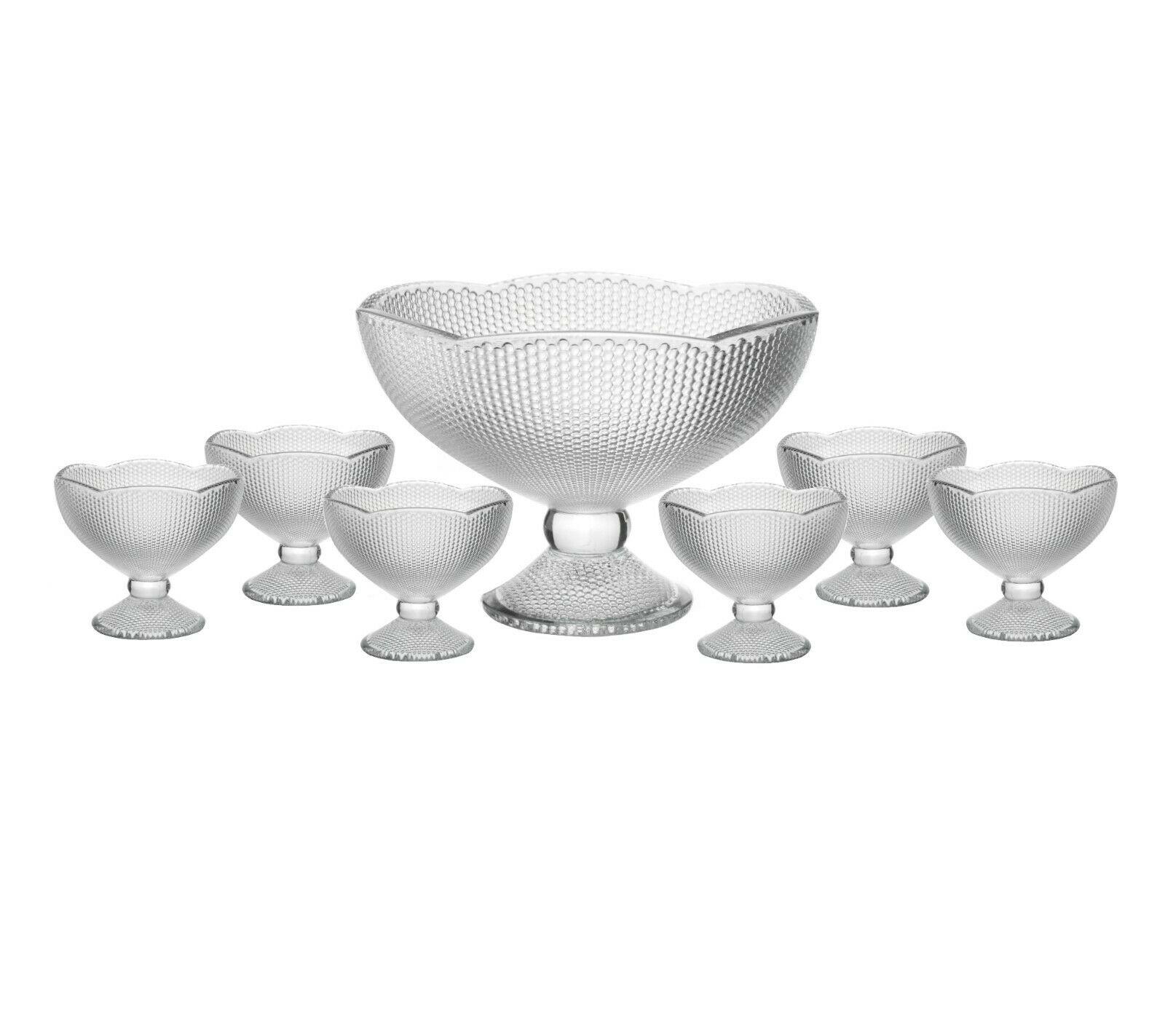 Recommend this product to a friend
Large Glass Footed Fruit Bowl 7 Piece Set Trifle Dessert Sundae Serving Glasses