Large Plastic Salad Bowl 24cm 20cm Round Mixing Serving Baking Bowl Hard Plastic
---
---
---
Large Plastic Mixing Bowl 20cm Round Salad Serving Baking Bowl Kitchen Outdoor
•This Plastic Salad Bowl is available in 4 DIFFERENT COLOURS – Purple, Blue, Green and Red. Dimensions of EACH bowl are – Diameter: 20cm. NOTE – ONLY 1 BOWL IN YOUR CHOSEN COLOUR SHALL BE SENT OUT
Large Plastic Salad Bowl 24cm Round Mixing Serving Baking Bowl Blue/Green/Pink
•This Plastic Salad Bowl is available in 3 DIFFERENT COLOURS – Blue, Green and Pink. Dimensions of EACH bowl are – Diameter: 24cm and Height: 10cm. This bowl IS Freezer Safe & Dishwasher Safe. NOTE – ONLY 1 BOWL IN YOUR CHOSEN COLOUR SHALL BE SENT OUT.
· A colourful hard plastic serving bowl is perfect for classy entertaining events, lazy summer picnics and backyard BBQ. Available in different colours it is perfect to serve any food. A smooth finish round & deep bowl with a contrasting white inside surface to serve delicious salads, pasta, snacks or even dessert.
· CONTRASTING COLOUR COMBINATION – Blue, Green or Pink; this two-tone bowl is crafted to make food look eye-catching and tastier. A vibrant colour smooth finish on the outside with a shiny white finish on the inside is the perfect contrasting combination which will make the bowl itself, your colourful salad or any other food stand out while being served.
· SHARING PORTION SERVING SOLUTION – A 24cm deep bowl perfect for serving sharing portions of food. It is a safe solution where you will not have to worry about any risks of breaking if dropped; hence can be used every day or during occasions such as parties, BBQ, picnics, summer gatherings and camping.
· VERSATILE HARD-WEARING PLASTIC BOWL – Versatile large bowl crafted from durable hard-wearing plastic for long term use. It is a versatile bowl which alongside serving salads can be re-used to serve other delicious foods, snacks or even mix up/whisk ingredients such as dressings and batters. Can also be used as a fruit storage/serving bowl.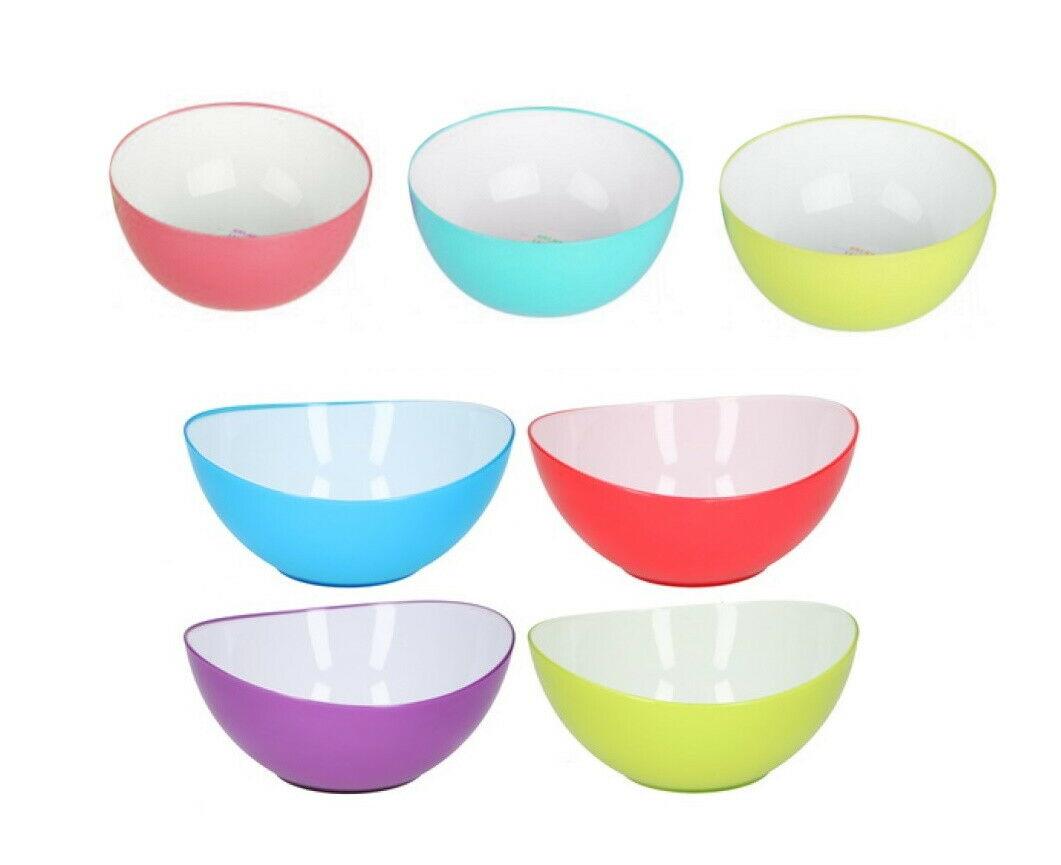 Recommend this product to a friend
Large Plastic Salad Bowl 24cm 20cm Round Mixing Serving Baking Bowl Hard Plastic