Long Metal BBQ Barbecue Kebab Food Meat Grill Sticks Skewers Cooking 51-60cm
---
---
---
Long Metal BBQ Skewers Barbecue Sticks Kebab Meat Vegetable Outdoor Grill Cooking
•Get ready this summer season for some tasty smoky seasoned grilled food with a set of these extra long BBQ metal skewers. Wooden Handle or Flat Twist heavy duty metal skewers with an extra long design, for you skew up up some delicious food such as various marinated meats and vegetables, and place above a hot barbecue grill.
•These BBQ Barbecue Skewers are available in 6 DIFFERENT DESIGNS. NOTE – ONLY YOUR CHOSEN SETS SHALL BE SENT OUT.
◦4 x Flat Twist Skewers 1.5mm (Length: 58cm)
◦6 x Flat Twist Skewers 1mm (Length: 60cm)
◦4 x Wooden Handle Skewers Square 0.3mm (Length: 55cm)
◦6 x Wooden Handle Skewer Square 0.7mm (Length: 51cm)
        6 x Tink Skewer Round (Length: 37.5cm)
•METAL SKEWER STICK SURFACE MAY HAVE ODD UNAVOIDABLE MARKING.
•LONG METAL BBQ SKEWERS – Cook up some delicious grilled and smoky flavoured food with a set of these extra long & heavy-duty skewers. An extra long metal construction makes these skewers perfect for grilling large quantities food in one go. Marinated meats such chicken, kebabs, prawns, indian paneer or your fresh vegetables such a corn, peppers, onions; with a set of these skewers you will be able to skew up a range or even sharing portions of food this summer!
•REUSABLE SKEWERS – A good clean and these metal skewers will be suitable for you to use over an over again. The heavy-duty metal structure makes these long metal skewers suitable for your garden BBQ or pack pack in your bags for outdoor picnics, barbecues or even while your on a camping or hiking trip.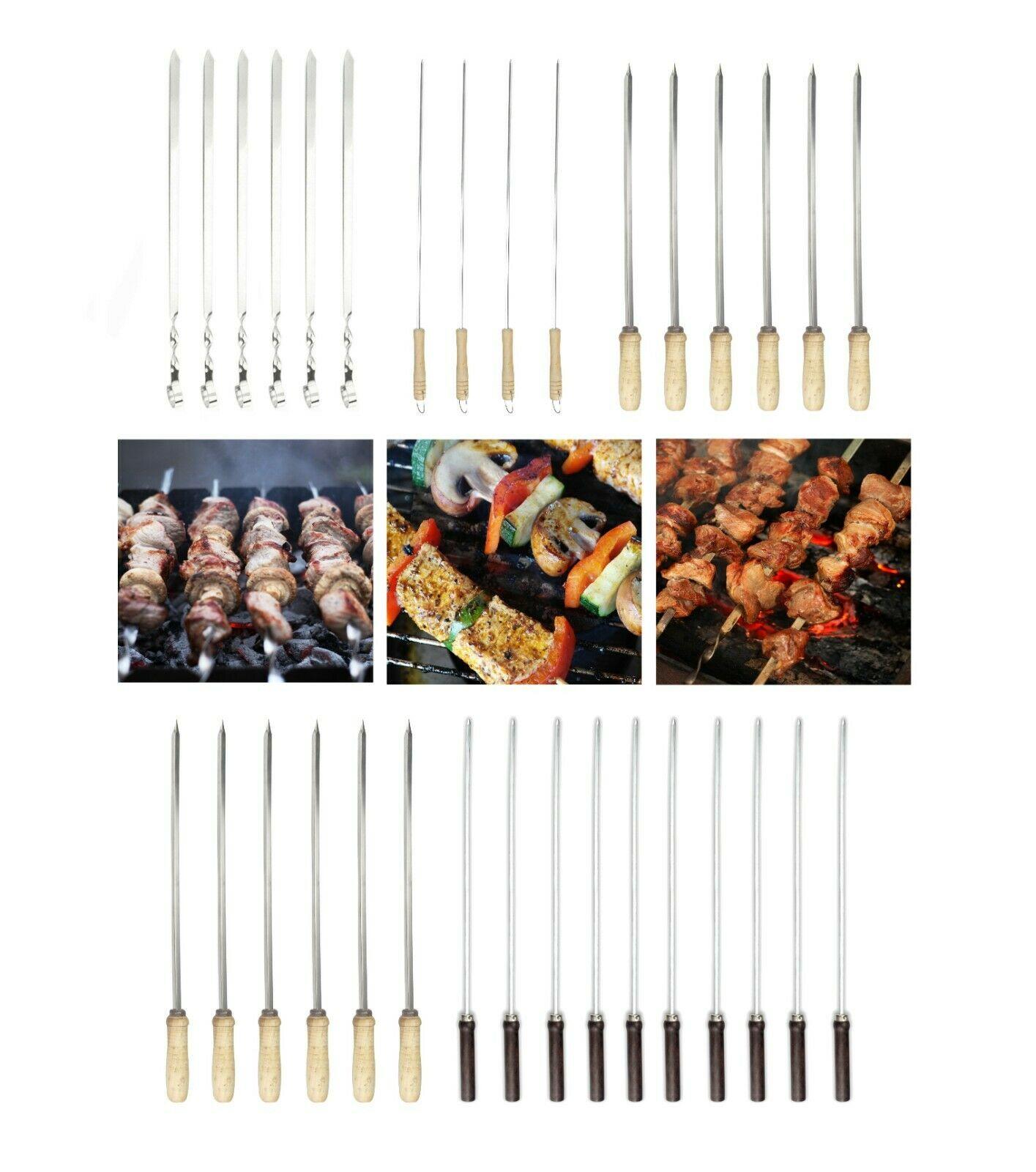 Recommend this product to a friend
Long Metal BBQ Barbecue Kebab Food Meat Grill Sticks Skewers Cooking 51-60cm