Lunch Sandwich Box Stackable Food Containers Multi-coloured Flexible Seal 4 Pack
---
---
---
Airtight Plastic Food Container Storage Box 4-Tier Rectangular Clip Lock Lid Stackable Stacking Food Lunch Salad Snack Picnic Box
· A unique constructed plastic food storage container for various food storage all in one. A rectangular stackable 4-tier food container crafted from durable transparent plastic with a vibrant green lid and clip locking functionality on each tier for airtight and freshness preserved storage of 4 different foods!
· This stackable food storage box consists of 4 x 0.75L compartments. Dimensions of the box are – H: 15.5cm x L: 23cm x W: 12.5cm. This stackable food storage box is Microwave Safe, Dishwasher Safe and Freezer Safe.
· 4 IN 1 STORAGE – A convenient and practical 4-tier food storage container. This transparent and stacking container is designed of 4 transparent, rectangular & shallow compartments/tiers/layers each featuring a clip locking functionality to provide airtight storage of 4 different foods. It is a handy container to store small quantities of food all in one or even keep track of food.
· AIRTIGHT OPEN/CLOSE FUNCTIONALITY – This food storage container has a unique open/close functionality with clip locking tabs not just on the lid, but on every tier. This will provide airtight storage to 4 different foods and ensure freshness is preserved. You can use it multiple times for multiple food storage purposes. Great for pre-cut fruit, salad, vegetables, cheese, sliced foods or even snacks and biscuits. Suitable for storage of many foods.
· VERSATILE STACKABLE CONTAINER – A food storage container where you can use your imagination! This 4-tier container is practical to be used indoors and outdoors. No matter if you limited storage space or leftovers, you want to pack food for lunch or a picnic; you will now be able to carry & store 4 different food all in one go.
<p>Airtight Plastic Food Container Storage Box 4-Tier Rectangular Clip Lock Lid Stackable Stacking Food Lunch Salad Snack Picnic Box.</p><p>This stackable food storage box consists of 4 x 0.75L compartments.</p><p>Dimensions of the box are – H: 15.5cm x L: 23cm x W: 12.5cm.</p><p>This stackable food storage box is Microwave Safe, Dishwasher Safe and Freezer Safe.</p><p>A unique constructed plastic food storage container for various food storage all in one. A rectangular stackable 4-tier food container crafted from durable transparent plastic with a vibrant green lid and clip locking functionality on each tier for airtight and freshness preserved storage of 4 different foods!</p><p>4 IN 1 STORAGE – A convenient and practical 4-tier food storage container. This transparent and stacking container is designed of 4 transparent, rectangular & shallow compartments/tiers/layers each featuring a clip locking functionality to provide airtight storage of 4 different foods. It is a handy container to store small quantities of food all in one or even keep track of food.</p><p>AIRTIGHT OPEN/CLOSE FUNCTIONALITY – This food storage container has a unique open/close functionality with clip locking tabs not just on the lid, but on every tier. This will provide airtight storage to 4 different foods and ensure freshness is preserved. You can use it multiple times for multiple food storage purposes. Great for pre-cut fruit, salad, vegetables, cheese, sliced foods or even snacks and biscuits. Suitable for storage of many foods.</p><p>VERSATILE STACKABLE CONTAINER – A food storage container where you can use your imagination! This 4-tier container is practical to be used indoors and outdoors. No matter if you limited storage space or leftovers, you want to pack food for lunch or a picnic; you will now be able to carry & store 4 different food all in one go.</p>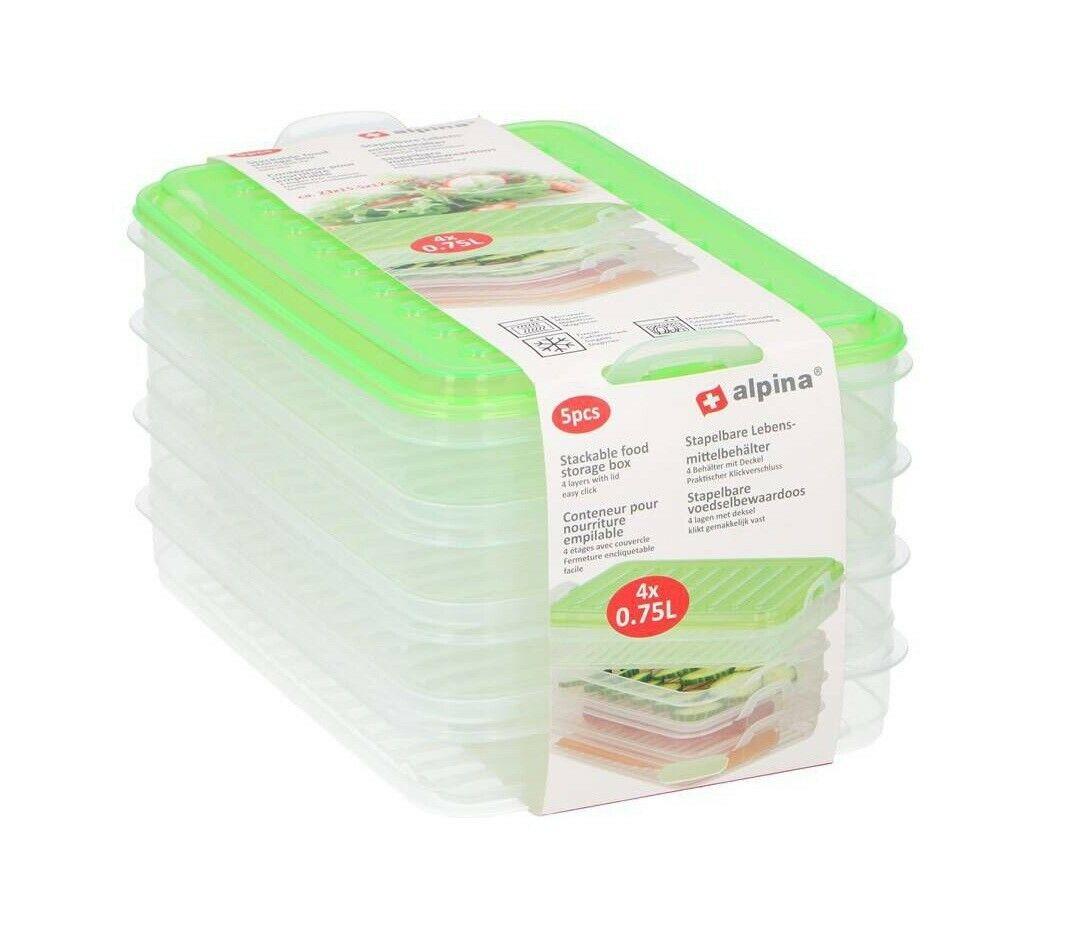 Recommend this product to a friend
Lunch Sandwich Box Stackable Food Containers Multi-coloured Flexible Seal 4 Pack