Metal Storage Tins Bread Bin Pasta Biscuit Tea Coffee Sugar Canister Bamboo Lid
---
---
---
Kitchen Metal Storage Tins Bread Bin Pasta Biscuit Tea Coffee Sugar Canister Jar Bamboo Lid.
Various tall, short or large round airtight storage tins perfect to preserve & store food in your kitchen. Crafted from durable carbon steel are these coloured storage canisters in a matte finish featuring a tight seal bamboo lid and contrasting shiny silver badge storage sign, for stylish, effective and easy to find storage of foods such as breads, pasta, spaghetti, biscuit, cookies, tea, coffee sugar and more.
Blue Pasta Jar With Bamboo Lid –
Height: 28cm & Diameter: 11.5cm
A tall cylindrical canister to preserve your favourite carbohydrates! Pasta, spaghetti or noodles, this canister shall keep them freshly stored for longer.
Grey Biscuit Barrel With Bamboo Lid –
Height: 19cm & Diameter: 14cm
A round canister to effectively store your favourite sweets treats and keep them fresh full of flavour for longer. Ideal for biscuits, cookies or fresh baked goodies!
Black Bread Bin With Bamboo Lid –
H: 16cm x L: 34cm x W: 18cm
An extra-large soft rectangular canister bin to effectively accommodate loaves of bread, bread rolls, bread buns, bagels, pita bread and many other bread based products, to keep them fresh and retain the original taste and flavour for longer.
Set Of 3 Tea/Coffee/Sugar Bamboo Canisters With Bamboo Lid –
Height: 12cm & Diameter: 11cm
Ideal size set of 3 assorted colour (Black/Silver/Cream) round canisters, each with a designated badge perfect for storage of loose hot drink ingredient; tea, coffee & sugar!
Cream Utensil Holder –
Height: 17cm & Diameter: 13cm
Canister style round pot holder for organised storage of many everyday kitchen utensils such cooking spoons, ladles, spatulas, rolling pin and more.
AIRTIGHT BAMBOO LID – Keep dry/fresh foods fresh without the hassle of packets, with one of these storage canisters. Canister lid is crafted from sustainable sourced bamboo with a tight rubber seal, for airtight storage of food. TOP TIP! – Reverse side of bamboo lids can also be used a cutting board!
DURABLE STEEL KITCHEN ORGANISERS – Durable storage tins crafted from hard-wearing steel with a matte finish to ease your kitchen functioning & give you smarter long-term food storage. Each of the storage tin has an easy reading sign on a contrasting background, to allow yourself or others to easily identify where goodies are stocked! A practical aid to reduce kitchen cupboard clutter!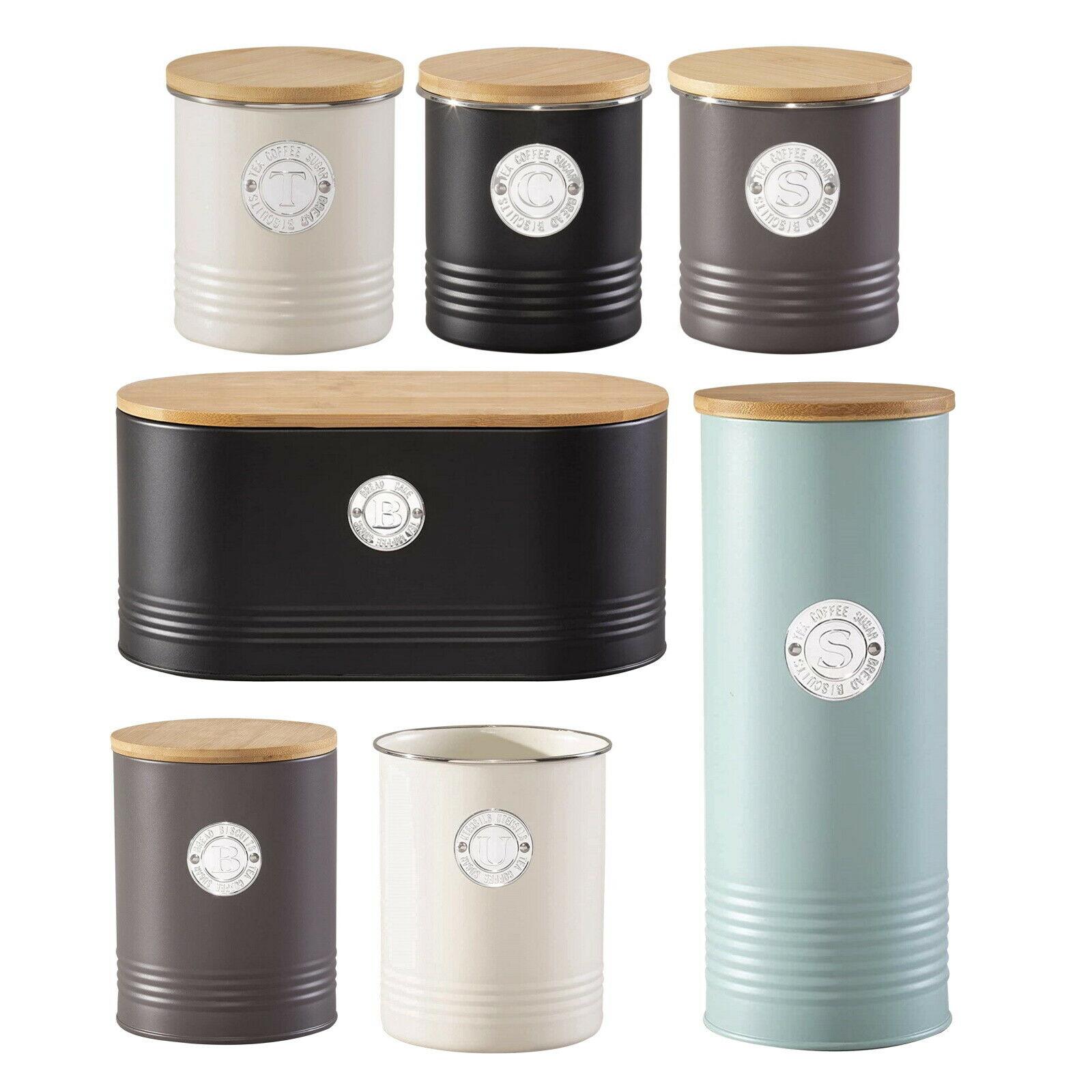 Recommend this product to a friend
Metal Storage Tins Bread Bin Pasta Biscuit Tea Coffee Sugar Canister Bamboo Lid