Nylon Salad Tongs Orange Blue Green Stainless Steel Easy Grip Kitchen BBQ Tongs
---
---
---
Nylon Salad Tongs Orange Blue Green Stainless Steel Easy Grip Kitchen Tongs Barbecue Tongs, Cooking Baking Serving Buffet Tongs
Size – H - 30cm
Easy Grip Design – Many kitchen tongs ruin food when being served or force you to hold with a strong grip. With these kitchen tongs you will have no worries about ruining the presentation of food being served. Due to contoured grip plates and silicon non-slip handles you will be easily able to lift, turn and serve food from any cookware or kitchenware item. Contoured grip plates will ensure food does not slip when being served and non-slip handles will provide you will a firm grip and give you easy control.

No More Ruined Kitchen Utensils – Kitchen Utensils that are made of plastic or rubber generally melt very easily or in couple uses if used in hot pans. This salad tongs consists of a nylon grip plates. Nylon has a high heat tolerance therefore, it will not melt and remain in its original condition always. This means you can pick up and serve hot or cold food without your utensils being ruined.

Compact Storage – Kitchen utensils that provide hassle-free storage are always needed in your kitchen. These salads tongs have that perfect space saving structure where it consists of a hanging loop and locking mechanism. These 2 qualities will ensure that you can easily store these tongs in your kitchen drawer or hang them up to make them close to hand and easily available when required.

Multi-Purpose Kitchen Tongs – Salad tongs don't just have to be used for serving all those tasty salads. These salad tongs can also be used while cooking, during barbecues, professorial catering services, buffets and can be taken with you during outdoor trip i.e. camping. It is a useful handy tool no matter what the occasion is.

Add Colour To Your Kitchen Utensil Collection – Bored of seeing all the same silver or stainless steel kitchen utensils? Then add that touch of colour to your kitchen utensil collection with these colourful salad tongs. According to your colour preference choose that colourful kitchen tong which will provide a balance of similarity with your current kitchen utensil collection due to the silver and black handle but will also be eye catching and stand out amongst all due to the colourful gripping plate. Available in 3 colours – Blue, Green and Orange.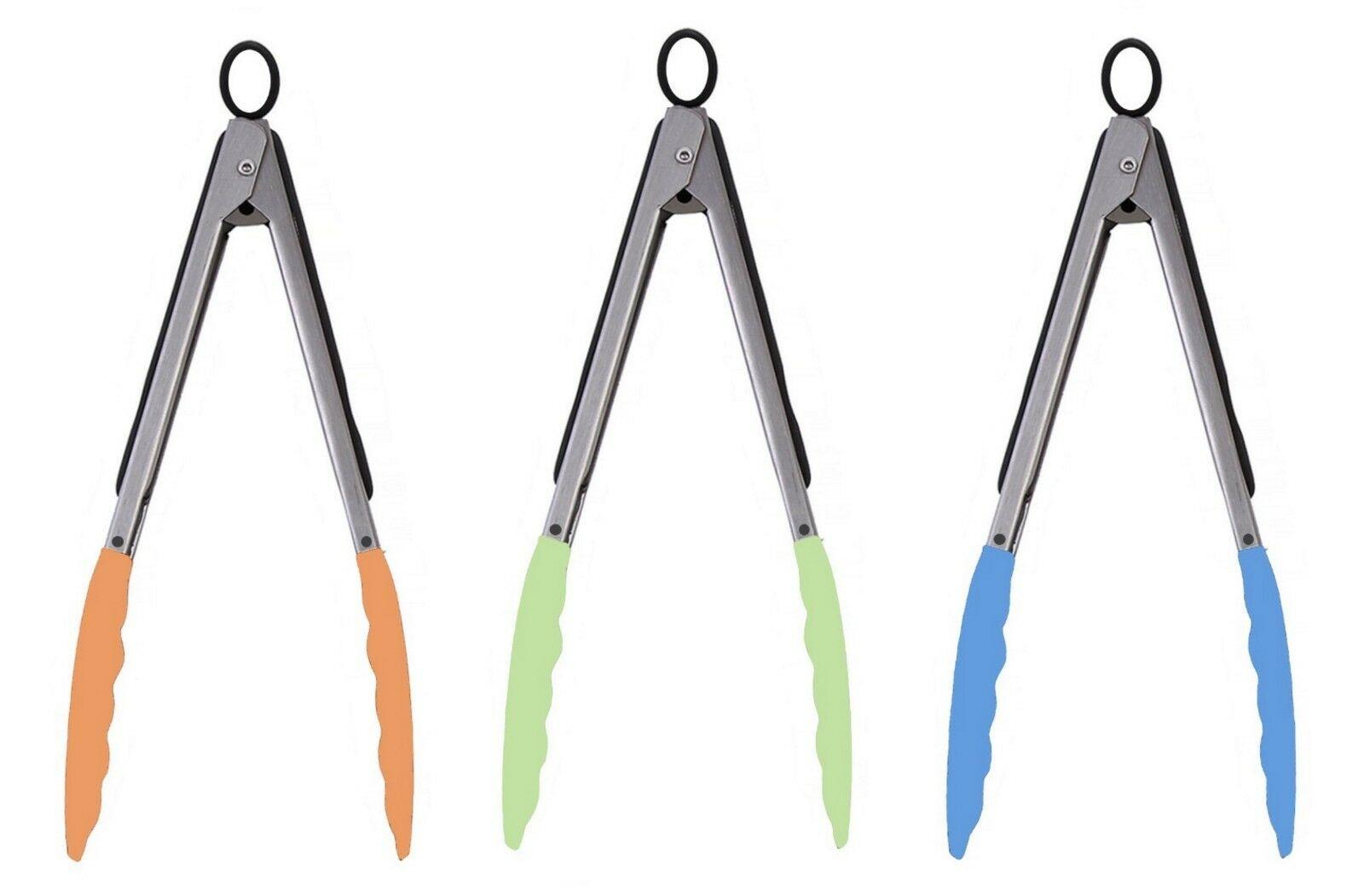 Recommend this product to a friend
Nylon Salad Tongs Orange Blue Green Stainless Steel Easy Grip Kitchen BBQ Tongs