Pasabahce Long Drink Glasses 29.5cl/295ml Set Of 4 Crystal Effect Highball Cut
---
---
---
Pasabahce Timeless Long Drink Glasses 29.5cl/295ml Set Of 4 Crystal Effect Highball Glasses Tumblers Vintage Cut Glasses Highball Cocktail Juice Water Drinks Tumblers
•Set of 6 long drink glass great for serving cocktails, juices and many other drinks. A modern set of tall  clear glass round glasses with distinctive crystal effect soft and subtle cuts at the base which gradually fade out towards the top of the glass. These crystal effect cuts will catch light and make drinks stand out. The base is also thick to provide a weighty feel and balance especially when serving.
•Capacity of each glass – 295ml/29.5cl. Dimension of each glass – H: 15cm x W: 6.5cm. Dishwasher safe
•Made To Last, Toughened Glass! - Fine quality glass with a made to last polished finish is what will make these long drink glasses extremely durable and long lasting. As glass is known to be robust and has a smooth high resistant surface, these glasses will be resistant to chips, cracks and scratches. The glass is also non porous, hence these glasses are 100% hygenic and no form of bacteria will remain on the surface no matter how much they are used.
•Universal Tumbler Set – Make moments more exciting and drinks the centre of attention to your guests especially during parties and get togethers with these unique crystal effect vintage cut glasses. You can use these tumblers to serve many beverages such as chilled juices, cocktails and lemonade.
Set of 4 Pasabahce Timeless Long Drink Glasses 29.5cl/295ml Crystal Effect Highball Glasses Tumblers Vintage Cut Glasses Highball Cocktail Juice Water Drinks Tumblers.
Capacity of each glass – 295ml/29.5cl.
Dimension of each glass – H: 15cm x W: 6.5cm.
Set of 6 long drink glass great for serving cocktails, juices and many other drinks. A modern set of tall  clear glass round glasses with distinctive crystal effect soft and subtle cuts at the base which gradually fade out towards the top of the glass. These crystal effect cuts will catch light and make drinks stand out. The base is also thick to provide a weighty feel and balance especially when serving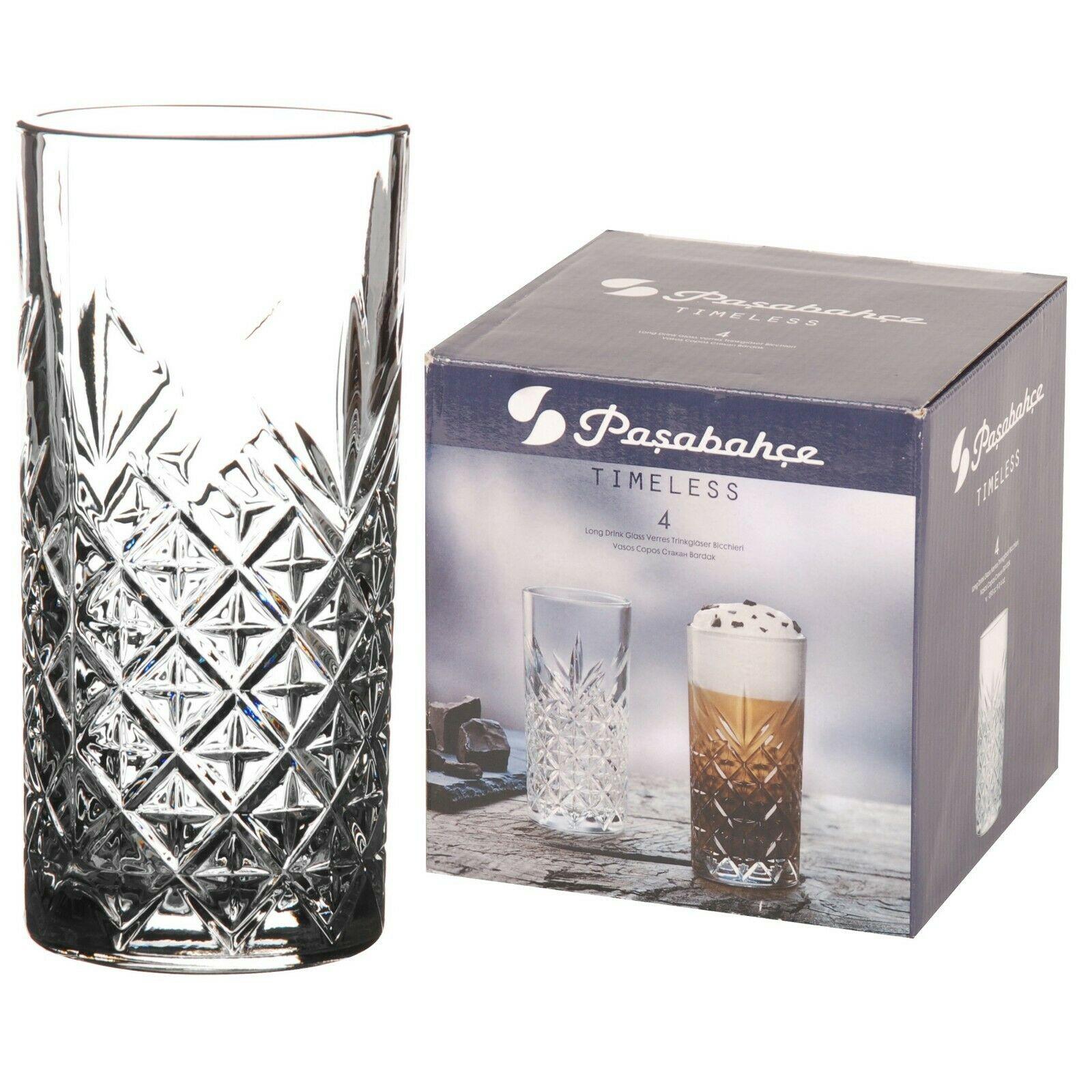 Recommend this product to a friend
Pasabahce Long Drink Glasses 29.5cl/295ml Set Of 4 Crystal Effect Highball Cut