Plastic Storage Box Clear Boxes With Lids Clip Locking Handles Desk Home Office
---
---
---
Plastic Storage Box With Locking Lid Clip Lock Handles Clear Desktop Stationary Office Arts Crafts Supply Organiser
· Colourful and handy plastic storage box that you need for essential and practical storage. Deep & rectangular storage box crafted from durable transparent plastic with locking lid functionality for practical, portable and user-friendly storage.
· This plastic storage box with locking lid IS AVAILABLE IN 3 DIFFERENT COLOURS – Blue, Green and Pink. In each colour is available in 3 DIFFERENT SIZES - Small (16cm x 10cm x 8.8cm), Medium (18.7cm x 12.7cm x 12cm) and Large With 4 Compartment Tray & Carry Handle (25cm x 18.5cm x 15.5cm). NOTE – ONLY 1 BOX COLOUR & SIZE SHALL BE SENT OUT.
· LOCKING LID STORAGE – A storage box that will keep everything placed inside secure. This storage box has a unique opening & closing functionality, where the 2 shorter sides of the box have locking handles. Only when both handles are opened the lid can be removed. To close just place the lid back on and lock the handles back up. A storage box that can be dropped but nothing will fall out & make a mess!
· EASY IDENTIFICATION OF CONTENT – These storage boxes are crafted from durable, hard wearing and transparent plastic. Clear & coloured transparent surface will let you see what is stored inside the box without having to be opened. It is easy to use and will help you in quickly finding what you need.
VERSATILE STORAGE BOXES – Multi-functional plastic storage boxes that can be used anywhere for storage of anything and everything! At home, in the office, kitchen, bedroom, study room or play room; it is a convenient storage box that will satisfy needs of storing items i.e. art & craft supplies, stationary, office supplies, jewellery, sewing tools & more.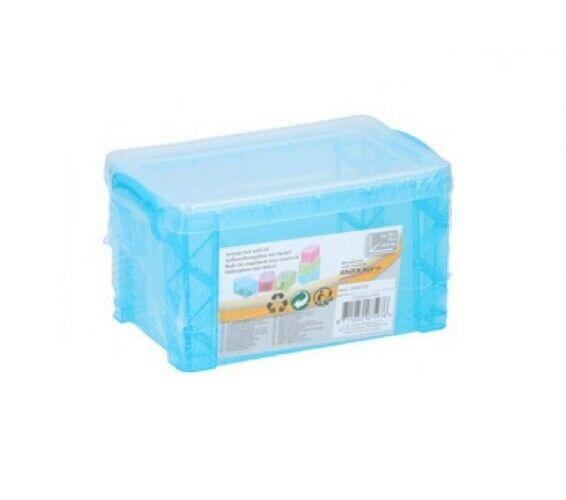 Recommend this product to a friend
Plastic Storage Box Clear Boxes With Lids Clip Locking Handles Desk Home Office