Professional Serving Spoon with Hanging Holes Stainless Steel Serving Spoon
---
---
---
Professional Serving Spoons with Hanging Holes Stainless Steel Kitchenware Serving Spoons Catering Quality
Available in 3 sizes cm: Size 2: 8.5" (21.5cm), Size 3: 9.5" (24cm), Size 4: 10" (25.5cm). NOTE: One spoon shall be sent in your chosen size.
Simple, Stylish And Lightweight Serving Spoon – Scoop and serve those tasty dishes with ease. Kitchenware that is light weight and easy to pick up is always great to have. No crazy patterns and no fancy designs. A simple and stylish stainless steel serving spoon with a lightweight construction provides easy functionality; therefore it can be easy to pick up and comfortable to hold. 




Compact Storage – Sometimes kitchen drawers get full of all those different utensils. However, kitchen utensils that provide hassle-free storage are needed in your kitchen. This serving spoon has that perfect space saving structure where it consists of a hanging loop. This quality will ensure that your kitchen drawers don't get clogged up and you can easily store this serving spoon by hanging it up so it is close to hand and easily available when required.




Add An Elegant Touch To Your Table Setting – When setting out your dining table or catering table, having a perfect layout and all kitchenware available to your guests is always the first. This stainless steel serving spoon has a modern yet timeless design hence, they are perfect for everyday and special occasions such as formal occasions, evening dinners or special gatherings. This kitchenware will match any tableware presented to your guests and increase the level of sophistication of your table setting.




Strong, Durable And Heavy Duty Serving Spoon – Stainless steel is one of the best materials which is very tough and heavy duty therefore, cannot be destroyed easily. Due to a strong construction this serving spoon is very durable and robust, and shall last you a very long time. Requiring no sort of additional needs this serving spoon can not only be used at home but can be taken with in the outdoors i.e. camping.




High Grade & Stain Resistant – This serving spoon is made of high grade stainless steel therefore, it does not bend, corrode or stain easily. Along with a strong construction it also has a polished mirror finish finish therefore, with a gentle wipe you can bring it back to its original condition. Without any worries this serving spoon will last you years. This serving spoon are also dishwasher safe. This product is manufactured by Amrish.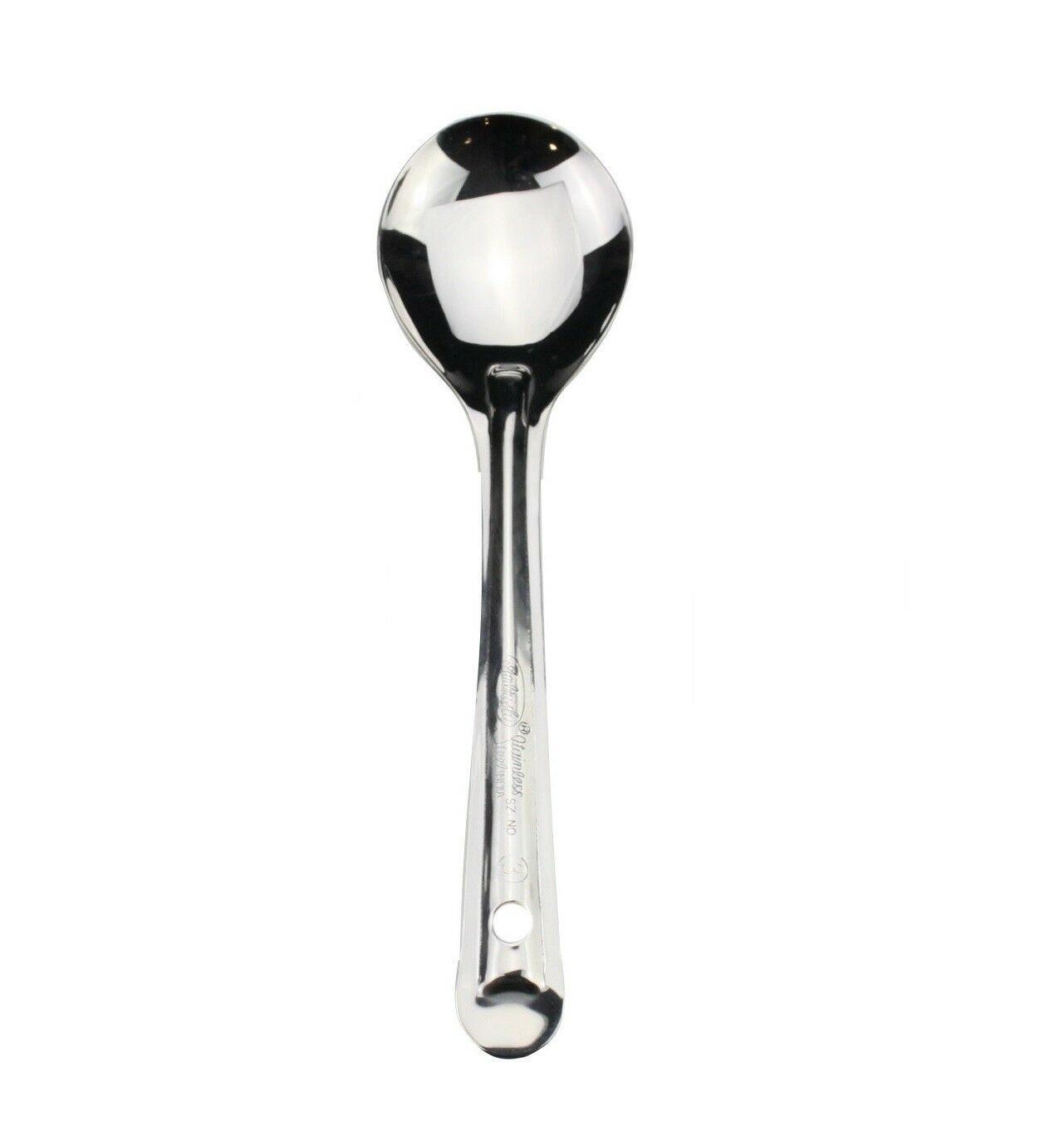 Recommend this product to a friend
Professional Serving Spoon with Hanging Holes Stainless Steel Serving Spoon