Rattan Style Plastic Storage Baskets 3pc Office Home Kitchen Tidy Organiser Tray
---
---
---
Rattan Style Plastic Storage Basket A6 Rectangular Vintage Shallow Office Kitchen Home Storage Shelf Fruit Basket 14x19.5x6cm White/Grey/Beige
· Modern, matte and mandatory plastic storage baskets that you need for essential and practical storage. Set of rattan style plastic storage baskets crafted from durable plastic in a classic A6 size rectangular and shallow structure with a matte finish. It is a user-friendly storage solution handy to use at the office, in the kitchen, bathroom, bedroom or even children's study room.
· This set of rattan style plastic storage baskets come as a set of 3, – 1 x White, 1 x Grey, 3x Beige
Dimensions of EACH basket are – 14cm x 19.5cm x 6cm.
· RATTAN STYLE & MATTE FINISH COMBO – These plastic storage baskets are crafted from hard wearing plastic in a woven rattan style with a matte finish. Subtle colours and a matte finish is the perfect modern & vintage combination for this essential storage basket to improve your organisation while being practical and portable.
· A6 STRUCTURE – These are lightweight storage baskets are designed in a shallow and A6 size rectangular structure for you to efficiently store items, especially those that are small. When no longer required, due to the narrow base they are stack/nestable into each other for out of the way storage.
· VERSATILE STORAGE BASKETS – Multi-functional plastic storage baskets that can be used anywhere for storage of anything and everything! At home, in the office, kitchen, bedroom, bathroom, study room or play room; it is a convenient storage basket set that will perfectly fit on shelves and satisfy needs of storing small items i.e. stationary, small toys, art & craft supplies, beauty / toiletry essentials, jewellery or maybe even fruit.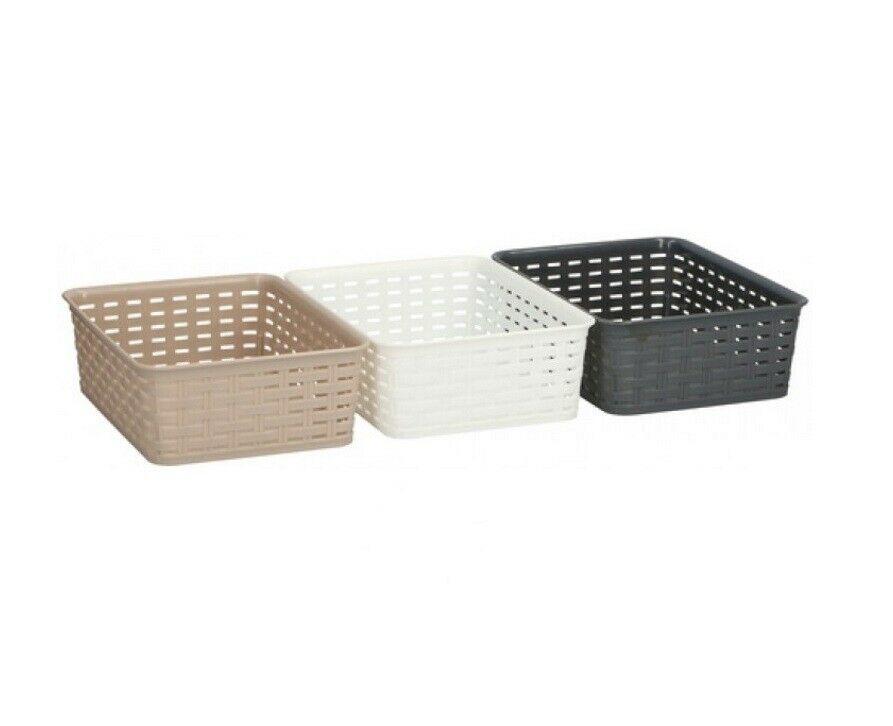 Recommend this product to a friend
Rattan Style Plastic Storage Baskets 3pc Office Home Kitchen Tidy Organiser Tray