Rose Gold Stainless Steel Colander Drainer Pasta Fruit Vegetables Handles Copper
---
---
---
Stainless Steel Twin Handled Colander With Footed Base Copper Rose-Gold Finish Double Handle Colander Drainer Strainer 24cm Pasta Vegetables Salad Rice Colander
• A copper/rose-gold finish colander specially designed to drain food quickly and safely. Drain pasta, vegetables and much more, using this Copper/Rose-Gold finish stainless steel colander. It has a raised base so your foods won't touch the sink, while the two handles makes it easy to transfer food into the pots, pans or serving dishes.
• Double Handles & Footed Base – 2 features which will make this colander function much more easier. Double handles will provide easy grip and you will easily be able to carry the colander, especially when serving hot food. The footed base will provide a stability, so it will not move side to side if used for serving and you will be able to pour hot liquids through without being burnt.
• Smooth Large Draining Holes – The perfect 24cm colander to tackle any cooking job. With large draining holes, you will quickly and efficiently be able to drain and strain food so there's no water, oil or liquid content left. The holes are also smoothly punched so that when wiping dry, there is no tear on your dish cloths.
• Versatile Stainless Steel Colander – Being made of high quality stainless steel, this colander will last you a life time without any worries. Stainless steel means it will never scratch, break, rust or corrode. It has properties which ensure flavours are always preserved and quality of food is not affected. Therefore, no matter if its boiled pasta or washed vegetables this colander will ensure there flavour is not effected and water is efficiently drained off. It is a truly durable and functional colander!
• Copper/Rose-Gold Finish - Beautiful colander with the latest trendy copper/rose-gold finish, perfect for bringing creative serving ideas to life. Add a new modern touch to your kitchen tools with this copper/rose-gold finish colander. Trendy, high quality and lightweight structure will ensure you always take this colander out for those special guests. Can also be hanged up to add colour to your display.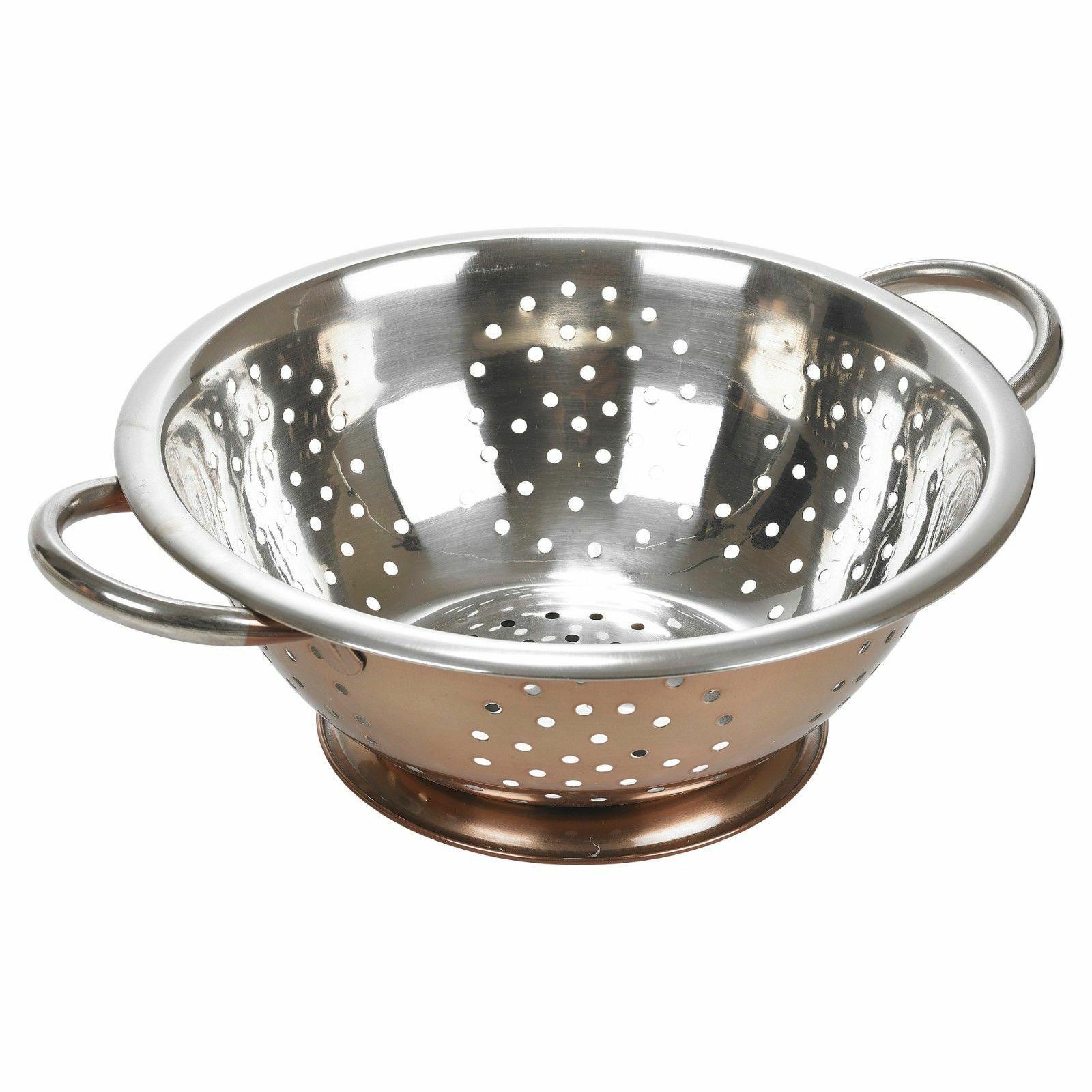 Recommend this product to a friend
Rose Gold Stainless Steel Colander Drainer Pasta Fruit Vegetables Handles Copper