Salt & Pepper Grinder Pepper Mill Shaker Pots Manual Set Clear Acrylic Small
---
---
---
Salt and Pepper Grinder Salt and Pepper Mill Shaker Grinder Small Manual Set Acrylic Spice Peppercorn Grinders Cruet Set
The ultimate salt shaker and pepper mill set for your essential seasoning storage. Set of 2 clear acrylic plastic salt shaker with perforated lid and pepper mill for you to easily add precise amount seasoning to food without a mess. Due to the small dimensions, this set will be that perfect hand fit for you to pick up and add flavour. Ideal set which can be placed at the centre of the table or on your countertop.

This set comes with 1 x Salt Shaker AND 1 x Manual Pepper Mill/Grinder. Dimensions of the SALT SHAKER are - Diameter: 4.3cm & Height: 10cm. Dimensions of the PEPPER MILL are - Diameter: 4.3cm & Height: 11cm.

GRIND & SHAKE - This salt shaker and pepper mill set is designed so that you can attain precise amount of seasoning to food. As the salt shaker has perforated lid your food will never get too salty. The pepper mill will allow you to grind whole peppercorn into your wanted fine or coarse granules in just a simple effortless twist.

CLEAR ACRYLIC Plastic STRUCTURE TO IDENTIFY CONTENT - This salt and pepper set is structured from clear acrylic/glass to allow easy identification of content. Clear acrylic Plastic shall also inform you when stock is running low and needs refilling. This shaker and mill are a handy tool instead of pouring out ingredients right from the packet. Ideal for use at home, restaurants, pubs & during catering services.

VERSATILE STORAGE TOOL - This salt and pepper set does not only have to be for storage of salt and pepper; they can also be used for storage of other fine grain seasonings/spices at centre of the table or in the kitchen. A simple structure which will be useful for inside gatherings, during dinner, while cooking, outside barbeques or right even in the outdoors during out camp outs.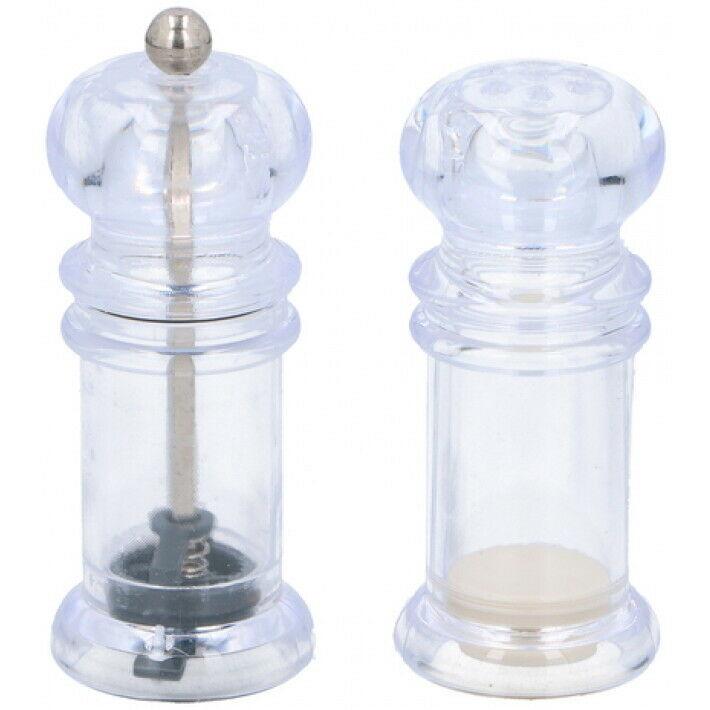 Recommend this product to a friend
Salt & Pepper Grinder Pepper Mill Shaker Pots Manual Set Clear Acrylic Small