SHRI DURGA KAVACH KAVACH PENDENT MAA KAVACH Yantra Rudraksh Rudrax
---
---
---
SHRI DURGA KAVACH KAVACH PENDENT MAA KAVACH Yantra Rudraksh Rudrax

Beautiful Hindu God Kavach Pendant Amulet Locket

Choice from variety of Hindu Religious Gods

Comes with two Rudrax Stones Rudraksha

INSTRUCTION MANUAL ON BACK SIDE OF KAVACH & IT IS ENERGIZED. KAVACH MADE FROM METAL PLATE YANTRA,SANDALWOOD BEADS & RUDRAKSHA BEADS WEAR AROUND NECK SIDDHI SHRI SHREE DURGA KAVACH PENDENT Durga Bisa Yantra is of Shri Durga Ambe Maa. Durga Bisa yantra is a very powerful yantra that is used to win luck and favor in business (specially in business meetings). It protects the user from the negative influence of other people. Durga Bisa yantra is regarded as a symbol of power. Durga Bisa Yantra is a powerful Yantra for fulfillment of desires, to remove difficulties and to conquer enemies, these are the special effects of this Yantra. Durga Bisa Yantra bestows wealth and property and protects the person from all sorts of dangers. Persons of all types can use it.. The yantra can be energized by the Durga Mantra and can prove very useful to win luck and favor. This Yantra can be used to avoid many troubles such as fear of thief, fire, quarrels and violence etc. Worship of this Yantra removes poverty.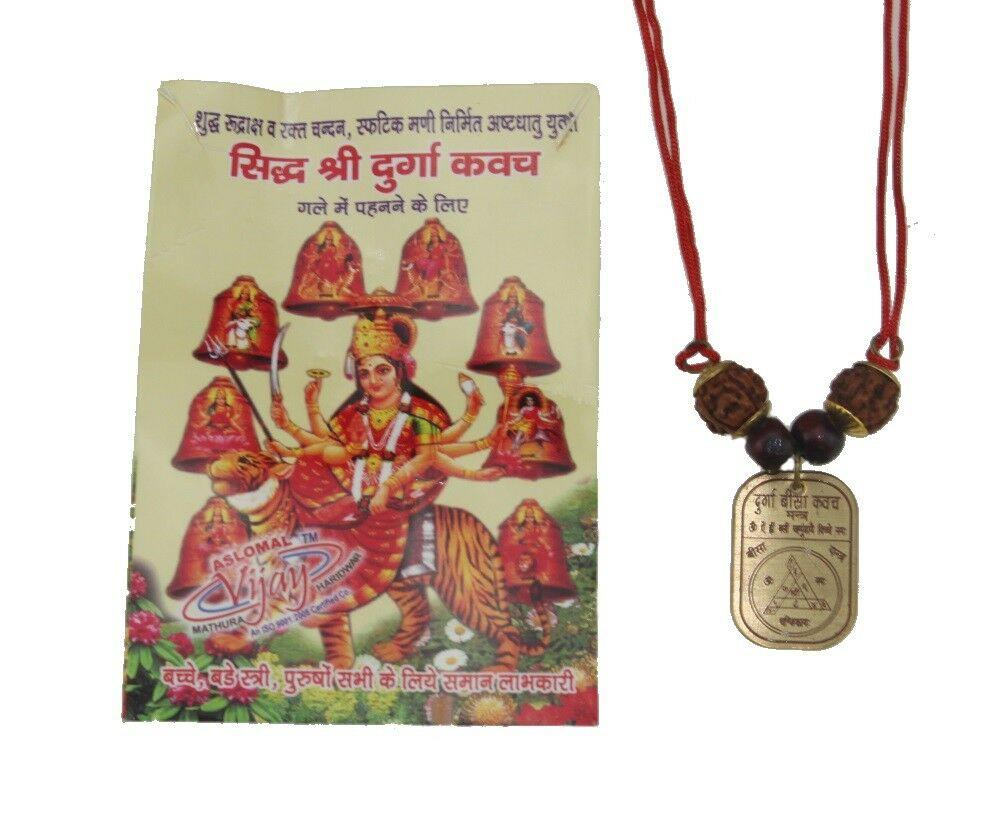 Recommend this product to a friend
SHRI DURGA KAVACH KAVACH PENDENT MAA KAVACH Yantra Rudraksh Rudrax