Silver Serving Bowls and Tray Set (3pc) Decorative Serving Platter Relish Dishes
---
---
---
Silver Serving Bowls and Tray Set (3pc) Decorative Serving Platters – Relish Dishes - Serving Set For Snacks, Nibbles, Nuts, Dry Fruits, Desserts
Needed Serving Solution - Not matter if the occasion is big as a party or small as a gathering, this 3 piece silver serving set is perfect. This serving set comes with 2 Bowls and 1 Tray; therefore it is ideal for any home or catering service. It is a complete table centrepiece to serve small foods, nibbles, sauces and dips with ease.

Elegance + Royalty to Serving – To add that extra touch of elegance to any table the 3pc serving set is needed. A simple yet royal look will make any table stand out and ensure that your guests are impressed. Your presentation will look the finest and you will be left with comments at the end of the day.

Multi-Purpose Serving Set - Having that key kitchen accessory which can be used numerous times for many purposes is always wanted in ones household i.e. from serving dry fruits and dips to displaying fruits. This 3pc set can be used together and individually depending on your requirements. You can enhance the quality of your serving presentation in seconds.
Perfect Gift – This 3pc silver set (2 Bowls + 1 Tray) is the ideal gift for many occasions i.e. Birthdays, Christmas, House Warming Gift and many other occasions.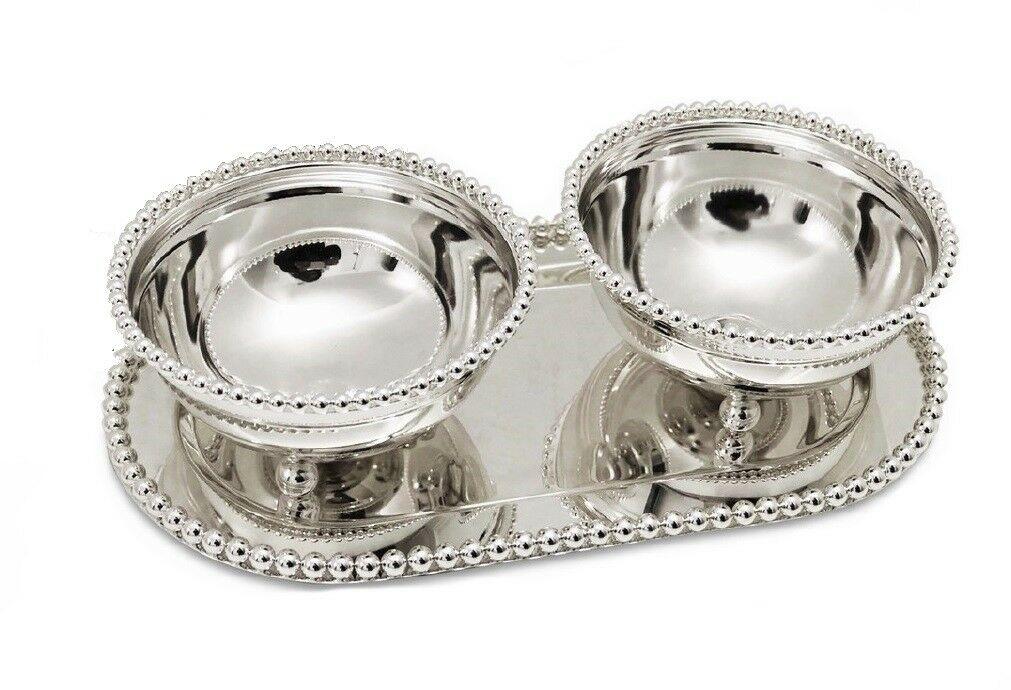 Recommend this product to a friend
Silver Serving Bowls and Tray Set (3pc) Decorative Serving Platter Relish Dishes