Small Glass Salt And Pepper Shakers Pots Set Of 2 Screw Top Square Salt & Pepper
---
---
---
Small Glass Salt And Pepper Shakers Pots Set Of 2 Screw Top Square Salt & Pepper Spice Seasoning Glass Shakers Jars
The classic small salt and pepper shaker set for your essential seasoning storage. Set of 2 clear glass salt and pepper shakers with embossed line design for you to easily add seasoning to food. Due to the small dimensions, these screw top shakers will be that perfect hand fit for you to pick up and add flavour. Ideal set which can be placed at the centre of the table or on your countertop.

Dimensions of each jar are - H: 9cm x W: 4cm x D: 4cm.

CLEAR GLASS STRUCTURE TO INDENTIFY CONTENT - These salt and pepper shakers are structured from clear glass to allow easy identification of the content each shaker holds. Clear glass shall also inform you when stock is running low and needs refilling. These shakers are a handy tool instead of pouring out ingredients right from the packet.

SCREW TOP PERFORATED LID - Each of the shakers lid have a perforated screw top structure lid made from stainless steel. Stainless steel lids will never scratch, break, rust or corrode. It also has properties which ensure flavours are always preserved and quality of food is not affected. Therefore, no matter how many times salt, pepper or any other seasoning/spice come in contact with the lid, there flavours will not change to affect taste at any time.

VERSATILE STORAGE TOOL - These shakers do not just have to be used for storage of salt & pepper but can also be used for storage of other fine grain seasonings/spices at centre of the table or in the kitchen. A simple structure which will be useful for inside gatherings, during dinner, while cooking, outside barbeques or right even in the outdoors during out camp outs.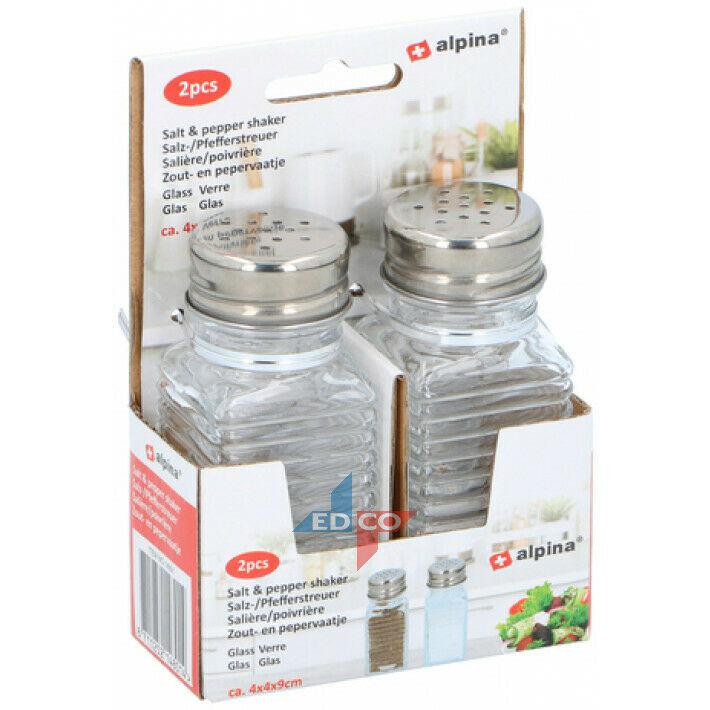 Recommend this product to a friend
Small Glass Salt And Pepper Shakers Pots Set Of 2 Screw Top Square Salt & Pepper