Snowflake Paper Cupcake Cases Christmas Baking Cups Cases Standard Size 32 pack
---
---
---
32 Pack Snowflake Paper Cupcake Cases Christmas Baking Cups Cases Standard Size CupcakeCreations
Size Approx - H: 3.5cm x W: 8cm
Add That Festive Touch – Having small festive accessories or décor will always improve any presentation. Create, bake and decorate your cupcakes with these beautiful snowflake baking papers. Due to the great colours and design your guests will be impressed, you will have perfect presentation and make any table look more festive. They will make any cupcake or muffin look delicious and will be gone in seconds.

No Cupcake Or Muffin Pans Needed – Baking essentials have upgraded to ensure you can easily bake those tasty cupcakes and muffins without any problems. These baker quality baking cups are made of grease proof paper therefore, you will not have to grease or flour any cupcake or muffin tins; once the batter is ready you can pour it into the baking cases and place them on tray and in the oven. Grease proof paper will also ensure you can peel it off easily and will not stick to any bakeware. These baking cases will fit in standard muffin tins and are oven, microwave and freezer safe.

Keep You Cupcakes & Muffin Fresh - Once cupcakes or muffins dry out they have no taste or flavour. Cupcake cases made from grease proof paper help preserve moisture therefore, they will stop the cupcake from drying out and will keep it moist until its eaten. Baking cases will also hold shape and offer a hygienic and easy way to handle your dessert or snack being served.

Multi-Purpose Paper Baking Cases – Baking cases don't always have to be used when baking cakes and muffins. They can also be used during kids parties, tea parties or functions for serving fun snacks such as popcorn, sweets, candy, mini crackers & biscuits, nuts and dry fruit.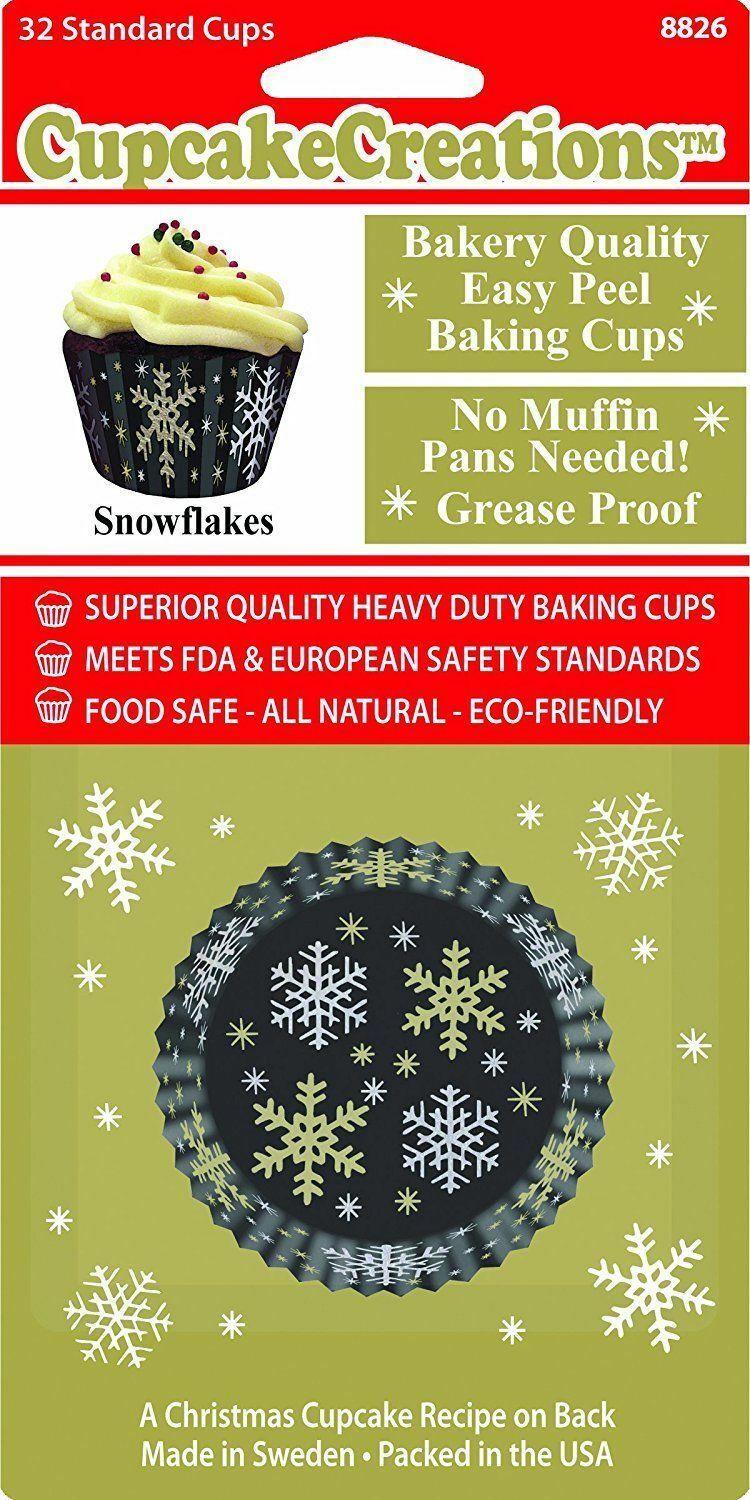 Recommend this product to a friend
Snowflake Paper Cupcake Cases Christmas Baking Cups Cases Standard Size 32 pack