Snowman Christmas Novelty Tealight Candles Snowman Character Candles In Holder
---
---
---
Snowman Christmas Novelty Tealight Candles Christmas Snowman Character Candles In Glass Holder Set Of 4 Ideal For Xmas Home Decor, Table
Light up your christmas and make it even more brighter with these adorable set of 4 christmas snowman character candles. Adding them to the festive decoration, everyone will know christmas has arrived.

Size - Height: 6.5cm Diameter: 5.5cm

Novelty Christmas Candles In Glass Holder – Decorative christmas candles in a holder to keep the celebration safe. This christmas candle comes in a glass holder to ensure all melted wax stays put and does not drip out. With these candles you can enjoy the celebration without adding to your cleaning list.

Ideal Christmas Decoration – When you here the sound of christmas, decoration will straight away spring to your mind. To build up the christmas atmosphere to 25th December, use these christmas candles in a glass holder around your home. On a window sill, at the front door or even on the table, these candle will be perfect, especially on christmas day.

Great For The Kids – Give the children abit of exploring and fun during christmas, with these christmas character candles. Different characters will give them the oppurtunity to learn about the festival and add to there christmas vibe to make it even more special.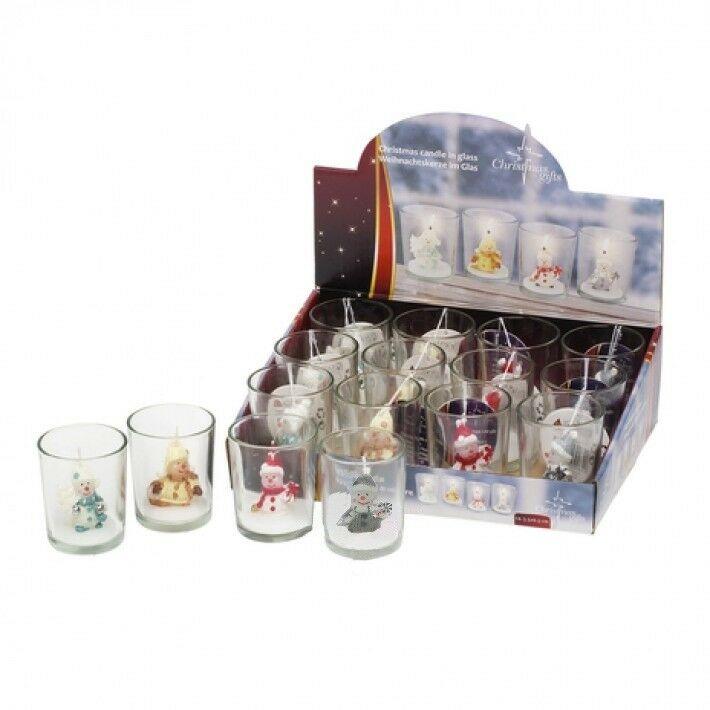 Recommend this product to a friend
Snowman Christmas Novelty Tealight Candles Snowman Character Candles In Holder