Stainless Steel Snack Bowls DryFruits Mouth Freshner Masala Daba Kitchen Storage
---
---
---
Stainless Steel Snack Dry Fruits Mouth Freshner Bowl Masala Daba - Stainless Steel Kitchen Storage Container Bowls With Lid Multi-Purpose 
Size Overall: H: 15.5cm x W: 21cm
Multi-Purpose Container – Having the option to store or serve 7 different items is always ideal. This multi-purpose container consists of 7 bowls where you can store products such as herbs, spices and pickles or serve dry fruits, nuts and sweets. This container can be used however you wish according to your needs. This container also consists of a clear lid therefore, you will be able stock up on any content that is about finish.




Serve Anything You Wish – No matter if its a small or large gathering, this stainless steel multi-purpose container is perfect. This multi-purpose container with 7 bowls and a lid is the ideal serving solution for any table. Due to traditional yet deep structure you will be able to show off 7 different items from small snacks like dry fruits and nuts to sweet or savoury dishes. Perfect serving container for parties, gatherings or many other special occasions.




Add A Touch Of Class To Any Dining Experience – Add that extra touch of elegance to you coffee table, dining table or catering service with this antique design designer bowl. With a polished mirror finish anything you serve will be gone in seconds.




Elegant Presentation – Always searching for matching dining accessories to impress your guests? This designer multi-purpose container is the ideal accessory must be in your kitchen cupboard. The quality of your presentation will look the most finest due the detailed design border and classic round handles. It will speak for it self and leave you with comments at the end of any day.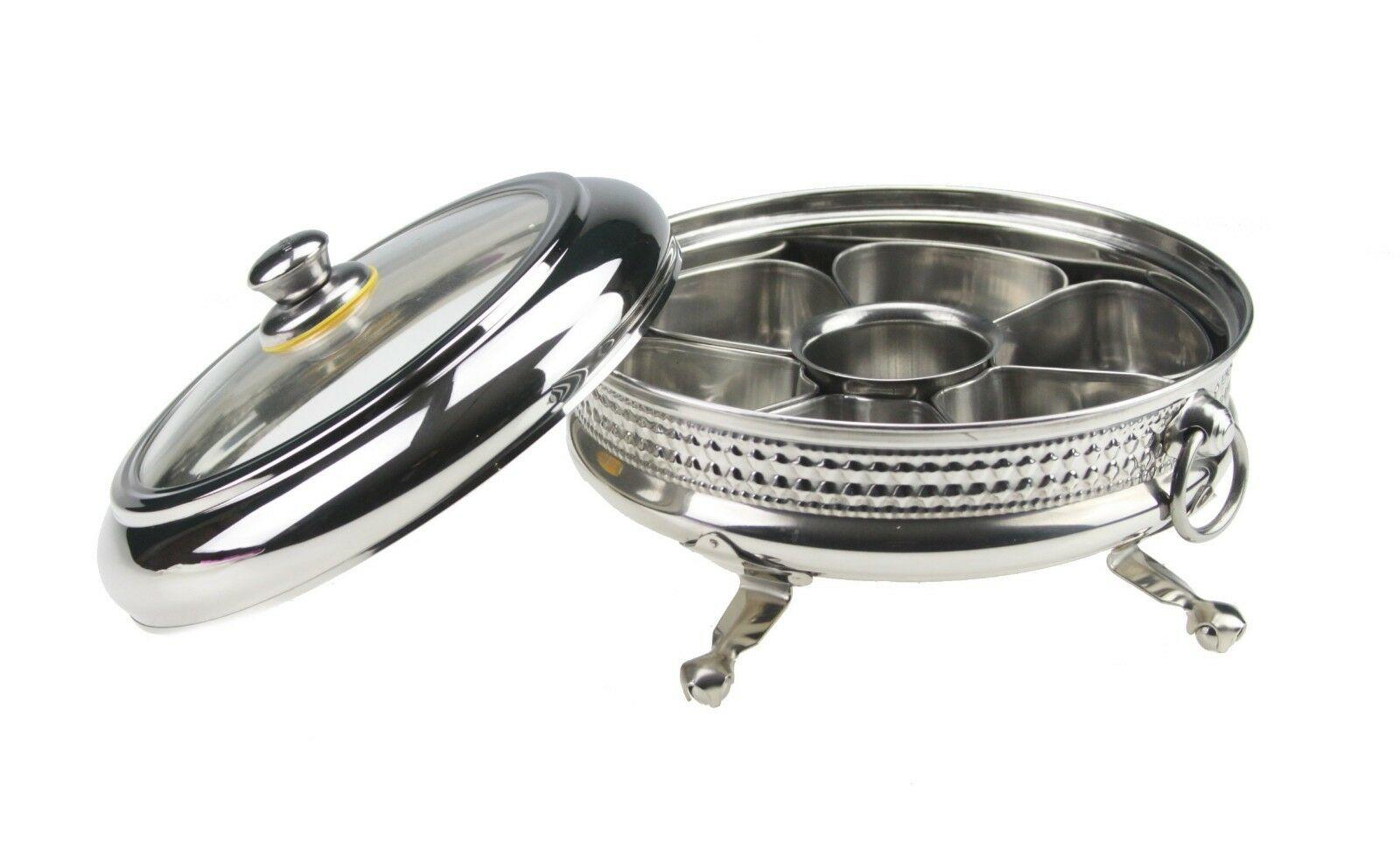 Recommend this product to a friend
Stainless Steel Snack Bowls DryFruits Mouth Freshner Masala Daba Kitchen Storage